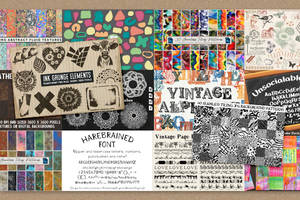 HG Designs Subscriber Area
Lots of high resolution goodies for graphic design including textures, photoshop brushes, seamless patterns and more.
---

Description
Check it out. This is Wilson. He is grungier than Soundgarden. He is grungier than Eddie Vedder's regrets of how grunge he used to be. He is a chunky font, good for any grungy design:
Rock Posters
Album Covers
Ransom Notes
Some notes:
Most glyphs are different heights, as it is a grunge font and doesn't care about you.
Lowercase keys yield uppercase text.
Uppercase keys yield uppercase, inverted text.
Numeric keys grow apples.
more of my free fonts available @
[link]