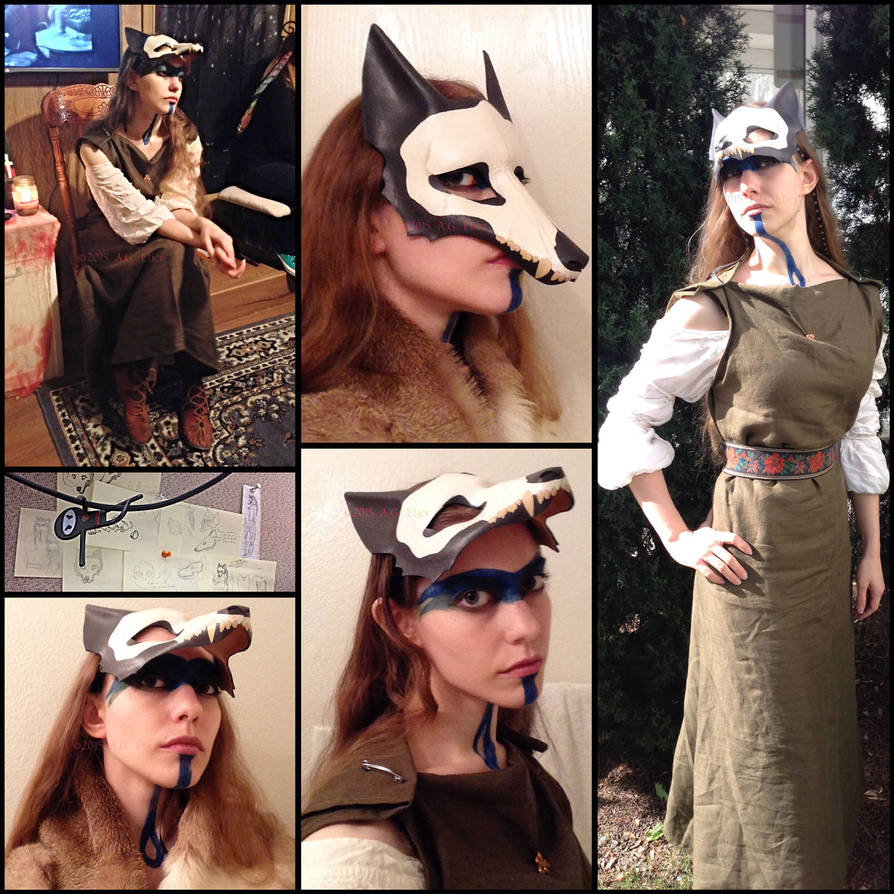 Watch
I can't sleep. It's nearly September. This post was long past due:

2015's day-of Halloween costume design!

In the 24-hour run-up to Halloween last year, I found myself yet again sad not to have put together anything to wear. I dove into another maskmaking binge and surfaced a day later (and late to the party) with this.

This works wonderfully as a headpiece in addition to a mask; a trick with the ribbon let me swap at will. The dress was made up in about three hours, of scrap cut left from a cloak the significant other made in a prior year, with three handmade fibulae (in steel) and a weighted, stylized oak-leaf spiral brooch (in copper). The overdress is linen and only approximately Northwestern European bronze age in design, a peplum style with an overlarge shirt bound up so as not to get in the way, worn over stockings and ghillies. Paint was a total last minute improvisation, but hints most at her origins: I'd eventually like to do something more fantasy and more martial with this character, as she was originally conceived as an ornate shaman or warg figure with slightly more central-European or Rus vibe, and ended up much-simplified when she became an (eager) last resort. My concept board, composed of a selection of doodles on-shift and mostly hidden behind my work monitors, is featured at left center, mostly chronologically right-to-left.

Hopefully I'll get some better pictures of this beastie - I got to take her out twice, but circumstances conspired that there were no 'official' photos taken either time and I'm stuck with bathroom selfies, dim-lit party candids and one a coworker snagged. The best photos are the animated ones - she's far too expressive and fun to communicate in - and I'm not done wearing her yet.