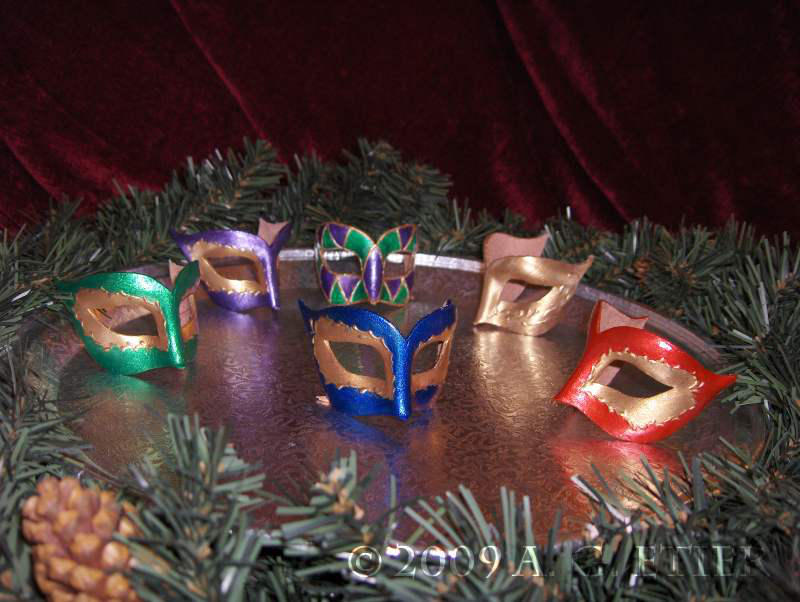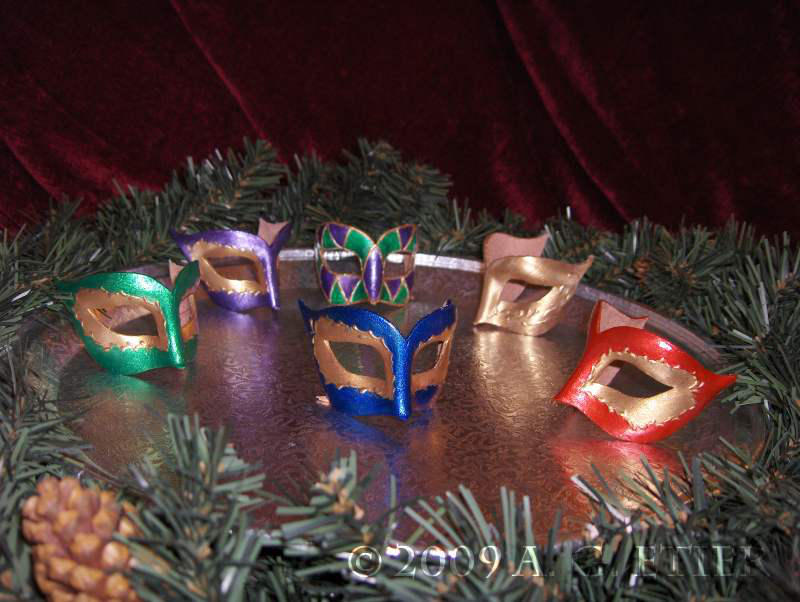 Watch
More miniatures: all the work for one-quarter of the mask! For scale, that tray is about one foot (~30cm) across.

I decided to give that original firey red rosetta occhi a complement of an azure blue and an emerald green (the green's bluer to the eye). My boyfriend wanted an occhi in purple (the paint's been through one too many freezes, so it's a silvery sort of lavender), a harlequin in green and purple, and a filigreed antiqued gold, but the primary vivid shades in the front three best offset the dimensional paint work of the filigree. I should've tried harder to ensure the outside corners of the eyes stood out - the effect there is almost like that of lashes, and rather striking.

I'm just not the best photographer, but I did try, here. Most of the color is accurate, which is tough with metallics. I always forget how violently potent that blue is - against the gold it's positively intoxicating. The green shows here too yellow, and the antiquing on the gold mask is washed out, but meh.

We had a very Charlie Brown Christmas tree this year, a decades-old artificial that sorely needed ornaments that could fill in some of its gaps without overwhelming it entirely, so I set to work on these. Once again my hopes for a miniaturized price point are dashed, but these would still be significantly less pricy than some of the designer ornaments out there - and I don't have three thousand employees, I have the one girl and occasionally someone else to turn on the lights at dusk so I don't have to pause my painting.

To be honest I really like the way they've come out, and I'd like the chance to do more in the future, which is probably not something I'll be able do for free for friends, if only because it'd take me five years to make just one for everyone, so commissions are a possibility.

In leather and acrylics. Not so sure about that category - ever since they stuck in a "Masks" category under "Costuming" I've switched the bulk of my work there - but since these are too small to be worn I put them back in Leatherwork > Misc. Hmm...