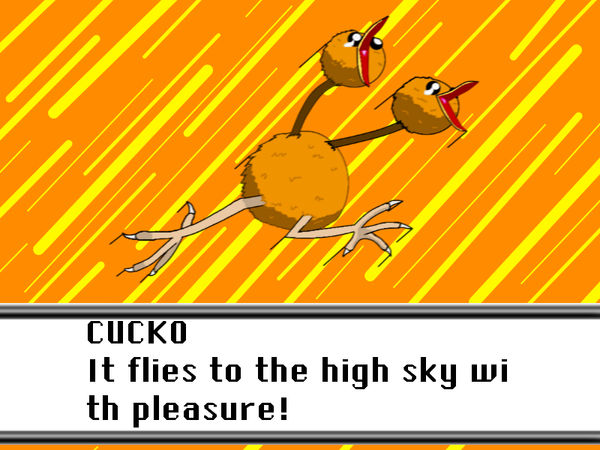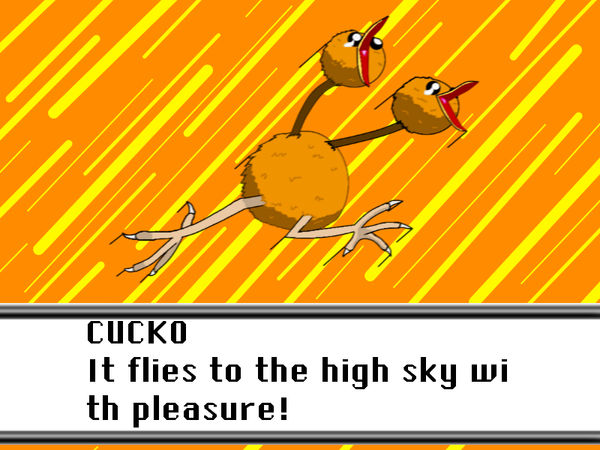 Watch
A bit of backstory is required for this. Those of you who are Pokemon fans likely already know of the original Pokemon Green. Thing is, there exists an "English" translation of the game somewhere; I use the term "English" loosely in light of the fact that much of what is there is translated either erroneously, hilariously, or both.

A Let's Player on YouTube by the name of Shagg made a big deal of this during his playthrough of the game some years ago (I forget how long it's been, just that it's been a while). At some point he caught a Doduo, referred to by the game as Cucko, and taught it Fly. After he received the message referenced above, he commented on a mental image he had of anime speed lines, Doduo soaring through the air, and a single tear visible in its eyes on each head.

After enough time passed, I decided to give it a try and draw the scene for myself. Considering my general lack of artistic ability and the fact that this is the first time I've successfully drawn a Pokemon, I think it turned out pretty decently.