Commissions:
curlytop13.deviantart.com/jour…
PLEASE DON'T ASK ME FOR POINTS!
Name: Grace

(you can call me Gracie

)
Religon: Catholic
Other interests: Dancing, singing, acting, piano, photography
Some things you should know about me:
I dance ballet more than 20hrs a week. Its my passion.

I have eight brothers and sisters
Raphael is my favorite turtle in TMNT.

XD
I LOOOOVE pixels and chibis
I give people (WHODESERVETHEM) random premiums.
I'm secretly a horse lime
I love making new friends so feel free to talk to me!




























RAPHAEL IS THE BEST TURTLE IN THE WORLD!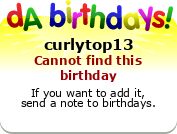 Favourite Visual Artist
Imaginationation, Glen Keane
Favourite Movies
Anything Disney or DreamWorks, Star Wars Trilogy, The Chronicles of Narnia: The Lion, The Witch and The Wardrobe
Favourite TV Shows
TMNT, Kids Next Door, Adventure Time, Phineas and Ferb, Good Luck Charlie, Friends, The Nanny, etc.
Favourite Bands / Musical Artists
Selena Gomez, Michael Buble, Owl City, Britt Nicole, Taylor Swift,
Favourite Books
Pride and Prejudice, The Chronicles of Narnia,
Favourite Writers
Dr. Suess, C.S. Lewis, Jane Austen, my Mom
Favourite Games
Poke the goosen with a stick, mafia
Favourite Gaming Platform
Wii, Nintendo DS, PS2
Tools of the Trade
A sketchbook, markers, tablet, colored pencils, mechanical pencil, computer, Paint, Corel Painter Sketchpad, SAI
Other Interests
Ballet, Singing, Acting, Writing, Music, Piano,