2. Do you have a personal favorite among your OCs?
I'm trying my best not to.
3. Have you ever adopted a character or gotten a character from someone else?

Not that I remember
4. A character you rarely talk about?

Side characters & old ones I don't use anymore /like Valao/
5. If you could make only one of your OCs popular/known, who would it be?

I'd have to go with Valora as she's the leader/princess character
6. Two OCs of yours that look alike despite not being related?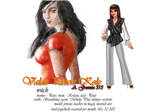 and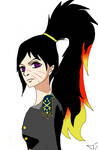 /Valao & Valora - mainly because Valora evolved from a discarded version of Valao/





7. Are your OCs part of any story or stories?

Of ones I write & imagine - yes. Along with ones made for anime/games/etc. known things
8. Do you RP as any of your OCs? If you do, introduce one of your RP OCs here!

*comes peeking behind my shoulder*

Vivi - What'cha dooooooooin?
/Markus shoves me in the ribs - AOOOOWH!!!!!!!/
Mark - Questiony stuff. Boring!
Me: Introduce yourselves!
Vivi - Wha? No! I'm nobody!
Mark - yeaaaaaaaaaaaaah, right! Only the owner of a fashion company!
Vivi - That's just a hobby!
Mark - And a top photographer!
Vivi - That's also a hobby! /crosses hands, tired/
Mark - And you basically don't stop running around helping people move in, talking to the boss, writing articles for that magazine, going to school, (... continues untill Vivianne smacks him on the head with a nearly 3kg of a magazine)


9. Would you ever be willing to give any of your OCs to someone else?

Highly depends on the OC & what the other person wants to do with them; but most likely no.

10. Introduce an OC with a complicated design?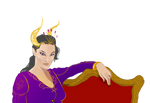 Kathrin Krown. Valora's mother & Queen of United Worlds. She looks mainly human but her official outfit has so many freaking details I nearly die any time I want to draw her. I'm super happy with that picture because it's a snap from Lara Croft I redid as Kathrin. I've always seen Lara Croft- Angelina Jolie for Kathrin. Bestest facial structure.



11. Is there any OC of yours you could describe as a "sunshine"?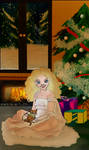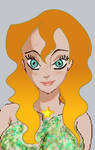 Lexa Morena. Also Marnie.




12. Name an OC that isn't yours but who you like a lot

OC as in Original Character with their own everything: Holly Brown's Reese. tapas.io/hollycrapper1 ; also a LOT more but he's the good boi I can think of straight away.
13. Do you have any troublemaker OCs?

Sure do. My "Supernatural" imp OC - Tricky Darkville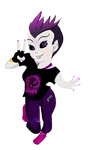 Imps are troublemakers by definition


/used a base for that - female_base by xmizuki_chan is what it says in the title but can find no mizuki-chan or xmizuki_chan around/


14. Introduce an OC with a tragic backstory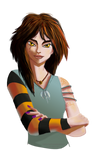 Vivianne herself. When she was 9 and Lexa was 6 they were going to a game Markus had in school and a man whose plans were failed by their father's decision previous night drove right into them crashing sideways into their car from the passenger's side. Lexa died on the way to the hospital from excessive blood-loss; Vivianne had a glass shard through her right eye, broken ribs and had her lower-stomach & reproductive system trauma as the front seat literally slid off its place and almost crushed her. Since then she mostly recovered but she can never have even the slightest chance for getting pregnant. She was also in coma for a few weeks.

After all that she fell into depression & blamed herself for Lexa's death because Lexa was with them in the car because Vivianne was refusing to call a friend to watch her in their home.

Moving to Rockdoors & meeting Sean raised her up from the hole & now she's more energetic than chipmunks on coffee /the Alvin movies/

15. Do you like to talk about your OCs with other people?

Kind of. People are not asking. Hence why I'm doing lots of these question - thingies.

16. Which one of your OCs would be the best at biology (school subject)?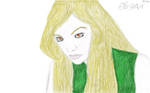 Teos. She's been currently demoted to a "under question" character as she's a dark witch using and exploring the darkest of magics she can discover BUT her actions & what motivates them is uncertain. But as a dark witch she had a high interest in Biology so she can know parts of animals when she needs them for spells.

17. Any OC OTPs?
Vivianne & Sean. And now I realize I've no sfw picture of them...
18. Any OC crackships?

ooooooooooooooh.... never thought about that.........hmmmmm
Most definitely Valora with anyone would be a crackship. Especially in a wedding scene.

19. Introduce an OC that means a lot to you (and explain why)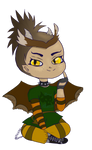 Vivisuelle. I came up with her trying to combine all animals I love so much into a magical being that's somewhat friendly to people yet can be dangerous. She's something I wish I could be the most I guess - close observer to human-kind, who is not required to but has the option to involve emotionally with people. And has magical powers. And can kill without a trace.



20. Do any of your OCs sing? If they sing, care to share more details (headcanon voice, what kind of songs they like etc)?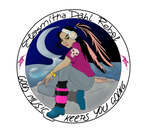 Jasmitha is both a singer & a DJ. She likes swing/electroswing & jazz mainly;
Vivianne, all the Krowns and some other can also sing. & they all have different likes & voices.



21. Your most artistic OC?

They're artistic in different ways:
While Jasmitha has her music & can be a great sound-operator;
Vivianne is a photographer, designer & fashion artist & model;
and I have a group of street artists who use the buildings & streets as their canvases. & more.
22. Is there any OC of yours people tend to mischaracterize? If yes, how?
... not sure?
23. Introduce OC that has changed from your first idea concerning what the character would be like?

Rikka Roxx. She went from human to forest spirit. From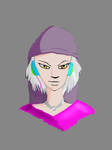 to
/the darker one, without tail/ Initially she was too much Twilight-werewolf like.




24. If you could meet one OC of yours, who would it be and why?

All of them honestly. But mainly Valora. She'd probably chew me up for the decisions I make for her though.

25. The OC that resembles you the most (same hobby, height, shared like/dislike for something etc?)
I do my best to have no character resemble me too much as I am in real life. They all have something from me, but they all have different elements & amounts of personality traits & things I have myself.
26. Have you ever had to change your OC's design or something else about them against your will?

Not exactly but when writing my novel I figured I should kill Samantha.
27. Any OCs that were inspired by a certain song?

not that I remember but there sure are some
28. Your most dangerous OC?

an angry Valora, Artemis or any of the Fairy Tail ones I made up.
29. Which one of your OCs would go investigate an abandoned house at night without telling anyone they're going?
Marnie. Along with Scarlet, Garett, Randy, Alison, probably Valora, George & Michael
30. Which one of your OCs would most likely have a secret stuffed animal collection?

Markus Morena. For certain. And it would be of pokemon.
31. Pick one OC of yours and explain what their tumblr blog would be like (what they reblog, layout, anything really)

Let's go with... the fact they wouldn't go to tumblr. Like ever. Because it doesn't exist in my universe.

But taking Vivianne /as I've talked mostly about her/ - she would have a dark theme with a few clear color spots;
she would reblog photos from fashion-photography blogs; very sunny pictures; healthy food recipes & practical tips for safe sport-practicing.


32. Which one of your OCs would be the most suitable horror game protagonist and why?

Depending on the aim of the game; if it's for the character to be weak, scared & suffering //say FNAF - the guard's position// - most likely Nikka Greene;

if it's for the character to analyze & discover reasons - Vivianne

if it's to crush an enemy - Valora or any of the Krowns really.
33. Your shyest OC?

Any of the younger siblings - Aro's little bro or Marnie's sister
34. Do you have any twin characters?

the Krown twins - George & Michael;
Nahele & Nubia Kamaria are fraternal /non-identical/ twins;


35. Any sibling characters?

An entire ton of them. I do have single kids but most of my OCs have siblings.
36. Do you have OC pairs where the other part belongs to someone else (siblings, lovers, friends etc)?

Mmmaybe? Do anime character x OC count? Then yes, a lot.
37. Introduce an OC who is not quite human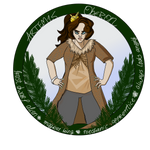 Behold! The human version of the Grumpy Cat. She's a being from another planet, where she's a goddess. She came to Terra following Vivianne.



38. Which one of your OCs would be the best dancer?

Sarah Krown.
39. Introduce any character you want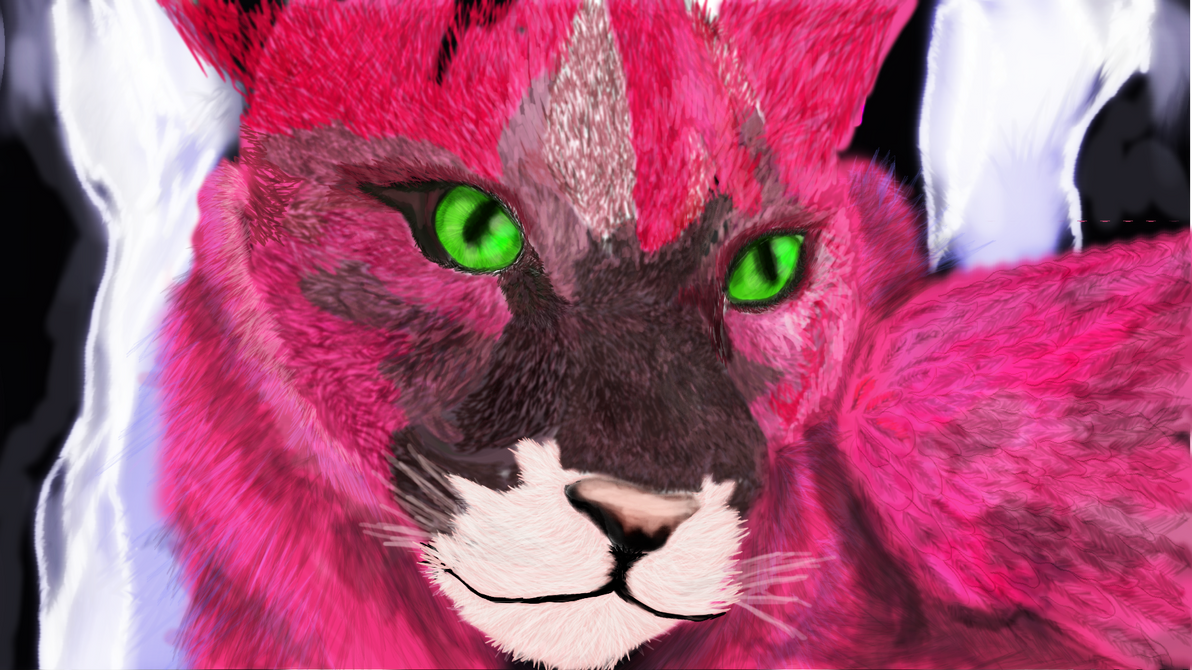 My Luxatte. It's a flying panther-like feline creature with fur made of/ covered with gems/ amethyst crystals. It's a deity of life & rebirth.



40. Any fond memories linked to your characters? Feel free to share!

Came up with Vivianne when years ago an online-met friend made Vivi up as a nickname as I told her I hate my real name.
41. Has anyone drawn fanart of your OCs? If yes, maybe show a picture or two here (remember sources & permissions!)

Yep.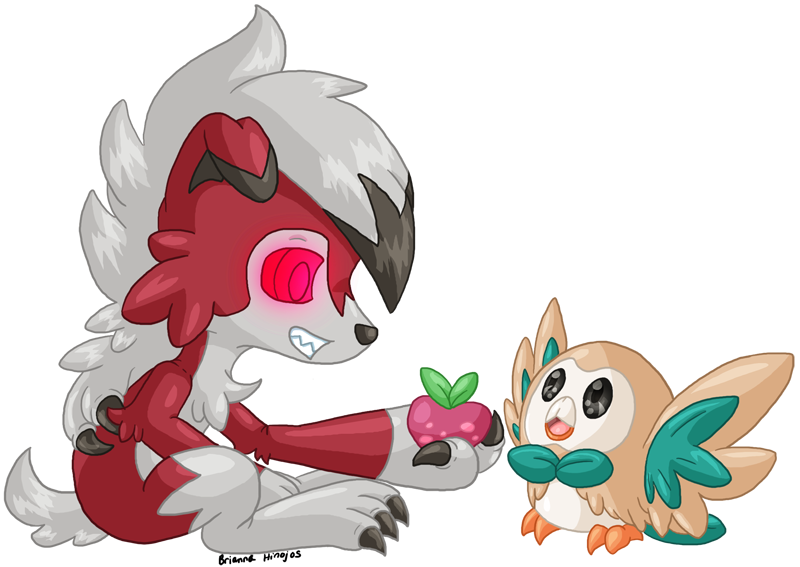 HigginstheAwesome did draw my Midnight Lycanroc_and my fave Rowlet


42. Which one of your OCs would be the most interested in Greek gods?

Kassandra Fuego actually. As the daughter of a huge name in wine making she's started from Dionysus & spread through all the Greek mythology.
43. Do you have any certain type when you create your OCs? Do you tend to favour some certain traits or looks? It's time to confess.

I try to go for variety. But I notice lately that a lot of them have either scars or freckles. Or both. And I tend to draw them all with huge eyes >.<
44. Something you like about your OCs in general

Like I said before - they all have a piece of me. And the way I set my world - they can do WHATEVER they want among each other /breaking real existing laws in our reality that are not same in theirs/ while still keeping to other laws & rules.
45. A character you no longer use?
Valao. Swapped Phoenix bird w. fish & got her aside & replaced by Vivianne I believe.
46. Has anyone ever told you that you treat your OCs badly?
Nope.
47. Has anyone ever (friendly) claimed any of your OCs as their child?
Nope.
48. OC who is a perfect cinnamon roll, too good for this world, too pure

don't think I have living ones that fit the description. Lexa & Samantha
49. Which one of your OCs would most likely enjoy memes?
All of them.


50. Give me the good ol' OC talk here. Talk about anything you want
I HAVE LOTS OF THEM!!! Can never draw all of them with full families T_T