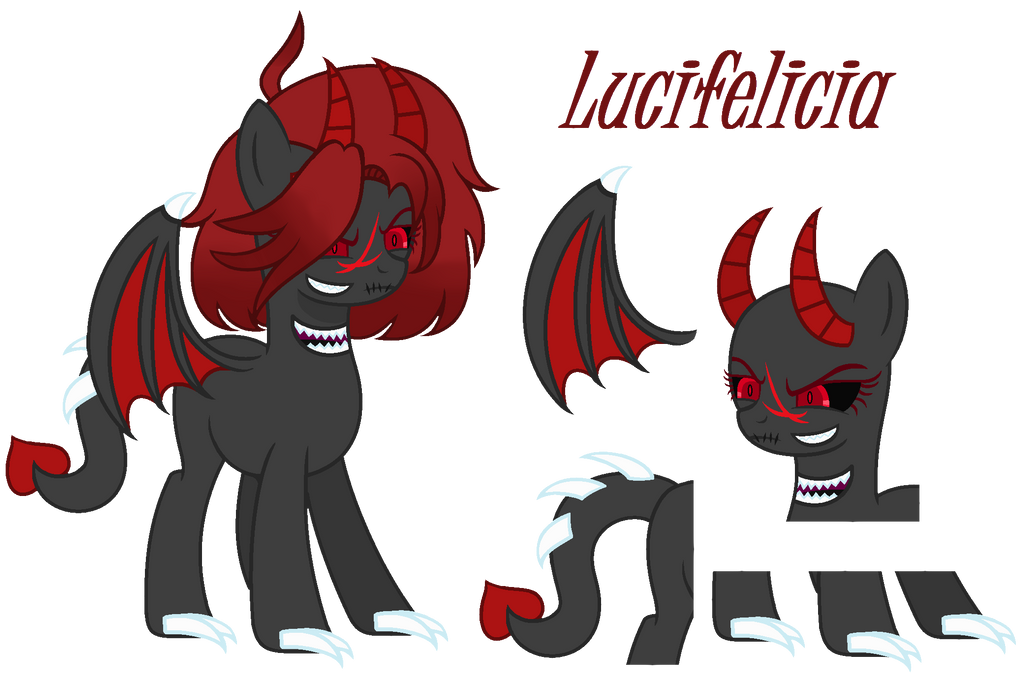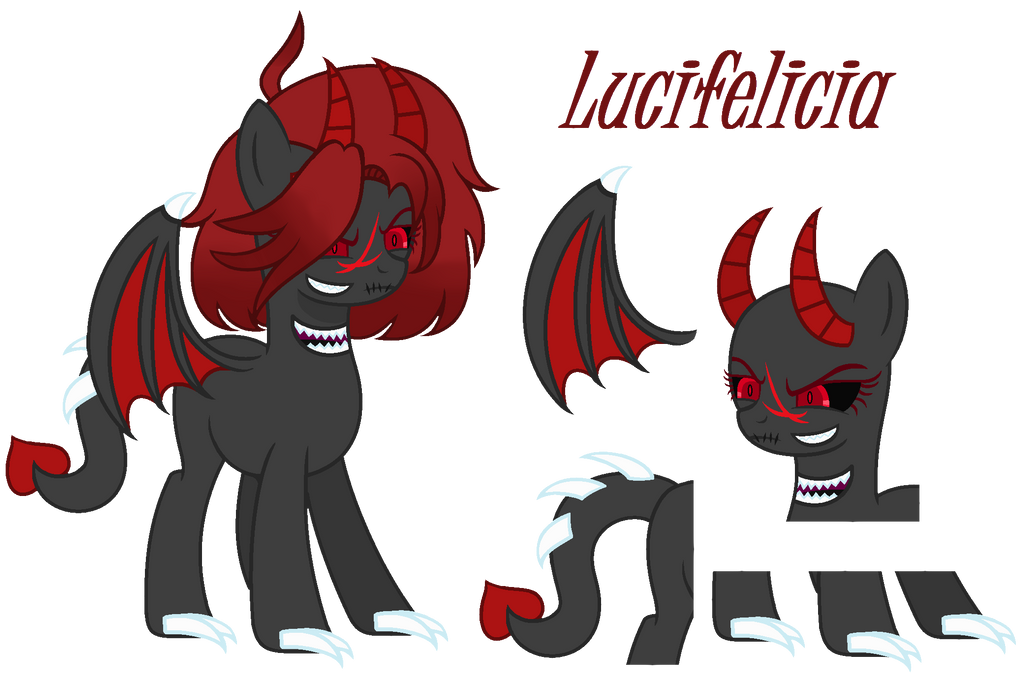 Watch
FINALLY xDD
Name: Lucifelicia
Nickname: Lucy, Feli
Age: 5666 (OOF)
Gender: Female
Species: Pony but is a demon hybrid
Likes: Being alone, rest, training, killing
Dislikes: Annoying peepz, her dad

Personality: Kinda? evil, REALLY, REALLY Bad tempered

Talents/Cutiemark/Abilities:
SHE DON'T HAVE A CUTIEMARK
But she can use telekinesis, teleportation and much more (yeah call her a marysue i don't care anymore oof)
General Bio:
She is the first pony hybrid demon that is able to form correctly while others are failures (read more here:
www.deviantart.com/cupcakeedit…
)
But the effect is the birth mother will die for unknown reasons. And then so on more pony hybrid demons came in.
She able to possess a body or something IF they allowed her. She used to live in Cupcake's mother's necklace (yes that is a magic necklace) and she now is Cupcake possession. (i explain more in a backstory)
Her mouth is stitched because it lets out poisonous gas that can kill anything. So Zalgo physically stitched her mouth up with force (without any fucking anesthesia or let her passed out for a while) (and that is why she dislike her dad and the way how he abused her). She have other mouths, she speak using mouth on both of her cheeks and one mouth on her neck is for eating.
The scars on her face is by Zalgo and Cupcake when they are training.
long scar: Zalgo
short scar: Cupcake
Base:
www.deviantart.com/elementbase…
Base by:


Why dose she look like Zalgo but more...Pony...

Anyway I got a Demon who hates Zalgo and his children.
Reply

she a pretty bab


but she kill
Reply

first time i actually find a pony oc creepy
good job!

Reply

Reply

She have three mouth dats creepy enough xDDD
Reply

Actually four mouths xD (one the original mouth, two mouths on the cheeks and one on the neck xDD
Reply

Noice
(Looks like hell in pony from XD)
Reply

She looks so precious i want to hug her omg
Reply