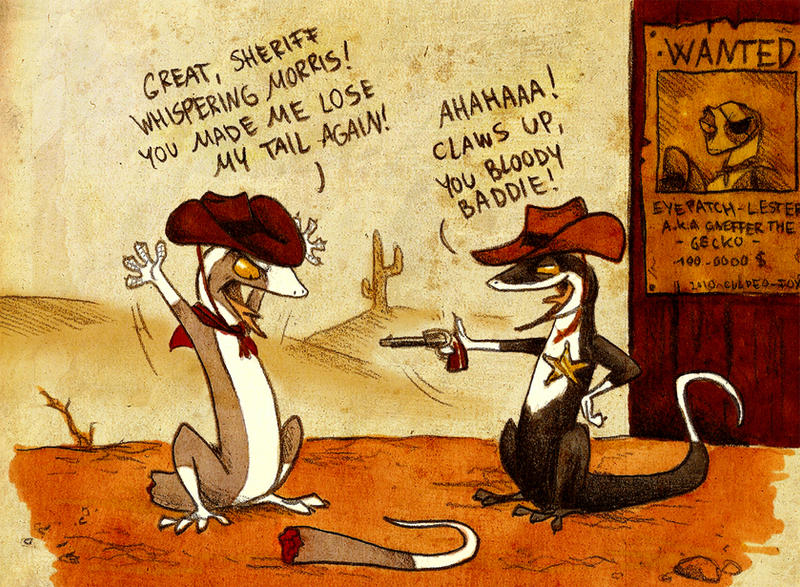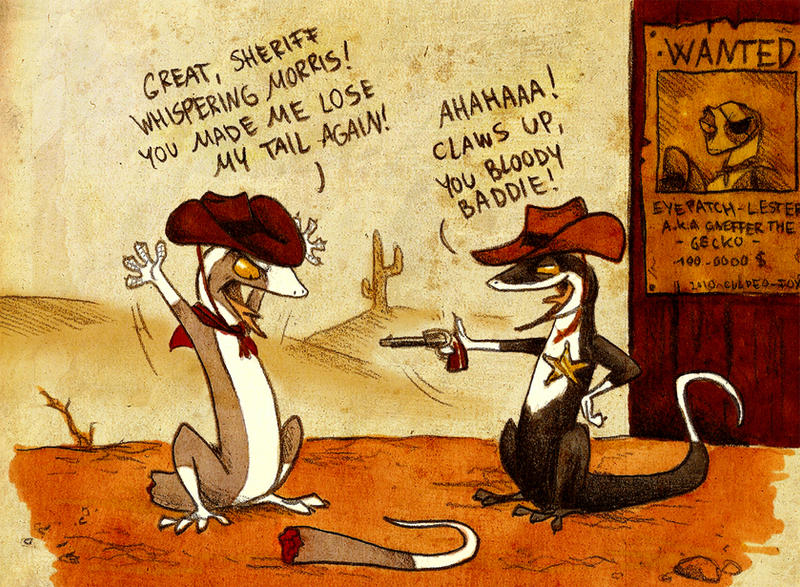 Watch
Victorian foxes became fad. So we decided to change it into a western story, performing Whisper and Gneffer as geckos. Geckos are awesome and absolute no-trend-animals, unlike foxes, wolves and co.
....what.
Okay, so this picture is an obvious LOL-cow-result.
You know, there were times, when fox loving-people and fox-characters were a minority everywhere and i was happy about that. But also proud that i couldn't get called "trendfollower".
What happened? I suddenly became one of the actual trendsetters, speaking of the love for foxes and they got the "new wolves" to some degree, if you know what i mean. Trolls and haters followed, aaah, ooh, the evil foxtards.
First it felt horrible. I became what i hated once. But it didn't take me long to realize: Heck, why should i care?

The fox is and always was "my" animal and i would never ever change it for the sake of being unique or because i fear to be called trend-follower, the fox means way too much to me to do so. And i also realized how childish i was since i also used to judge wolves for their trend (beside the fact that i truly don't like the animal itself, though. Sorry, wolfpeople, don't want to offend you. :/) .
Each to his own. Learn to ignore the trolls and kiddies. They will go on anway and follow another trend in time.
Am i overrated because i drew foxes? I think no. Because i doubt that one can imagine what it feels like to be close to your soul-animal, feeling its breath, seeing into its eyes, coming home. And this is, what distinguishes a trendfollower from a person who really cares for the animal.
long story short:
I don't mind any of your decisions and all. But don't change things because the majority screams for it. I know people who did so and became very unhappy with it - until they found back to their roots again.
No offence to anyone, just my opinion. End of story.
Sheriff Whispering Morris (c)

Eyepatch Lester a.k.a Gneffer the Gecko (c)


Lulz, aren't they cute? No really, i like Geckos very much! I used to catch them the times i was in Thailand. The
Hemidactylus frenatus
-species can be found everywhere there.