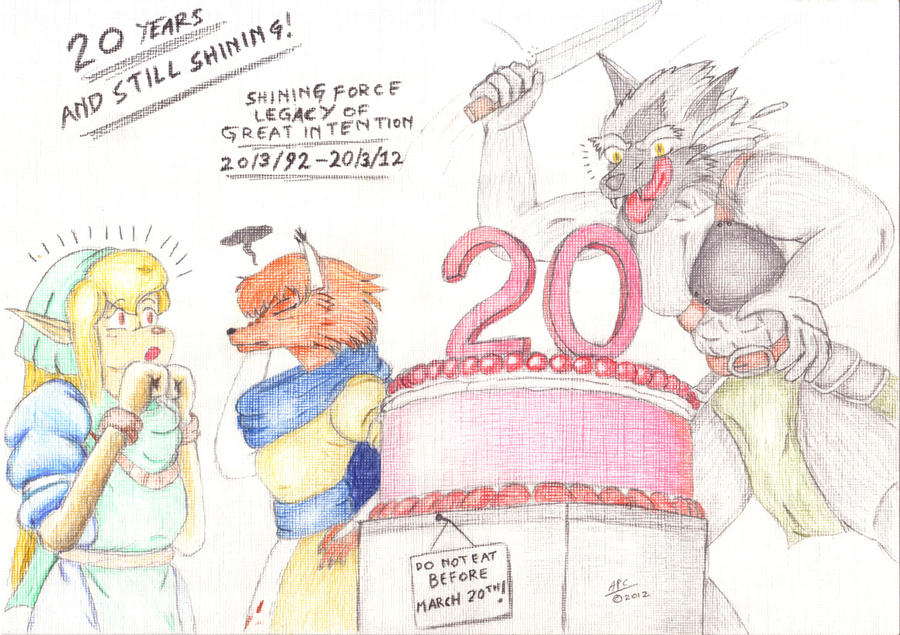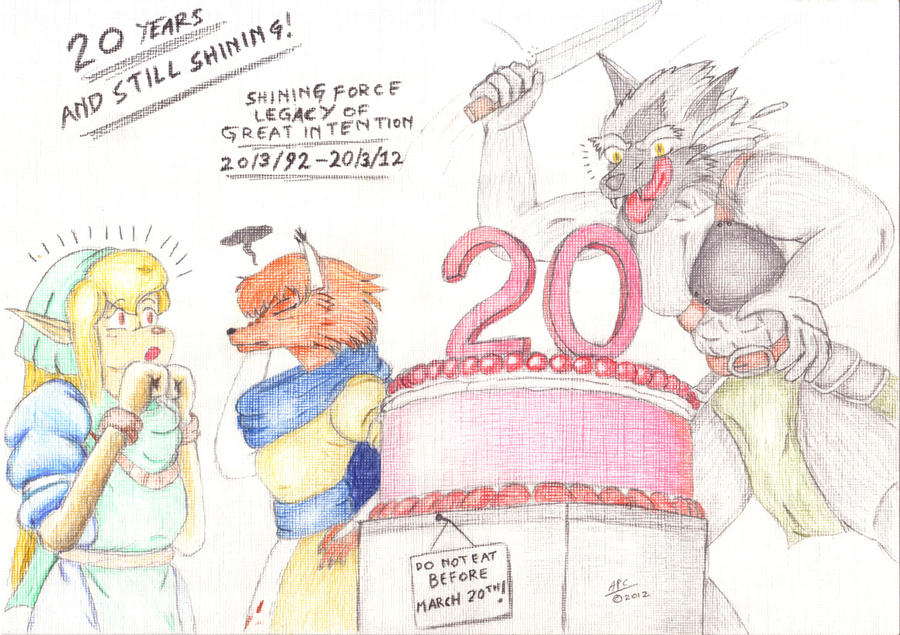 Watch
20th March 2012 marks the 20th anniversary of the original Japanese release of Shining Force: Legacy Of Great Intention. I've made this picture as a celebration of the game that started the SRPG series I love so much.

Being a fan of the anthropomorphic characters I opted to focus on Khris, Alef and Zylo - I considered including other characters, but left them out due to time constraints, lack of experience with drawing them, and avoiding making the picture too busy. Zylo was originally going to be leaping and pouncing at the cake, but as I couldn't get his back arm to look right I opted to have him brandishing a cake knife... who'd have guessed the King of Bustoke liked cake so much?

I was fortunate enough to integrate this into my evening art course, where I've spent the bulk of time working on the picture over the last few weeks; in doing so I've been able to get some advice and guidance from my teacher in putting this together (as someone who mainly works on real life artwork, he enjoyed the chance to work with something more cartoony!), and also get some help with using this as a chance to implement some of the techniques he's been teaching me (e.g. drawing ellipses for the cake, using different weights and layers with pencils, light positioning and effects, object placement in a picture) - he gave me a hand getting started with the colouring, which is why Khris's arm and sleeve on the far left look somewhat better than the rest of the colouring!
The picture was drawn on 300gsm paper for acrylic painting (I had hoped I might have time to try painting it), which is why there's a bit of a stipling effect. It was drawn using a 2B pencil for the linart, then coloured using standard colouring pencils; the message was written using a 3B pencil.
EDIT: And after all that work, I notice at the last moment that I wrote "Legend" instead of "Legacy". After creating half a dozen new swears, I've corrected the typo and reuploaded the picture. >.>.