Hi everyone,
(English below)
Une partie d'entre vous était déçue de ne pouvoir participer aux deux précédents événements. C'est vrai que les écrivains dont souvent exclus de ces Events plutôt pensés pour les dessineux. Mais nous, la Team Cucute, nous aimons autant la littérature que l'art, et nous vous avons concocté ...

 The Cucute Words Contest

N'importe quel membre peut participer en proposant un texte mettant en scène de nouveaux personnages ou ses OCs (fanfic acceptées) et qui corresponde au thème et règles du groupe Cucute.
- Max 5000 mots
- Vers ou prose
- Un peu de Cucute, beaucoup d'amour

PARTICIPEZ jusqu'au 1 AOUT

Passé la date limite, l'équipe Cucute lira les textes et chaque admin choisira celui qui lui a le plus plu et en fera une illustration.
Quand il s'agit d'érotisme et de Cucute, il est impossible de se baser sur des critères rationnels, il faut suivre son coeur et son inspiration. Et c'est ce que nous ferons : les "gagnants" seront le ou les textes choisi(s) par l'un des membres de l'équipe.






A few of our members felt left out by our last two events. It's true that writers can't as easily take part in those kind of events that are mostly made for artists. But we, at Cucute Team, love both art and litterature so we open a new event :

The Cucute Words Contest

Any member of the group may submit a short text (max 5000 words) featuring either new characters or OC's (fanfics are ok) and fitting our group's theme and rules.
- Max 5000 words
- Fiction or Poetry
- A bit of Cucute and love

Submit your entry before 1st of AUGUSTUS!

Once all the texts are submitted, your favorite admins will read those and choose one they like best and are willing to illustrate.
When it comes to cucute and sexyness, you have to follow your gut and your heart so we will do just that : the "winners" will be the text that is chosen by a member of the Cucute Team.
Prix / Prizes :

offers a coloured picture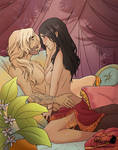 offers a sketch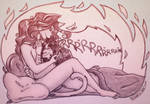 offers one watercolor (A5) and a sketch on kraft (A4)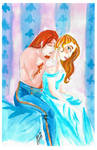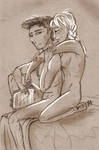 offers an ACEO card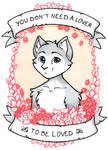 offers a digi picture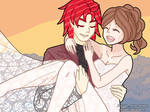 A nos chers artistes,
Tous les autres membres du groupe qui voudraient offrir un dessin peuvent bien sûr se joindre au fun!
Pour vous, les règles sont simples :  
- Lire les textes qui vous intéressent.
- Illustrer la nouvelle qui vous a touché.
- Si vous avez la flemme de lire mais que vous êtes d'accord pour offrir un prix, manifestez-vous dans les commentaires

To our dear artists,
Any other member willing to offer a drawing may also take part in this fun event!
For you the rules are simple:
- Read the texts that strike your interest.
- Draw the scene you like the most.
- If you feel to lazy to read but are willing to offer a prize, please let us know in the comment







Entries :

Une rencontre une nuit un debut d'autre choseBonjour tout le monde!
Voilà un petit texte écrit pour le cu-cute words contest avec pour protagonistes deux de mes persos chouchoux Jack et Khalil qui sont respectivement des gijinka de Saquedeneu et Mr mime (Pokemon pour ceux qui connaissent pas XD) et dont voici les fiches:


Pour voir de quel concours il s'agit, allez jeter un œil ici:
J'espère avoir mis du cute là-dedans, doser avec le cul c'est pas simple /PAN/
Bonne lecture et n'oubliez pas de laisser un petit commentaire pour me dire ce que vous avez aimé, pas aimé, les erreurs commises ect... Pour que je puisse améliorer un peu ma plume. J'écris toujours du point de vue d'un des personnages et là il s'agit de Khalil, j'espère que vous arriverez un peu à vous mettre dans sa peau ^^
Nombre de mots: 3489

by
schmurtzx9

(Contest entry) Call me by my name (18+!!!!!)Wide awake.
Vita said that I must have complete rest, but I don`t want to sleep at all.
I don`t know what to do. So boring!
I looked at what left from my arm. That mustachioed bastard chopped it off almost up to the shoulder.
Total crap!
There was a knock on the door and someone asked very shyly:
– Excuse me… mister captain… sir… Are you awake?
– Come in if you're coming in, – I answered. It`s her voice, blow me down!
The door creaked open, and Sasha peeked into the room.
– Vita… doctor Rovenski forbid us from bothering you… but I… Would you excuse me for a minute, mister captain? I just want to make sure that you are all right…
– I`m super well, don`t worry, – I smiled from ear to ear. – Come in, sit down.
– No, I think I'll just go… I`m afraid Vita wouldn`t be happy finding me here…
– Vita is sure that I`m sleeping now. So, she won`t come here for an hour o
by
Cranash64

A Simple, Civil MarriageIt will be a private affair. A simple one.
I lean back in my seat and take a deep breath. Three E months of stress roll off my shoulders. A wedding at city hall. If only we'd thought of this sooner.
Almost a week ago, Siva and I moved the last of our things into a new residence, somewhere on the edge to the research facility. That night, we shut off all of our comm-links, ordered a delivery service from the facility kitchen, and refrained from uttering a single word about our recent problems. Neither of us wanted to ruin the meal.
But afterwards, over a glass of wine, Siva and I finally had to admit it. We were sick to death of our families' squabbling. And in the midst of our complaints, my fiancée suddenly came to an epiphany.
"Their presence isn't required for us to marry, yes? And isn't a civil ceremony is very cheap?"
All I could do was blink at her, realizing that she was absolutely right. The next morning, we canceled all of our wedding plans, save for the honey
by
Fundelstein

Le gout des bons souvenirs - Concours Cucute 2019

Le goût des bons souvenirs
Fanfiction écrite par Andromeda Mavros pour le concours Cu-cute
Rating / Classement [+18]
Publié pour la première fois le 26 juin 2019 sur DeviantArt
Chapitre unique
Crédits : Le contexte et les personnages sont issus de L'attaque des Titans, manga d'Hajime Isayama.
O~O~O~O~O~O
Contexte : L'histoire prend place pour le début après les événements du chapitre 105 (sachant que la saison 3 va s'arrêter sur le chapitre 90) et se réfère à ce qui aurait pu se passer entre Sasha et Nicolo durant la parenthèse des quatre ans.
Pour ceux qui ne suivent que l'anime, Nicolo est un jeune cuisinier militaire Mahr, dont le bateau sera confisqué par les habitants de Paradis (il servira notamment de victime d'une mise en scène mémorable d'Hansi sous le regard désespéré de Levi ^^).
Je vous mets donc un portrait des deux protagonistes !
S
by
andromedamavros

Gravity PointIl était près de onze heures quand Zoé se réveilla. La tête dans le coltard, elle ouvrit un œil et un sourire malicieux apparut sur son visage. À côté d'elle, Azylis dormait comme un ange.
La spectre aux cheveux bleus se redressa sur les coudes, puis commença à caresser le dos nu de celle qui partageait ses nuits depuis près d'un an maintenant.
— Mmh, ronronna de plaisir la rouquine tandis que Zoé la réveillait en couvrant ses omoplates de baisés langoureux.
— Hey, little bird, souffla Zoé avant de laisser ses lèvres descendre peu à peu le long de la colonne vertébrale de sa compagne. Bien dormi ?
— J'adore le réveil surtout !
Encouragée par cette réponse, la punk continua sur sa lancée, faisant glisser ses mains sur les hanches d'Azylis pour mieux la sentir se tortiller de plaisir. Elle était vraiment craquante quand el
by
Daegann