Image details
Image size
407x547px 362.08 KB

Serpentyne died at the end of issue 9 so i think we've seen the last of that character. other then The Winter Gaurd mini-series i don't even recognize any of the so called ROM continuity Marvel has done in the past twenty years. it's all so half baked and patheticaly disjointed. i know how much you like The Micronauts you might like this it's something i did back in the late 90s...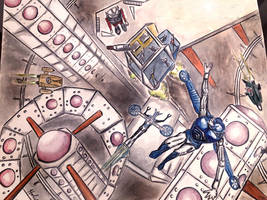 you raise a good point. the story line with Serpentyne in ROM 8 and 9 was possibly meant to be Bill Mantlo's socially commentary on PTSD issues for soldiers.

I just learned actually from one of those online character write ups that the blaster Serpentyne had in the issue was actually a weapon he had "acquired" from the dire wraiths. I never thought of it actually but that makes sense.