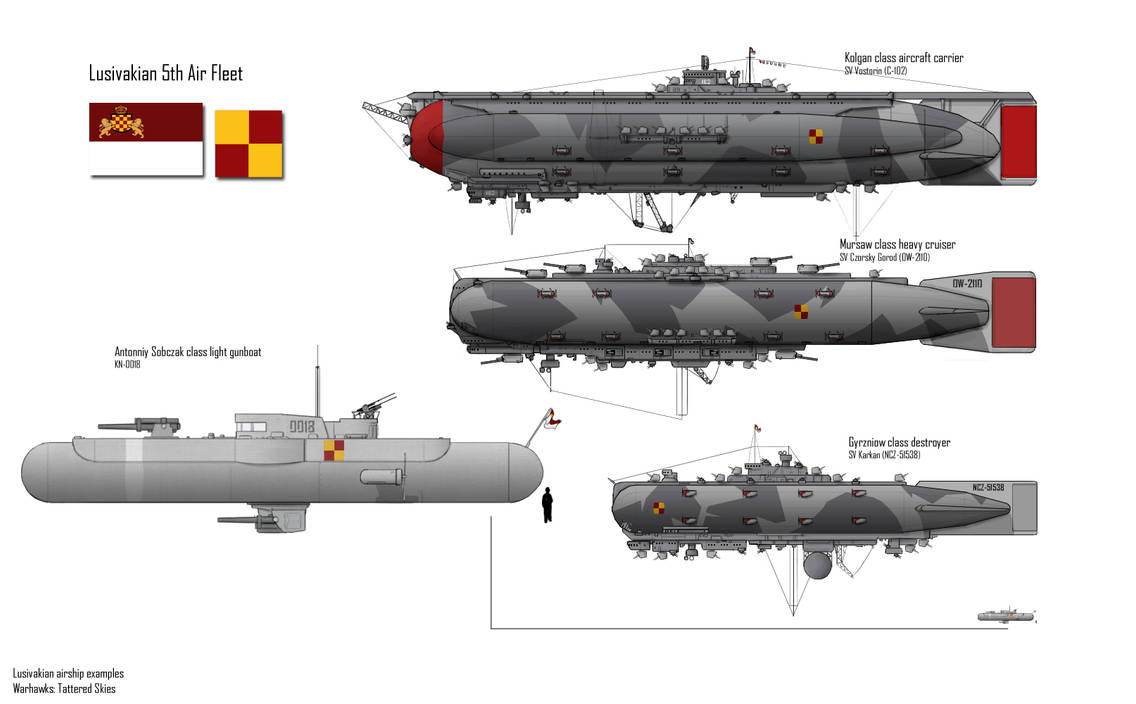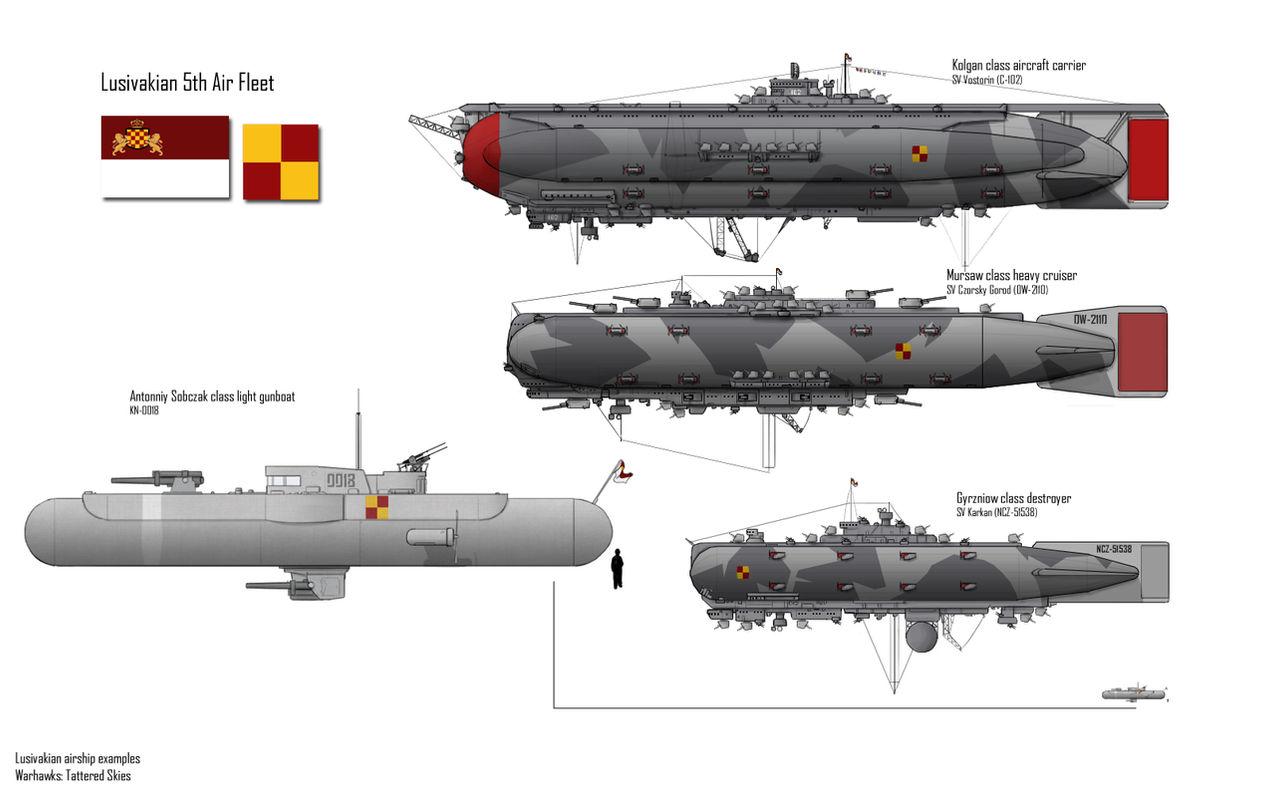 Watch
A few examples of the airships available to the Lusivakian air fleet in the upcoming RP "Warhawks: Tattered Skies". On average, Lusivakian ships favor heavy armor and heavier firepower, sacrificing agility in the process. While that means they're able to strike targets harder from greater distances, and withstand severe amounts of damage, they're nonetheless vulnerable to units too small for their large guns to hit, such as gunboats and attack planes.

Kolgan class aircraft carrier
Among the largest aerial vessels ever built, the Kolgan class carrier- while the pride of the Lusivakian navy- is nonetheless somewhat dated. At the time it was still being designed, it was nicknamed the "Engineer's Nightmare"- in spite of the advances in airship technology, the concept of keeping such a heavy object aloft and mobile seemed ludicrous. What the Kolgan lacks in speed, it makes up for with its host of onboard fighter, bomber and gunboat squadrons, not to mention its ability to withstand an immense pounding. The SV Vostorin is the only carrier stationed over Almenia.

Mursaw class heavy cruiser
At the war's dawn, many nations saw the benefits of developing lighter, faster airships that supplemented their agility with firepower. The Mursaw class cruiser stands testament to the Lusivakians' idea to go in the opposite direction, preferring instead a fleet of heavily-armed dreadnaughts supported by carrier-based fighters. Rivaling smaller battleships in size, firepower and hull strength, and considerably more ample in supply to boot, these floating monsters are gradually being replaced by more inexpensive, well-rounded successors.

Gyrzniow class destroyer
With guns significantly lighter than those of their larger brethren, destroyers such as the Gyrzniow class act as fighter support vessels, and are made to scrap with smaller ships such as gunboats. Long-range radar also makes it an effective early-warning system, making it an essential element to any escort.

Antonniy Sobczak class gunboat
An upgrade to a dated rip-off of an even older Rogacian design, the Antonniy Sobczak class is small, lightly armored, and packs hardly above-par armaments for its classification. However, its speed makes it an ideal asset for patrols and reconnaissance, with a few generally accompanying a radar-equipped destroyer. They also make ideal fleet escort, able to match more agile Almenian craft, though their real calling is in ground-attack, as it can loom over friendly land units and provide superb fire-support while sustaining significant amounts of damage, while also not being too big or valuable a target.