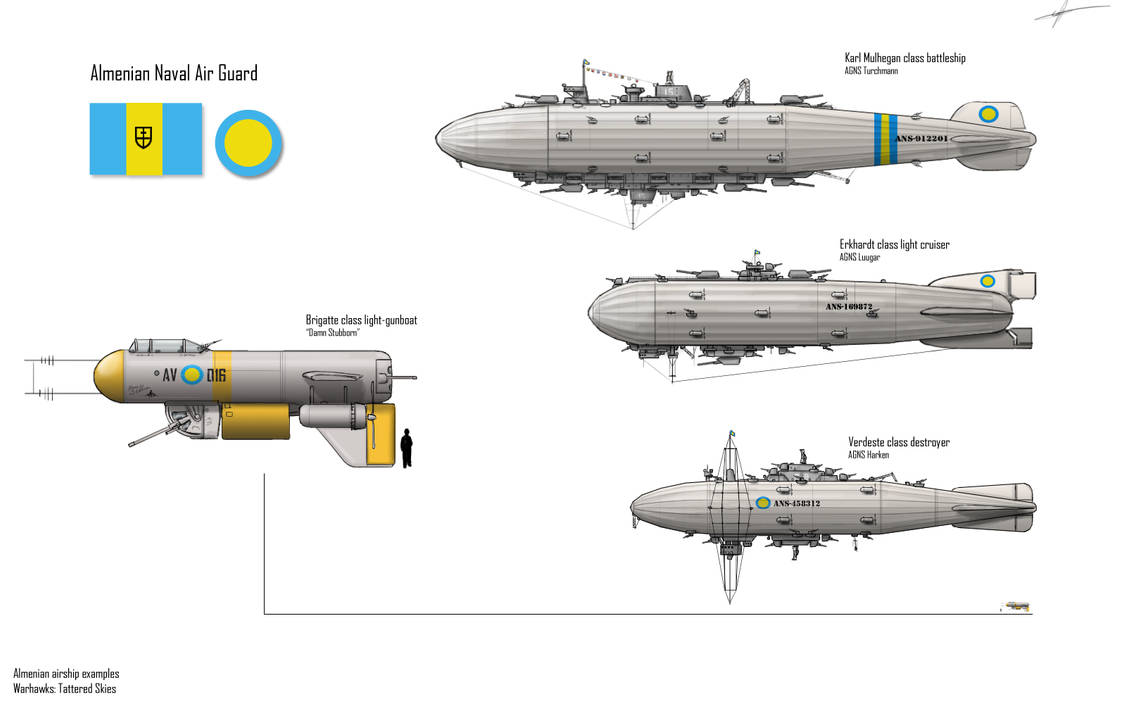 Watch
A few examples of the airships available to the Almenian air fleet in the upcoming RP "Warhawks: Tattered Skies". The ships of the Almenian air fleet generally favor mobility and nimbleness, allowing them to evade enemy fire while maneuvering into punching distance. However, a loss of engine power or being caught standing still often means a ship is dead meat.

Karl Mulhegan class battleship
Once the pride of the Chergarian navy, the Karl Mulhegan class battleship became outdated only a few years into the great war, many of them scrapped or sold. In spite of the attitude of her creators, the Karl Mulhegan class is hardy, tolerably fast, and packs one hell of a punch. The Turchmann, one such specimen sold to the Almenian navy, now acts as the flagship of the Almenian Naval Air Guard, and with her two sister ships, the Boherr and the Lugen Werber, provide the coveted muscle of the defenders' fleet.

Erkhardt class light-cruiser
With Almenia's three battleships kept in reserve, the Erkhardt class light-cruiser is the mainstay of the Almenian Naval Air Guard's fleet. As far as ships of her weight go, the Erkhardt is agile and well-armed, able to nickle-and-dime larger groups of enemies whilst dishing out disproportionate amounts of punishment, courtesy of nine 12-inch guns divided amongst three turrets.

Verdeste class destroyer
Had a flotilla of Verdeste class destroyers been on duty prior to the Lusivakian invasion, things might just have turned out differently. A vast (and very conspicuous) array of sensors and comms equipment, long-range radar, and sixteen 5-inch guns make the Verdeste class destroyer a nightmare for enemy planes and light airships. Ideal as an early-warning and fighter/bomber defense platform, the Verdeste class is nonetheless vulnerable to anything with guns bigger than its own.

Brigatte class light-gunboat
No bigger than a heavy bomber, although somewhat slower, the Brigatte is a popular piece of hardware amongst the Union powers, and thus has found its way into Almenian hands. A quartet of 40mm cannons- two aft, another two under the nose- can give hell to small aerial targets, as well as ground forces, while two 12.7mm machine guns to the rear of the canopy fill any gaps to its six o' clock.