I'll be choosing

Amadeo Dubratt
He's the most amazing person I've ever met. He's kind, he's caring and when I met him I was in a very dark place. He was my light and helped pull me out of it. I'll be eternally grateful to him for that. He means the world to me and I don't know what I'd do without him.
I think Amadeo would pick 'I'm Complicated'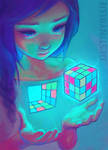 To me he's as clear as a cloudless day but I think to others he might seem complicated. I think he'd like this artwork because not only would he love the colours but I think it suits his personality.
I'd also pick 'I'm Complicated'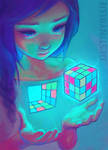 as my favourite piece. It's beautiful and deep and the colours intrigue me. I don't think I'm 'complicated' as such but I'm sure some think I might be.
If you want to enter the give away you can find out all about it here:

100K Watchers - Friendship Giveaway! (+print sale)100,000. wow. That's a big number, and I know it can be easy to look at the statistics and just see numbers, but each number is a real person, who chose to click watch because they enjoyed my art. It makes me really warm inside, but it got me thinking of what I really value in you guys, it's not the number, it's the person, the interaction, I love to hear your stories, know what connections you feel with my art, get feedback on how you think I could do better, or what you enjoyed in a new piece. The total number is irrelevant if I never get to know any of you. I honestly feel many of you are friends rather than 'watchers' I wish I could give back to each of your what you've given to me, I know that's not possible, but it got me thinking that I could promoto a bit of appreciation between friends round these parts

So I offer:
:bademoticon:
Friendship Giveaway! Win prints for you and your friend!
<strong>