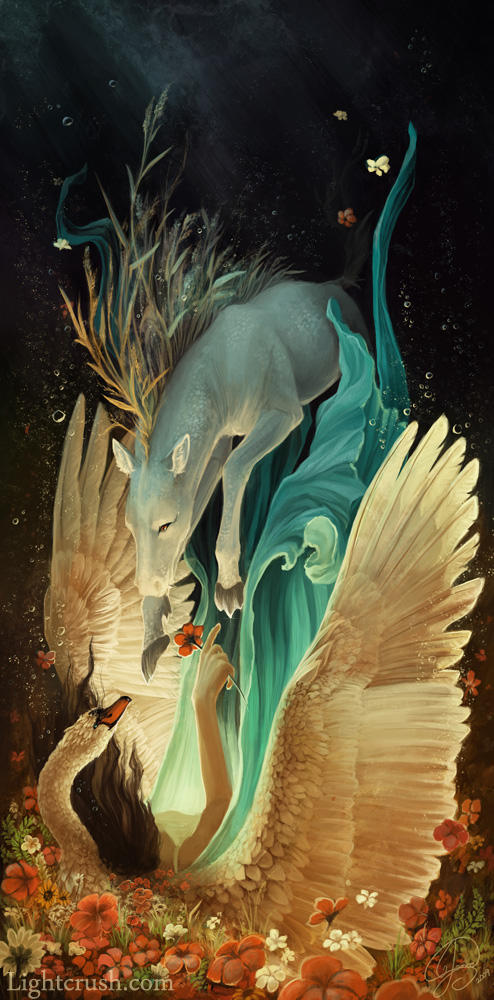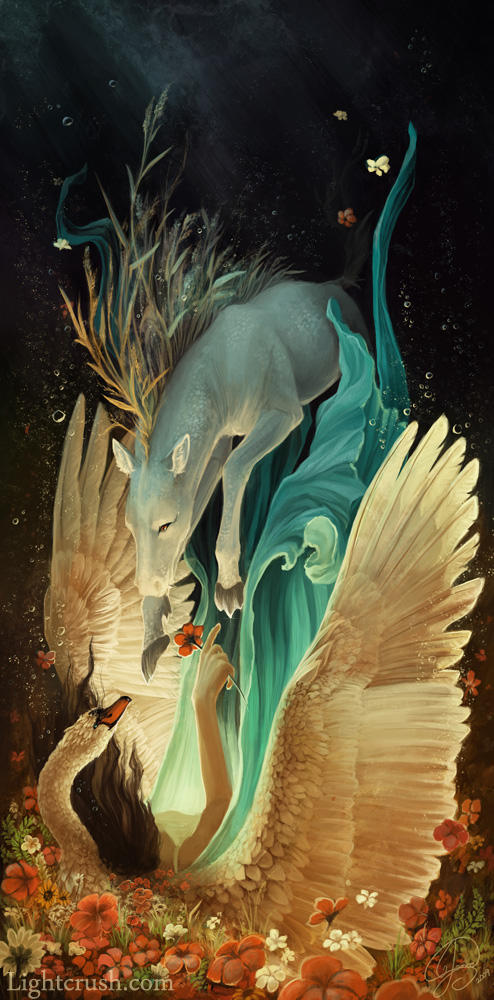 Watch
~~
EDIT:
Thank you so much to all the people who have commented, faved and watched. I'm just overwhelmed by the response to this; I love hearing everybody's individual reactions and their own ideas, I read every comment.
For those that requested a print, it is now available here:
[link]
For the community choice award, the daily deviation and your generosity, thank you. You guys are amazing.

Keep drawing!
Nov 2009:
I updated this with my signature and watermark.
~~
For me good and evil are more matters of perception than of external contrasting elements.
The kelpie is a malicious creature that preys on the innocent and trusting. On touching a kelpie, disguised as a horse with a mane of reeds, you are bound to it and dragged underwater to drown.
But what if death was not so bad?
Maybe the kelpie regrets, maybe the girl forgives.
Life, I think, is a spectrum of subtleties rather than strict categorisations.
But maybe I do have obscure intepretations.
Kelpies are one of my favourite mythological creatures. I'd like to think that maybe the victims of kelpies are reborn as swans. Swans have this sense of guardians about them to me.
This painting is full of unfamiliar elements for me but that's what makes art exciting. If I'd had more time I would have spent longer with some references and sketching things out. Any critique is welcome though, I'm out of my depth here and because of that I particularly welcome advice.

I usually don't post new art before I reply to comments on other paintings, but I wanted to get this in a few days before the deadline. I haven't forgotten you wonderful people.
Time:
I'm really not sure, 15hours or so.
Tools:
Photoshop, Wacom Intuos 3 tablet
Music:
Nothing in particular, a fair bit of Vangelis though.

It took at least half an hour for me to pick my jaw up of the floor and pop my eyes back in their sockets after i caught a glimpse of this image and now that I've taken the time to study the detail and admire the complexity of the light... I am completely in love with the imagery here. There is a sense of falling until your eyes rest on the uplifted hand and immediately the viewers gaze is swept upwards along the swans wings so that we can fall all over again. The colours are so well balanced, as is the dark and light, the sharp and soft textures...truly a magical work of art.
The Artist thought this was FAIR
62 out of 62 deviants thought this was fair.
...
Wow.
If you want my truthful opinion, this just became one of my all time favorite deviations here on DA. The idea you portrayed is so simply, yet the details are so complex and intriguing that this piece refuses to allow me to take my eyes from it. The composition is flawless. The Swan seems to cradle everything perfectly, while the flowers below indicate a subtle sense of surrounding and harmony. With color; the 'swan' aspect is full of warm tones, which immediately invite me to view the contrasting side: the cool colors, or the other half of the painting. The kelpie and the water above are ominous and foreboding when compared to the previous side. Everything seems to fade into nothing, and if I stare long enough, I indeed get a slight sensation of drowning. The girl's aqua dress is so beautiful, and it puts the kelpie in such a position to give a sense of its intent, yet it's transformed into a single flowing motion. But, the malice of the beast seems to evaporate when your eyes are brought to the flower, and then the kelpie's face, and to the swan's. There, I see an apparent understanding between them that makes me smile. I'm glad the girl's face is hidden, because it takes away the question of who she is or why she's here. It is simply a girl, and one may interpret the meaning of the piece while at ease, rather than bode on her identity.
All in all, this piece is absolutely brilliant, and certainly deserves to be recognized to the fullest extent.

No exaggerations.
The Artist thought this was FAIR
56 out of 58 deviants thought this was fair.