Hey everyone – our Plush Kickstarter Pre-Launch page is ready!
We'll be LAUNCHING on Monday (May 9th)
Follow the link to get an email notification prior to launch.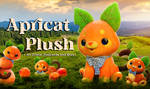 www.kickstarter.com/projects/a…
We're really excited to bring our first fruit plush to fruition
Image details
Image size
1080x960px 1.65 MB
I make 85 dollars each hour for working an online job at home. dso I never thought I can do it but my best friend makes 10000 bucks every month working this job and she recommended me to learn more about it.
The potential with this is endless...>>>>>> 𝐟𝐮𝐥𝐣𝐨𝐛𝐳.𝐜𝐨𝐦