DragonsPainter
has a SupGuy plush pattern for sale! The pattern is
pay what you want
. You can choose to pay 5 bucks, 20 bucks, or free!
(For contest details see below this section)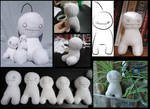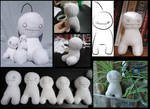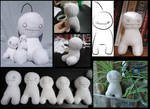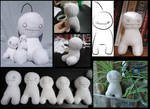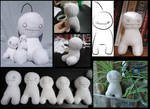 "Ever wanted your own sup guy? Great! Don't know what a Sup Guy is? Quite frankly neither do I. All we know for a fact is they were first discovered in the wild by the YouTuber Cryaotic.
There are
two versions of the pattern
; Standing and sitting. Get them both instantly due to the power of the internet!
❖ Standing
plush pattern includes 4 sizes (Ranging from pocket sized to snuggling size) With a fully colored tutorial. I slaved over that tutorial so you better like it.
Size micro: Feel the need to be surrounded by tiny things? Because I sure do.
Size small: Pocket sized for your convenience and your pocket. I use mine for a pincushion.
Size medium: A lot like porridge. And by that I mean it's nether too big nor too small, but juuuust right. Not that it's made of mushy oats.
Size large: Perfect for cuddling. Seriously. Highly recommended for avid creepypasta fans.
❖ Sitting
plush pattern comes in the same 4 sizes but sitting! Cant choose which one to get? Great because you get both of them! Make one for your friends, family, or even your dog. Fun for the whole fanbase!
Difficulty level:
You totally got this. I believe in you."
ALL
initial proceeds will go to A New Beginning Animal Rescue (ANBAR for short) in need of emergency cash to help one of the kittens named KC who needs specialized emergency surgery to help him pee.
To Buy the pattern visit:
dragonspainter.wixsite.com/ass…
---
CONTEST
DragonsPainter
is also holding their own contest to get better pictures of Sup Guy plushies made by their pattern!
PRIZE:
1 plush of each type and available sizes (Small, medium, large, and micro) &
$50
DUE:
September 16th

RULES
✮ MUST be a Sup Guy from using
DragonsPainter
's pattern
✮ Please submit to the group folder
Plush Contest
✮ By entering this contest you agree to post at least one picture of your new sup guy
✮ Due to not wanting to go broke on shipping
you have to live in the United States
. I know this sucks but shipping is expensive yo.
✮ If your under 18 we suggest asking permission from your parents before potentially giving your address out to strangers on the internet.
✮ If you win you have to take at least one picture of your prizes.

Guidelines
✤ Pictures with pets or small children will get bonus points. What do these points mean? No one knows.
✤ Anyone can participate. Professional, amateur, any age.
✤ You can post as many photos as you want, but do try to keep it to your best.
✤ You can post the pictures on DeviantArt, Twitter, Pinterest, Tumblr, Reddit, or anywhere really. Just make sure to link me somehow so I can find them.
✤ If you win, please inform
DragonsPainter
if you want a sitting or standing plush. If you don't tell
DragonsPainter
your preference you will get a standing one by default.

Important
☀ The idea behind this contest is so
DragonsPainter
can get some better pictures to show off these sup guys. As such, by entering this contest, you also agree
DragonsPainter
can use your pictures. Don't worry you will be credited.
For more Info:
:thumb632802009: