Thank you sooo, so much for being interested in the idea and the designs! That really means a lot to me as this was my first commission run, that I was able to complete without health conditions getting into my way.
I decided to continue these commissions for a few more slots. The pricing changed as I underestimated the effort (and other costs), you still get a printed and laminated badge sent to you.
- Each badge is $55 or €47 and paid via PayPal.

(
Please pay before I start drawing
.

)
- Payment includes (the ridiculous) paypal fee, shipping and printing.
- The size of a badge is a bit smaller than A5
- I usually need a day or two to finish one badge, depending on circumstances.... like scorching summer heat
What I'd need from you via Note:
1. Elaborate information about your character or a character sheet (preferred)
2 The name on the badge
3. Maybe a specific pose or I'll come up with something nice

4. The "character class" they'd like to be. This can be anything!
5. The Level
6. The plant I should use for the foilage.
7. The colour of the Badge-Outline (only if you REALLY prefer a certain colour, otherwise I'll place a matching outline there)
Here are some examples: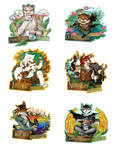 I will send you a sketch and then the full coloured version. Both will be confirmed by you before I continue the respective step.
You can find a waiting list
here
. It's regularly updated. :0
Thanks again for your interest! <3
Greetings,
- Cruz



#anthro
#furry
#badge
#convention
#eurofurence
#nordicfuzzcon
#anthrocon
#confuzzled