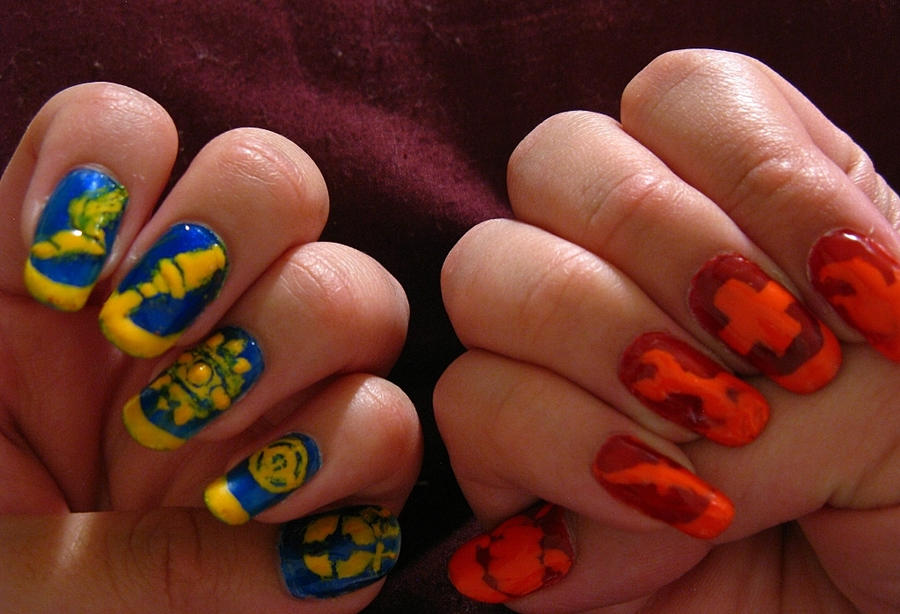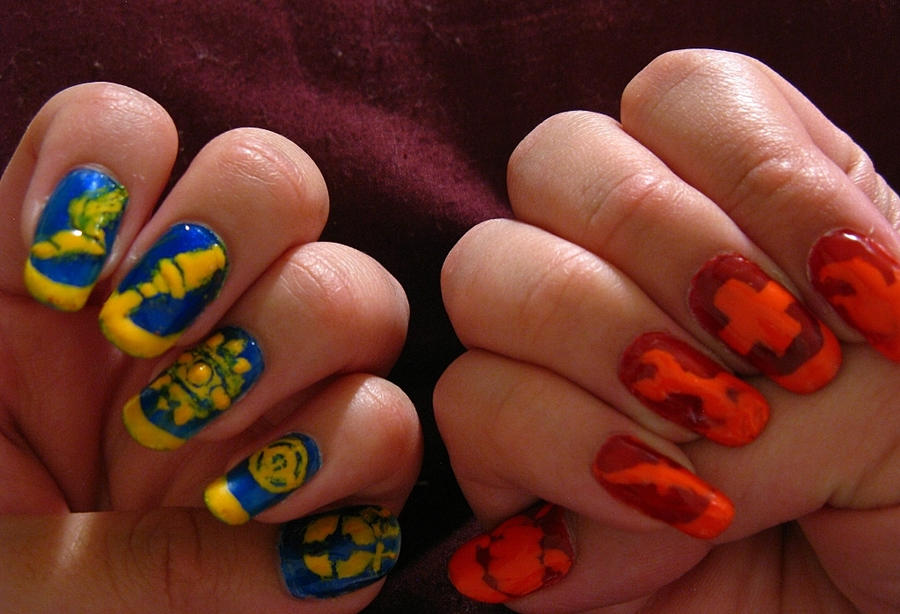 Watch
I had been sitting on this idea for a while. I finally got some new colors with thin brushes (and am done with Ota + vacation), so I went to town with it.

Ingredients:
・ Nail polish:
   - Yellow & orange = Milani Nail Art lacquer with precision brushes,
   - Red & blue = [lol random stuff sitting around since forever]
    Blue was by Energie, red was an unlabeled bottle of unknown origin,
   - And of course base coat and gloss top coat,
・ Toothpick for small detailing/manipulating
・ Computer for reference (and background music),
・ Fresh air, and
・ A lot of time & patience -w-
・ ...Oh, and good nail genes

Left thumbnail was trimmed a bit shorter to be safe due to a small tear from banging it on a deceptive towel rack at the last hotel we stayed at >_>
Icons were divided by intricacy to accommodate left-handed painting. Beyond that...I just kind of tended to place classes by front/back lines and nail size to fit them. (lol Heavy) Stickybomb was the most complicated.
Album with more pics/comments (hopefully you can see it?):
[link]
I had trouble getting good pics of all of them clearly visible considering I had to do it handlessly and I kept having bad lighting, durp.
~~~~~
Epilogue (Oct21) : After the work I put into these, I was gonna wear them for as long as I could!
Almost a month-ish later saw these nail paintings pushed downwards about an eighth of an inch but still intact.
Beyond that, they slowly started chipping from normal wear and tear.
Fittingly enough, Scout was the first to go, with Heavy hanging on perfectly durably until two months later (last weekend)--enough to be the only full nail I had to whip out the polish remover on when I had to repaint my nails for a wedding. (ok, I didn't
have
to repaint them, but a couple chipped splotches of red/orange paint on my right hand nails and a vague fist shape painted on the thumbnail wasn't gonna match my midnight purple formal dress in any case xD
Now I'm stuck with 7/8" too-pretty-to-hack starry sparkling indigo nails for another while here - trying my best to balance typing speed and typoes. :'''D
)