Just trying to get my collection of OCs down to a more manageable size... So I'm letting go of a chunk of them, particularly really old impulse buys from like 2013, lol. Totally willing to haggle some with the resell prices if you'd actually use them and give them a good home.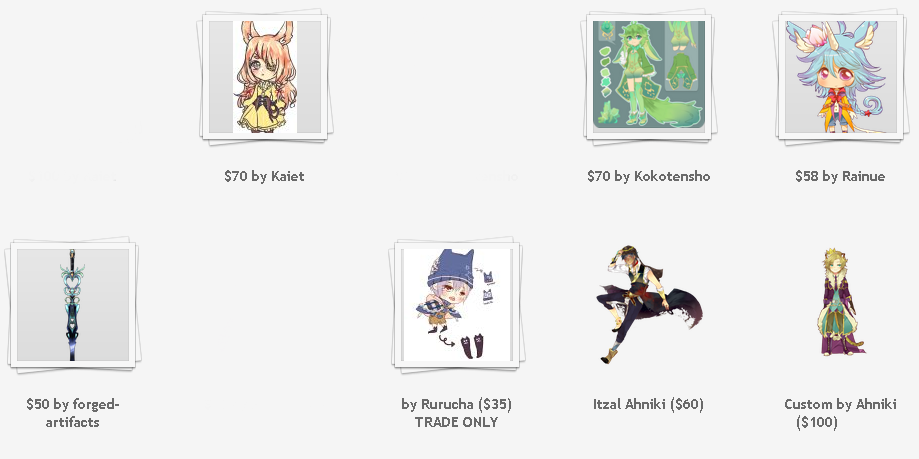 For the sword, I have a version with the glowing part removed, as well. Anything not marked "trade only" is available for resell. Please don't try to offer me anything for any of my characters not listed here.
I'd be happy with art commissions in a trade, but generally only if I follow you on DA or FA. (I'm crownwaltz on both) My preference is resell > trade for art commissions > trade for other adopts. However, I'd really rather not take on more OCs/adopts, as I feel it defeats the purpose of what I'm trying to do here. If you absolutely must trade, I prefer adopts by Endstart, Kaiet (I have a "Kaiet wishlist" of sorts here), TerraTerrific, and Erebun. You can try offering other things, but there's almost a 99% chance I'll decline. I really don't have a set taste in adopts, nor do I care about "brand names" so to speak, it's all just a matter of whether or not I can use the adopt/they fit into a universe and story I have in mind.
Thanks for reading!
Edit; I don't do holds but I'm ok with payment plans for the ones that are more expensive. However, I generally require at least $50 up front and the rest paid within 1-2 months.