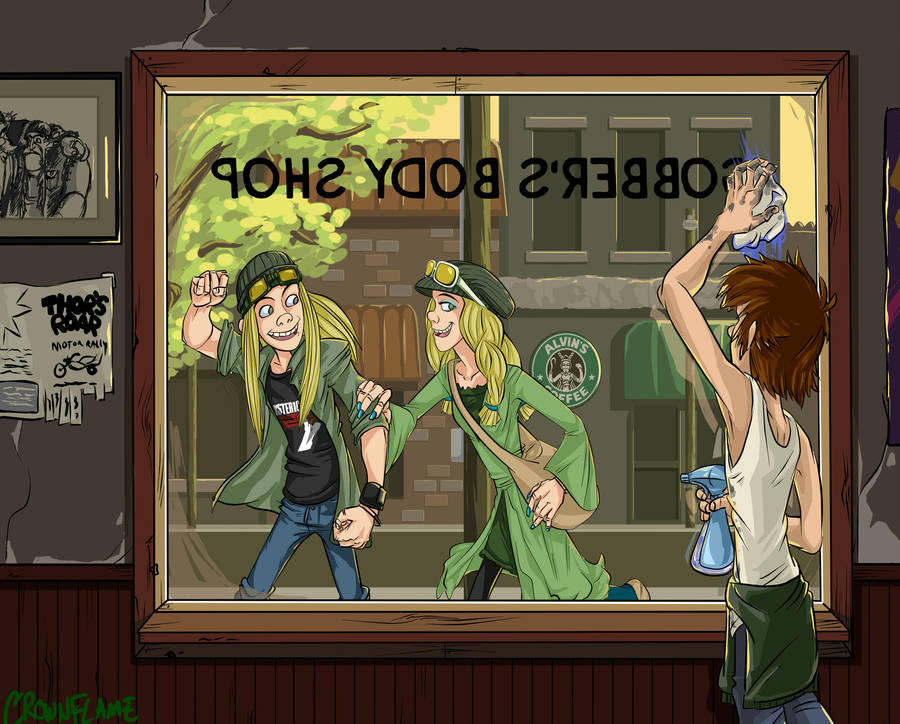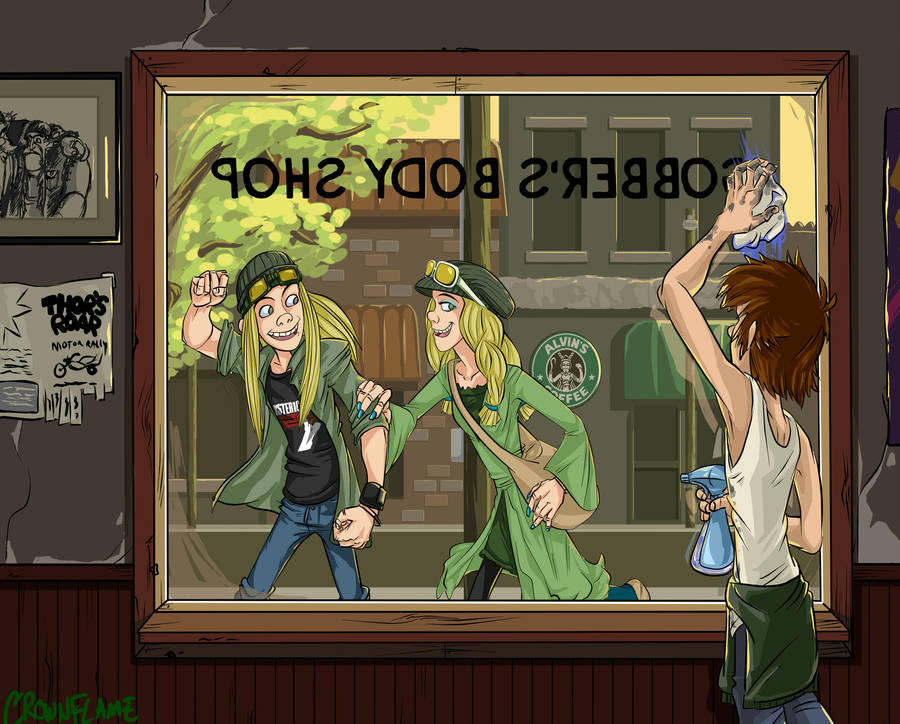 Watch
My submission for

modern HTTYD contest.
There's some more things I wanted to do, and certainly more I wanted to say, but I wanted to post this at a decent time of day, and I have to get to work here in a sec.
So more comments and such when I get back.
Look closely (i.e., download the massive full size) if you've read the books, because there's a couple of stupid jokes just for you.
EDIT: OKAY I'M BACK.
This is late, because I have SO many stories and ideas related to this topic, it was difficult to settle on just one. Two days ago, Ruffnut and Tuffnut were cavorting in front of a cast-bronze Viking ship in front of the Cressida Cowell Historical Society. Last week, Hiccup and Fishlegs were ascending, dripping, from the annual Boy Scout Cardboard Boat Race, in a subtle nod to the Hopeful Puffin and the Pirate Training Program. Two weeks ago, it was going to be a comic of some form, Hiccup trying to explain away his new biker jacket, or Astrid forcing Hiccup to eat sushi, or something involving the prototype motorcycle, the Night Fury.
I just knew I had to be in on this, because it's as if you guys read my mind. XD
Anyways.
-"So Much Cooler" is a reference to a different Hiccup looking out of a different Gobber's shop window. Hiccup, in this canon, is actually the son of a Chief... executive. I.e., his dad is loaded, and he's fairly well-off. He just likes to keep his good clothes clean. Rather, he feels separated from the others, because he went to high school in an abroad boarding school rather than spending it with the Berk Park kids.
-Gobber is an old friend of Stoick's, from back when they were crazy and went biking together. After Hiccup's mother was gone, Stoick worked to keep his son on the straight and narrow, out of mischief in the city, so he has Hiccup work at Gobber's so Gobber can keep an eye on him.
Stoick would probably not approve of the bike Hiccup is secretly building and riding himself, even if it is a noble scientific endeavor.
-Tuffnut is a pizza delivery guy. He skateboards and collects music in his spare time. He's under the delusion that he can rap, and irritates people as much as possible with it. In the future, he wants to work with kids somehow.
-Ruffnut is an aspiring artist trying to get into a prestigious art school. Recently she won a lot of awards for a show she held centered around a concentration of her life as a twin, as well as gender roles (which involved a lot of photographs and depictions of her brother in her clothes. He'll do anything for a Klondike Bar). Her summer portfolio is centered on her heritage, and she hangs out at the Cowell society often for inspiration. She draws a lot of weird pictures of her friends in Viking outfits.
She's absolutely crazy.
-THOR'S ROAR: based on an ACTUAL motor rally taking place less than fifteen minutest from where I live, in a town known as Little Sweden (they have Vikings as their sports team and everything)
-Tuffnut's shirt says: "HYSTERICS: AMERICAN POTATO", a play on "GREEN DAY: AMERICAN IDOT". If you don't get it, you need to read more books.
-Alvin's Coffee: Costs you an arm and a leg, but you just keep coming back.... %100 pure-and-honest ingredients. READ MOAR BOOKS.
-The poster on the right was going to be a pinup from Dragonesque magazine, but I figured that was way more of Phlegma than you wanted to see. (I'm totally joking, by the way- I didn't actually draw anything. XD)
-I had so many layers at one point that I broke SAI. Apparently there's a layer limit. XD
-Most of this was done, ashamed as I am to say, to CWCipedia videos playing in the background. (just look it up)
-I had some other stuff I wanted to add, but I figured I'd cut it off there, for the sake of time. XD
-More modern HTTYD from me:
[link]
Anyway, enjoy.