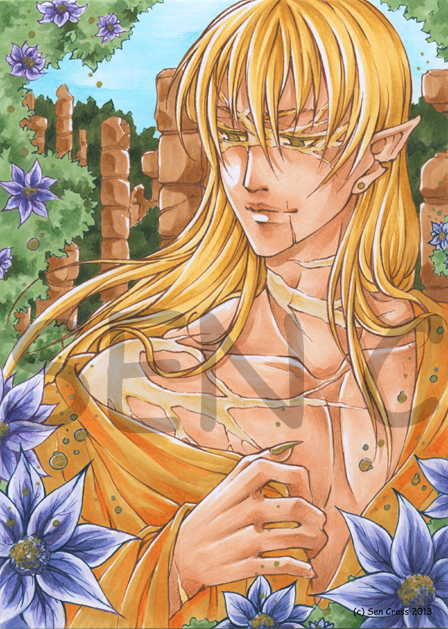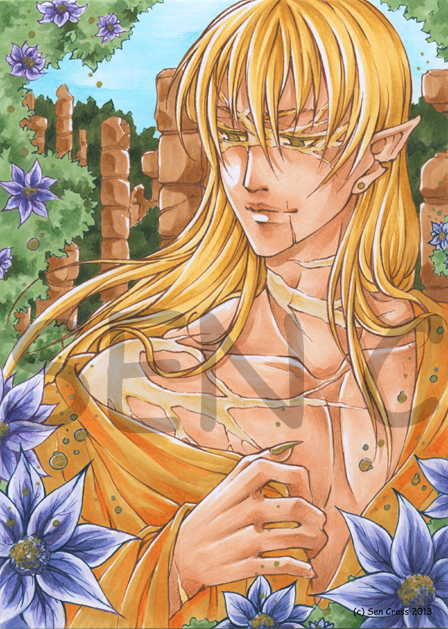 Watch
Sorry for my lazyness in posting things again .. sometimes I just feel like I spam too much since I draw a lot of ATC/Aceo cards X'D
This is the 3rd Postcard. I plan on doing 5 in total, one of all 5 dragon generals of Elvarra.
This is Chrome, the 3rd brother. His element is mainly wind. He's mute, but able to communicate thelepathically with other sentient beings. He used to be a very powerful mage, but currently all his powers are drained and waiting to replenish.
Chrome lives in a desert palace with his elder brother Rasdian who is very protective of him.
You can buy the postcard in my etsy store, right here:
www.etsy.com/listing/158489901…

Sieht sehr gut aus! Die Outlines sind wirklich ausgesprochen schön geworden.

Ich kann jeden nur bewundern, der solche erwachsenen Männer zeichnen kann. *kläglich daran scheitere*

'''
Ich muss allerdings gestehen, ich finde die Koloration noch etwas zu "flach". Da fehlt es mir noch etwas an Tiefe und Spannung.
Ein stärkerer Hell-Dunkel-Kontrast hätte das Bild etwas lebendiger gemacht.
Nichtsdestotrotz aber eine sehr schöne und gelungene Postkarte!

*Keks da lass*

Reply