EDIT!: AFTER MUCH IN DEPTH THOUGHT: I HAVE DECIDED TO SCRAP THIS CONTEST!~ (Due to it not getting many entrants. Sorry guys.)
Calling all pixel artists~! I am hosting an OC pixel doll contest: The task? Pixel my main OC Laura Connel in any form/Pixel style/Doll size/etc.
There are no distinct rules (as I encourage you to be creative and expirmental. :3) The only rule is: It HAS to be pixel art. If you wish to do multiple entries, by all means. Tis all up to you.
The main rule is to spread the journal if you do fave, or join etc
There are variants to Laura's outfits, You can choose whichever one you wish to do.
~

Referances:

~
School uniform: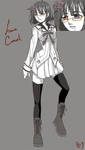 Colour Key:
Rose hair clip: Blood Red
Hair: Jet Black
Glasses: Gold
Skin: Fair
Blouse: White
Blouse Ribbon: Blood Red
Skirt: White
Leggings: Jet Black
Boots: Maroon
or the various Gowns: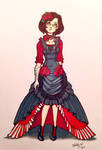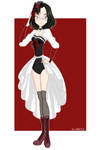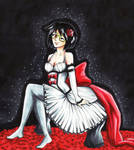 <da:thumb id="691594281"/>(Far right)
s-media-cache-ak0.pinimg.com/2…
~

Prizes

~
First Prize: 600

+ Watch.
Second Prize: 400

+ Watch.
Third Prize: 200

+ Watch.
Entrants:



- <da:thumb id="695122092"/>
End date: TBD (To be decided)