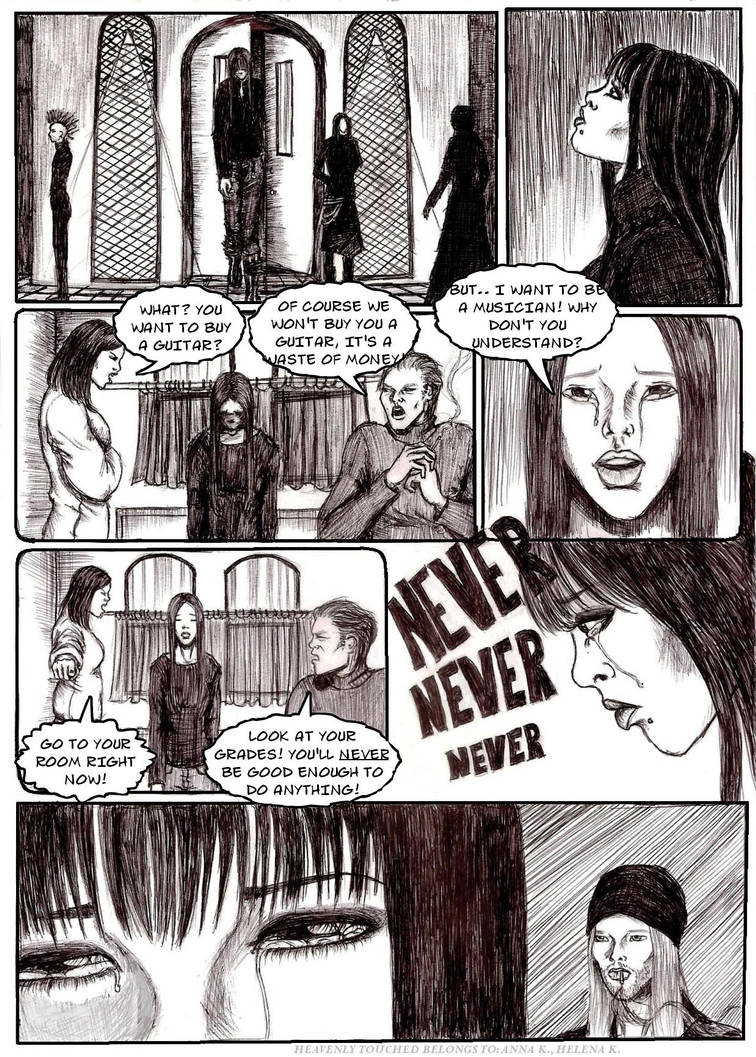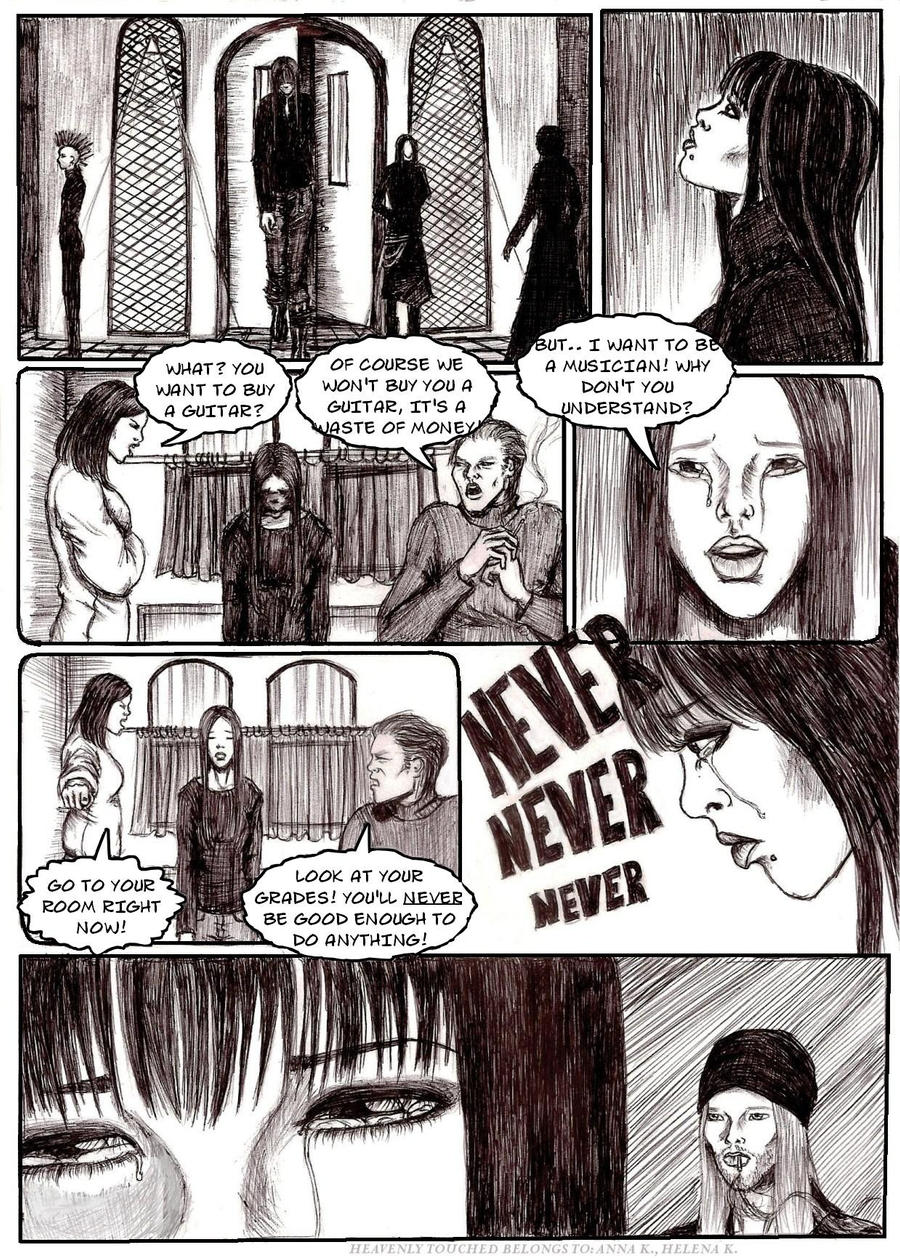 Watch
The fight is finally over. Everyone can see that Annie is a difficult person to deal with and this page explains why! Her parents were assholes and they were killing her dream. Many parents do that (fortunately our parents don't

)... (End of psychology class!) This is a sad page but we hope that you'll enjoy it!

-Anna & Helena-
PS: Panels 3, 4 and 5 are flashback!

PS2: Adam's so hot at the last panel!

PREVIOUS PAGE:
[link]
NEXT PAGE:
[link]
Heavenly Touched belongs to:


Excellent shading, nice detailes, love it!

Reply

Man Id be frustrated against my own parents if the would private me from buying something I want(Final Fantasy 13 for me!

) But seriously, very well done! I think that so far, there are great details and the emotions are very well done also!

Reply

Me too and Annie is frustrated as well...but she can't do anything so she just remains silent...but not for long...

Thank you very much!!I really appreciate the fact you like it!

Reply

It's somewhat refreshing to see someone who draws tears only shedding on one side of the eye; quite alot of people draw them shedding on both sides of the eye, strangely.

Very nice drawing!

Also, the face of her father kind of reminds me of
Richard
from Rammstein.
<.<"
I'm weird like that.

Reply

Thank you!

Well,i drew Annie's tears like that cause I think this is what happens when sb cries,sheds tears from the one side and then from the other...at least that's what i've noticed

i might be wrong...
Richard from rammstein??? hahaha yeah giving a closer look on it i can see so...you're right hehehe
Reply


What kind of parents are they to say those things to their kids.
Reply

They're simply assholes!

Not all parents are good ones

There are kids out there who are really suffering...
But you'll see what happened to them in the near future...

Reply

Ouch, slack parents... Let's hope Annie doesn't have to see them. Perhaps it is inferred that Annie feels sorry for hitting Adam.

Art wise, you did really well adding extra details on the comic - the background people, the windows & curtains are all drawn well.

Great job!
Reply

Yep, Annie always feels sorry for whatever she's doing! And as for the details, Anna (the artist) thinks that with no details the comic would suck! (she has a point

) Thank you so much for your support!

Reply

woooah, thanks a lot but i think YOURE the awesome one...great job on this comic... ur line art is great...love the facial expressions...everyone distinctly has their own features and style.. its great...
Reply

omg, you really liked it?

I'm so flattered, thank you very much! (still thinks that your graphic novel is much more super-special-awesome than mine)
Reply
awwww oh my, so saaadd T_T now we know why annie's like that--but i still like her!!...and i so like this..everything's so detailed! i love the last panel especially, those eyes..those eyes--really amazingly drawn..

Reply

woohoo

!thank you so much!

I am honestly very happy to hear that!!
Annie had a bad childhood...But even though it's too easy to get pissed we still love her!

In fact we love all the characters of our comic!I sometimes wish they were real so that we could hang out hehehe...I know that's stupid...

Reply
it's not stupid!! all our characters are carefully thought about,
their personalities, their looks, even their habits--and all of them have a
little part of us so it's only natural that we like them and in the
real world, we try to find people who's also like them, well almost
like them! eheheeh! it sure is great to hang out with them, right?
really really cool!
Reply