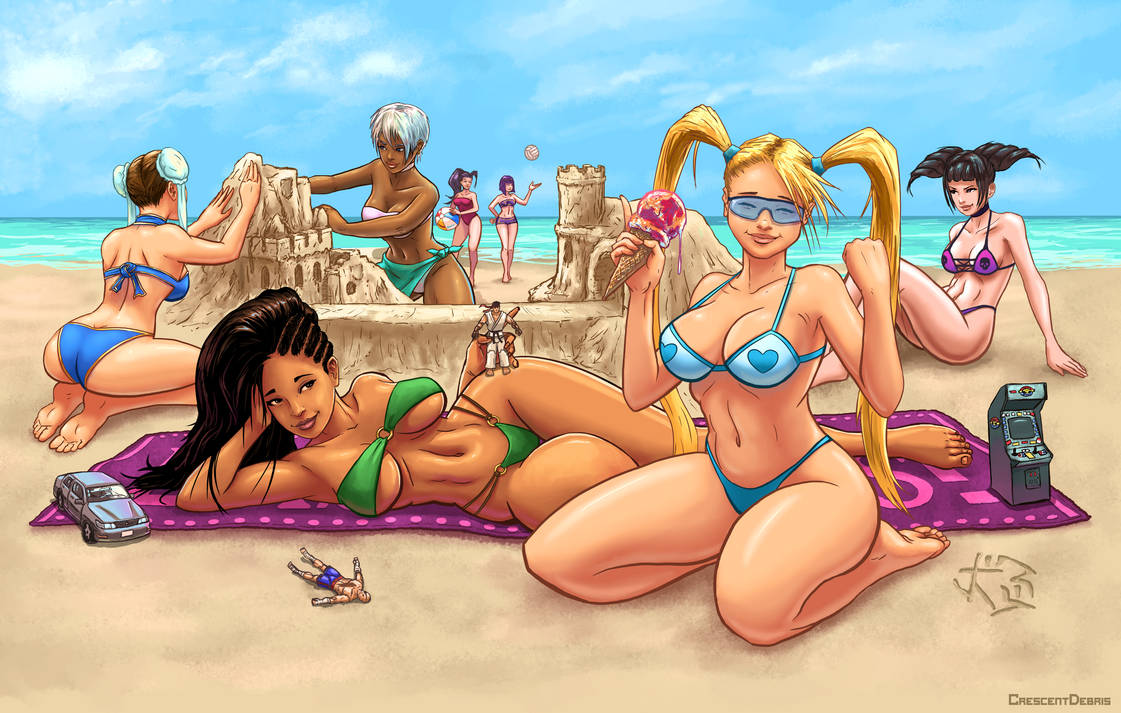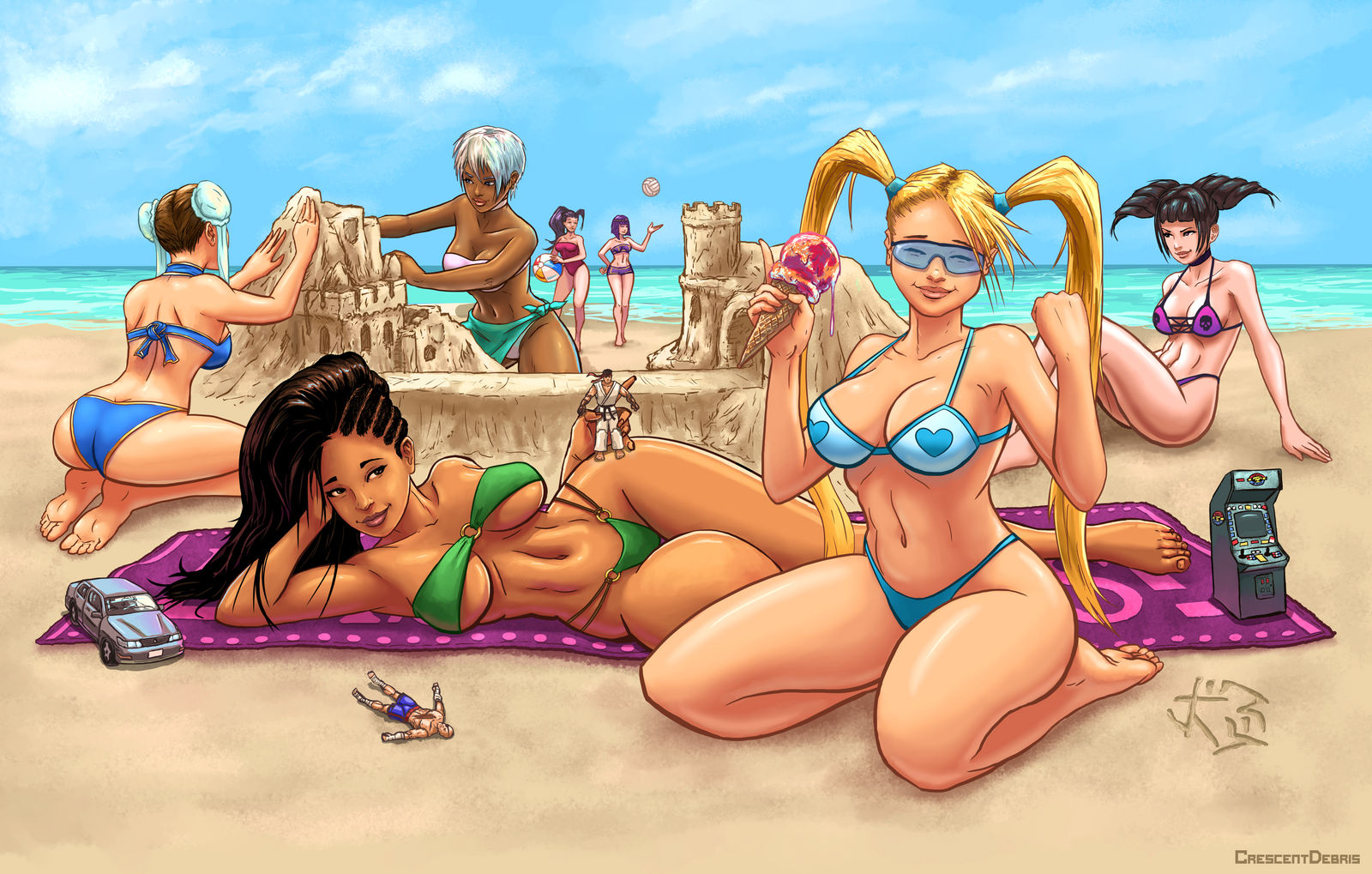 Watch
UPDATE: This piece won't be included in the Special, so I've uploaded a higher resolution image that you can DOWNLOAD. Feel free to print your own FOR NON-PROFIT PRIVATE USE ONLY! Please refrain from plastering onto bootleg products to sell. Thanks. It's the same resolution as the selected submissions, 3300x2100 (11"x7" 300dpi). Although the full res is a possibly-absurd 19250x12250, this should be ideal for a home printer. Enjoy!

______________________________________

This is my entry for the fan portion of Udon's 2018 STREET FIGHTER: SUMMER SPORTS SPECIAL. The foreground includes 1 debut girl from each main SF game.
SFII- Chun Li
SFIII - Elena
SFAlpha - R. Mika (SFA3)
SFIV - Juri
SFV - Laura
The background includes Rose from the original Alpha and her student Menat from Season 2 of SFV.
There's quite a few Street Fighter details, some more obvious than others. So have a look for them before I point them out if you're into searching for those kind of things. (It's okay, you don't have to feel guilty. We know you still like the back of those cereal boxes!)
SPOILER ALERT!
-Toy Car is from the bonus level of SFII
-The toy to the far right on the beach towel is a Street Fighter II' Champion Edition arcade cabinet.
-The beach towel itself is the "Las Vegas" floor of Balrog's stage with the CE color palette.
-Laura is laying in a similar pose (originally unintentionally) as the statue from Sagat's SFII stage.
-This sparked the idea of the Ryu and Sagat action figures.
-The sand castle is Cammy's SSFII stage.
-Rainbow Mika has ice cream... or rather, Rainbow Sherbet... I only included this stretch of a detail when deciding what flavor it would be. The original idea was to replace her SFV microphone, with ice cream.
-R. Mika's sunglasses replace her default blue mask. She maintains the hearts from her original Alpha design.
-When including Juri, I just couldn't picture her getting along so well with the others or helping to build the castle. It's not relevant to the image necessarily but my thought was that she's actually contemplating smashing it!
-Rose and Menat in the background, being able to see the future are watching Juri closely, ready to strike! Menat has the volleyball as a replacement for her crystal ball and Rose has a beachball because.... she's on the beach? That's all I got.
Hope you like!


Reply

The brighter side of street fighter...Amazing so much clean style, nice background tho hats off friend
Reply

Reply

Reply

A very hot pic!
But I know here just Chun Li and Elena.
Can you tell me, what color the other girls here wear, please?
Oh; and could you draw the girls in these outfits during a "Miss Beach" contest, please?

Reply

Foreground Blonde in Blue - R.Mika (SFA3 & SFV)

Laying down in Green - Laura (SFV)

Far right in Pink/Purple - Juri (SSFIV & SFV)

Background left in Maroon with beachball - Rose (SFA & SFIV)

Background right in Violet/Purple with Volleyball - Menat (SFV)

Reply

very sexy ladys. niiiiice
Reply

Reply

No Cammy?! I really wanna be mad!! But this is an amazing picture nonetheless.
The clever details you added really make it extra-special (especially Cammy's castle

)
Congrats, nice job!
Reply

She's taking the photo!? Actually, if I'd have had more time I probably would have ended up including all the SF girls in some way but ultimately it came down to: What makes it better without looking forced, and what do I have time for? This began as a Mika drawing in portrait orientation. Then I kept adding and expanding the canvas. I added where it felt empty and eliminated ideas where things felt cramped or would have been posed oddly just to fit in the scene and not block something else. Thanks a lot for your comment, I'm glad you like it even without your babe!
Reply