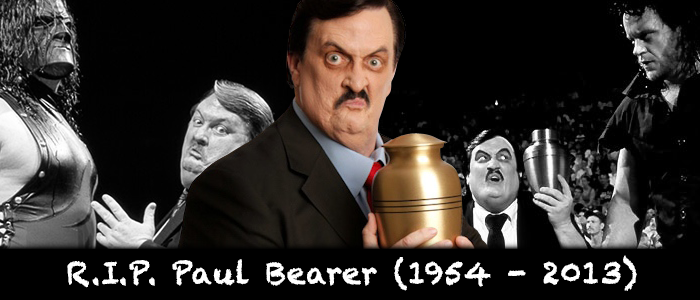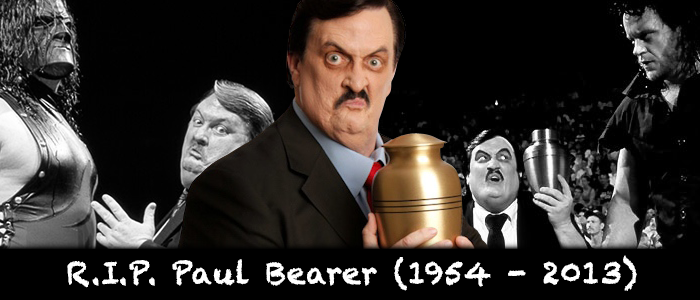 Watch
RE-UPLOADED: Got the birth date wrong...

I was deeply saddened earlier this morning (GMT) to hear that Paul Bearer, Undertaker & Kane's former manager had passed away. One of the greatest characters & managers WWE has ever had, no question.

I didn't grow up with the New Generation or Attitude Era incarnations of Paul Bearer (at the height of his power & influence) but I have managed to witness his three returns to prominence in the last decade. While his role was limited compared to those previously mentioned eras, I'm still in awe of just how good a character Paul Bearer was. Dark, harrowing & intense all summed up in one pale-faced plump man. With the high pitched voice being the cherry on the cake. The man behind the gimmick, William Moody; portrayed someone which took a lot of heart & soul to get right & I can't thank Will enough for putting such a fantastic character on our screens for the last 20 something years. You will be sadly missed by the legions of pro wrestling fans who are very thankful to have been embraced by such a unique entity.

R.I.P. William 'Paul Bearer' Moody... you will never be forgotten

Rest In Peace, you will be missed, especially by the Brothers of Destruction...

Reply

Oh my, now that's some sad news, during 90's I was actually watching more WCW rather than WWF, but still even today I try to catch up with the wonderful time of Attitude era, which Bearer was big part of, who else could be the manager of legends like the Undertaker when he debuted in break of begining of 90's? he was part of many memorable moments. He will be missed, damn it's....sad, really.

Reply

I didn't grow up with the Attitude Era either (Ruthless Aggression Era in the early 2000's for me) but even with the abundance of characters that existed in WWE during the 90's Paul Bearer was always a character that stood out no matter what he was doing or who he was with. He will be missed... wish he was still here so he could induct Kane & Taker into the HoF but it's not gonna be. ._.
Reply

True, the sad part is that now with him dead WWE will probably incorporate it somehow in Punk/Undertaker program for WM. I mean, Punk and Heyman were making some jokes about Lawler not so long ago after his heart attack which happened during RAW few months ago, so I expect similar move with this one - I get the whole "the show must go on" thing but sometimes it's a bit tasteless :/
Reply

I hope they don't go down that route because Punk is perfectly capable of getting heat from the crowd without it. Although, just like the Lawler jokes; if Taker & Bearer's family are fine with it then it shouldn't be a problem.

Not to mention, it would give Taker a legitimate reason to hate Punk & want to destroy him. Punk could gain a bit of legitimacy to his claim to end the streak by stating: "Now that the holder of his 'power' is gone, nothing can stop me from claiming the Streak as Undertaker is now weaker than he's ever been before".

That would tell such a damn good story.
Reply

Well, wrestling biz knows a lot of tastless acts in history, let's go no further than pass of Eddie Guerrero and Undertaker painted on his low raider on which wrestlers were putting flowers and such - I mean what the hell they were thinking with placing depiction of Taker on this car? it was plain dumb. I totally sure they will somehow include something Bearer-related into at least one of Punk's promos, unfortunately, but you may be right, Punk is good in ring and with mic so it might be something interesting, just as his line during feuding with The Rock and whole "boxing with a God" thing

. I also wonder about Taker's condition, I mean he's not getting any younger and despite very dramatic match last WM it showed that the age is finally catching up to him, although I still think they may make some good match with someone as talented as Punk, unless he won't play the coward-heel type

Reply
since i heard the news all i can think in my head is undertaker saying "rest, in, peeeeeeeeace" He was a great character .
Reply

Amazingly that hadn't popped into my head until you mentioned it!

Brilliant character... intense to hear speak & see the presence of on the screen. I'm just feeling bummed out we won't get to see him induct Taker into the HoF now. ._.
Reply
sadly i dont follow wresting anymore, but i did since i was a little kid from about 95' till maybe 2008/09 after that i really couldn't bare to watch it anymore. im just glad to have grown up around the attitude era. Foley was always my fav, glad to see hes getting into the HoF even though he went with TNA for a few years.
Reply

Reply

No details have yet been released which explain the cause of Bearer's death. One would suggest it's down to the issues he's had due to weight for so many years. He had mentioned to friends that he hadn't been feeling well in the last couple of days. What that was we will have to wait & see.
Reply