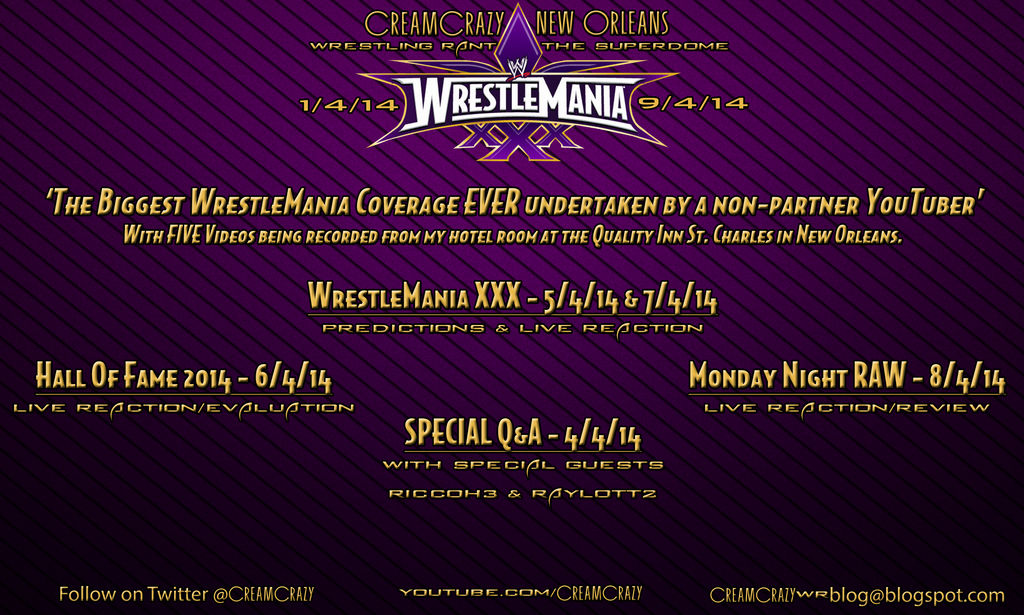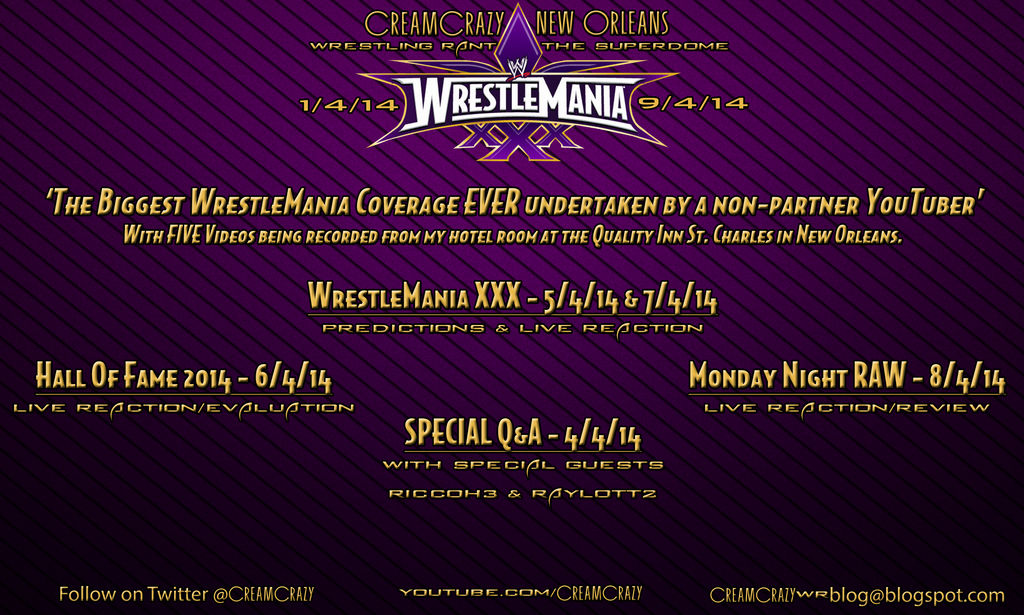 Watch
Well guys, here it is. My busiest period ever!

I'm off to Wrestlemania XXX in April, & I'm going to give the biggest coverage possible that I can give. I'll be uploading 5 videos in 5 days. Sounds like a lot right? WRONG! I've planned this meticulously to ensure there will be no problems:
4/4/14 - Special Q&A w/Ricco Hill & Ray Lott: Seeing as my two friends from Youtube are coming down as well, we'll use the opportunity to answer Wrestlemania & other Wrestling themed questions. I've done Livestream Q&A's with both of them & it's going to be awesome having them together with me to do this.
5/4/13 - Wrestlemania XXX Predictions: Does what it says on the tin, I predict the outcomes of the big PPV.
6/4/13 - Hall Of Fame Live Reaction & Evaluation: This video will be split into two parts, one will be me recounting the experience of being there live & the other will be me looking at the class in depth & understanding whether it is a good enough class.
7/4/14 - Wrestlemania XXX Live Reaction: As this will the night of the greatest experience of my life as a Wrestling fan, I won't be able to analyse it like I would a normal PPV. I will be giving my reaction to witnessing the 30th Wrestlemania in person, but will save a full-indepth review for when the DVD comes out later in the year.
8/4/14 - Monday Night RAW Live Reaction: Yes, I cap my Mania week off by going to the liveliest RAW event of the year. I may be in the nosebleeds but I don't care, I will still love it. I will recount the show from a live perspective before giving it an actual review. RAW is easier to stomach as a review than Mania so it makes sense.
So there you go. Go to my Youtube Channel (youtube.com/CreamCrazy), follow me on Twitter
CreamCrazy
& go to my blog at ccwrblog@blogspot.com to keep up with EVERYTHING I do. This Wrestlemania will be unlike any other, you can experience it with me as I go on this wonderful journey.