Rita – OH SWEET JEEEEZZUS!!

Tammy – FOLKS!! Octavia and Astrid have gate crashed this bout!! The CREW is up to full strength!!!

Rita – But this fight is over Tammy!! Hermione's won this one hands down!!!

Tammy – Not according to the rules Rita! This fight hasn't concluded! And if the crew have anything to do with it, I reckon it aint gonna end the way everyone in this arena thought it was gonna!

Rita – What?! So the management are just gonna allow these intruders to ruin Hermione's flawless performance?!

Tammy – Allow!? Hell, they were probably kicking Octavia and Astrid out the locker room!! Hang on to your seats folks! This aint over!!
Next Page First Page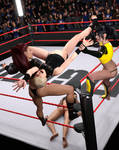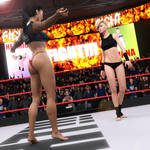 If you like my work and want to see more of this and other series, please consider supporting my Patreon. Thank you.
CrazyStupots's Patreon

Image size
1760x2200px 1.97 MB