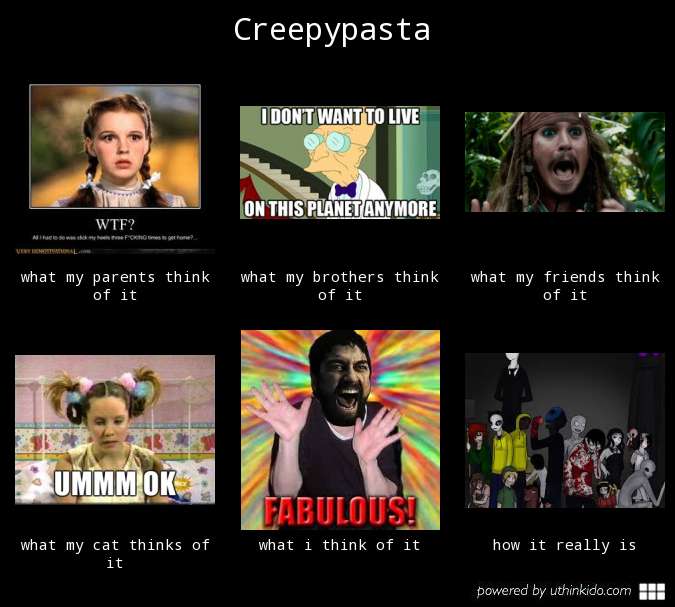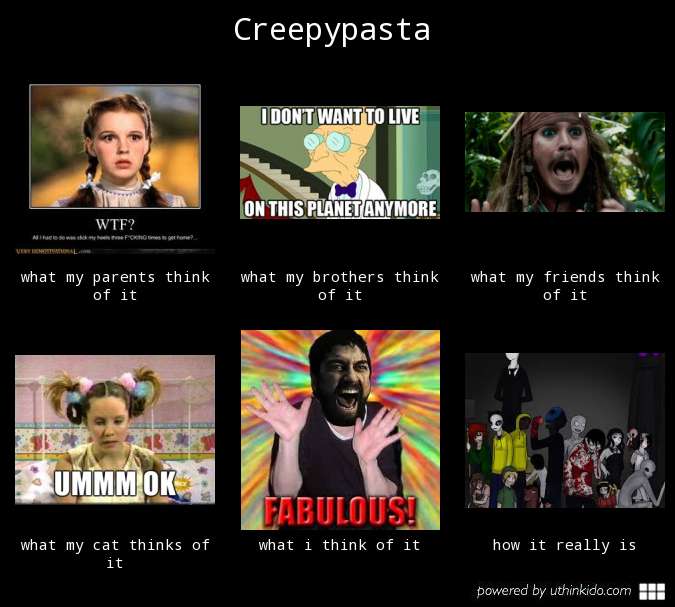 Watch

Reply

Reply

my mum: 0.0 honey don't give yourself nightmares.

my dad: OK if it keeps you off those video games for a while.

my sister: why don't you just stick to your animoo stuff 0.0

my brother: why don't you just watch game of thrown's.

my dogs: just give us food and leave us to sleep.

my friends: 0.0 why don't you just listen to 5SOS instead 0.0

my best friend and me: YAYAYAYAYAYAYAYAY!!!!!
Reply

Reply

My mom: cool
My Grandfather: I think ur depressed
My cat: puurrrr I wuv u
My friends : shut up we don't want to talk about slenderman
Me: Laughing Jack Rocks
Reply

My mom: TURN THE CREEPY STUFF OFF I DON'T WANT TO SEE IT
My dad: LOOK AT ME I'M JEFF THE KILLER! (He's actual name is Jeff XD)
My sister: CREEPYPASTA YAY!
My dog: DON'T GIVE A CRAP I'M SLEEPING
Me: SLENDERMAN'S AWESOME!
(These are my family's reactions, true story XD)
Reply

OMG I HAVE THE SAME REACTION!!!
Reply

XDDD that's MY face when i'm reading creepypasta. I've got an evil smile on my face. that's why my parents blocked the site and i'm grounded if i draw Jeff or talk about him. THEY DON'T KNOW ABOUT CREEPYPASTA WIKIA AHAHAHAHAHAHAAAAA
Reply