Winners:

1st place
-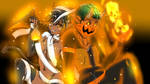 by
Crazy-M-Chaos
Very faithful to the trick-or-treating spirit! There's a lot of little details put into the characters that really capture the theme!

2nd place
-
by
nomoreoctober
An fun and unique character concept meshing a nostalgic autumn treat with a bit of Halloween trickery!

3rd place
-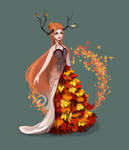 by
Pameloo
This goddess beautifully captured the feeling of the autumn transition with her lovely design!
is throwing a Halloween contest that we hope you all will love!
For this year's spooky celebration,
AngeKrystaleen
and I are holding a contest for the very best
Halloween/Autumn gijinka artworks.
This contest will run from October 2 to November 1!

For those who are not familiar, a "gijinka" is any concept/object personified into a humanoid form. Elements of the idea are included as parts of the character themselves.


Some examples include these fine pieces below:
And not to worry, you won't be left without some fabulous prizes! (Be sure to thank our lovely and vivacious CR Director,
Moonbeam13
, for these awesome prizes!)
Prizes
All entries should be
Halloween or Autumn themed
(Candy, changing leaves, monsters, pumpkin spice, that sort of thing!)
No fanart
(do not merely dress up your favorite character in candy. new, eye-catching designs/concepts will be favored)
How to Enter
You can comment with a link to your artwork on this journal
You can send a link to your artwork in a note to
Lady-Suchiko
or
AngeKrystaleen
with "Halloween Contest" in the subject line
(do both to be safe)
*No characters entered will be used for anything outside of the contest, and no ownership will change hands from the original creators!*