Theresa||19||Female
Chemicals in the water are turning the frekkin frogs gay!
I post a lot of different things and I like to talk, please reply to the comments at the bottom. My uploads includes; traditional portraits, a range of digital stuff, page decor and sometimes pixels.
Feel free to chat to me about anything, I'm a really talkative person- unless I've ran out of things to say or can't think of anything to say. I like animals, Pokemon and roses. And I really like putting joke comments in the forums.
Image by
Mad-Darkness
I like Pokemon, my favourite being the Charmander and Eevee lines. My favourite region is Johto.
Art Trades
Commissions
Commissions are currently open, ask me about art trades. I only turn down art trades if I don't have time to do my half.
You'll find my OC refs in my
Wolf Pack
folder. They're also on ToyHouse
here
and
here
. I also have characters for sale
here
as well as on my adopt page,
TGreenAdopts
. You may draw my characters however you like (but please use the mature content filter where applicable) as long as you tag me if you upload. If it's a character that's up for sale/trade, please ask first.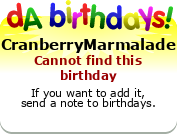 People whom made stuff for me:
Mad-Darkness
Lacie-BunCat
ShadowDemon40
XiniMonster
The BSD chibis are by
Kiiryuin
Everything else is from F2U resources, click them and they'll link; if they don't I made them.
King-Lulu-Deer
made the social media buttons