Who is the queen of redraws?

Here I go again with the new version of the
old work
(and there is even
older version
)
Nick, Alexandra and Yanek
secretly followed captain Blackthorne - to save their friends who were arrested by him. Cadets watched Christian training on a river shore, and they noticed some strange sensors on his back. Later this evening Vita explained the purpose of these sensors. They have the wires connected right to Blackthorne`s spine. And it allows Christian to control his flyug (mechanical wings) without using a glove. More detail about this equipment:
P0005eng
That`s why Blackthorne was the only warrior who could fight using two fireswords.

Some time later nearly half of these sensors were destroyed in the battle with Willhelm and his firebeast. The rest were removed after Ray woke up from his coma, and only multiple scars left. Ray didn`t want to restore this system. "I want to be of flesh, not of iron" - he said
(and yes, this work is this month`s "not so boring" anatomy study

He`s wearing trousers this time, I`d like this work be more sfw than
This

)
Painted in Photoshop, Wacom Intuos tablet
Step by step


Christian Blackthorne (aka Ray van Oggenberg) is my oc
More about him:
toyhou.se/1673828.christian-bl…
Graphic novel is here:
cranash64.deviantart.com/galle…
Find out about the story
part 1
part2
Related: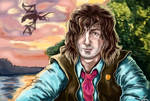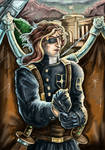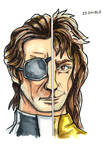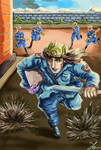 And also - feel free to join my
600 watchers raffle
, take a chance to win a free art from me!