715 Favourites
217 Comments
5K Views
I am not accepting orders for fan art or fan characters unless the copyright holder's permission is included with the request. Please see my commission info for more details.
Third version of Undertaker's scythe. I incorporated some of the patterns from Undertaker's
locket
into the blade of the scythe, and though it's not in the picture, I replaced the green strap of the keychain with a white one.
Materials: Silver non-tarnish artistic wire (18-24 gauge), Swarovski Xilion Rivoli 8mm Crystal AB, Natural White Moonstone 4mm, Solid Metal Rose Skull Bead 8x10mm.
Here's the
v1
scythe from 8/2015 and the
v2
scythe from 2/2016.
This photo is unaltered
, save for the addition of the watermark, and was taken under natural lighting conditions.

My other scythes: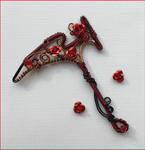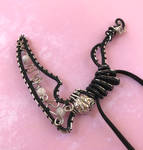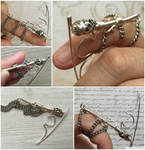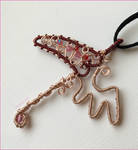 My commissions are open, you can see the details here:

CraftsByBlue CommissionsPlease read the entire journal before ordering. Commissions are first come, first serve.
Rules and Restrictions
- Original and public domain characters are welcomed.

- Commissions requests for fan art or fan characters must be accompanied with the written permission of the copyright holder.

- No mature, inappropriate, political, religious, or offensive pieces. Requests related to real people, places, and organizations will be considered on a case by case basis.
- No bone, coral, fur, or leather. I will only use vegan versions of these materials.
- Do not ask me to copy other people's work or style.
- You are not allowed to copy, claim credit for, or resell my works. Works inspired by my original characters and stories must include a citation (ex. this character belongs to craftsbyblue) and a link to either my DeviantArt gallery or Instagram account.
- I will not label the package as a gift or falsify pric
IMAGE DETAILS
Image size
4052x3044px 15.24 MB