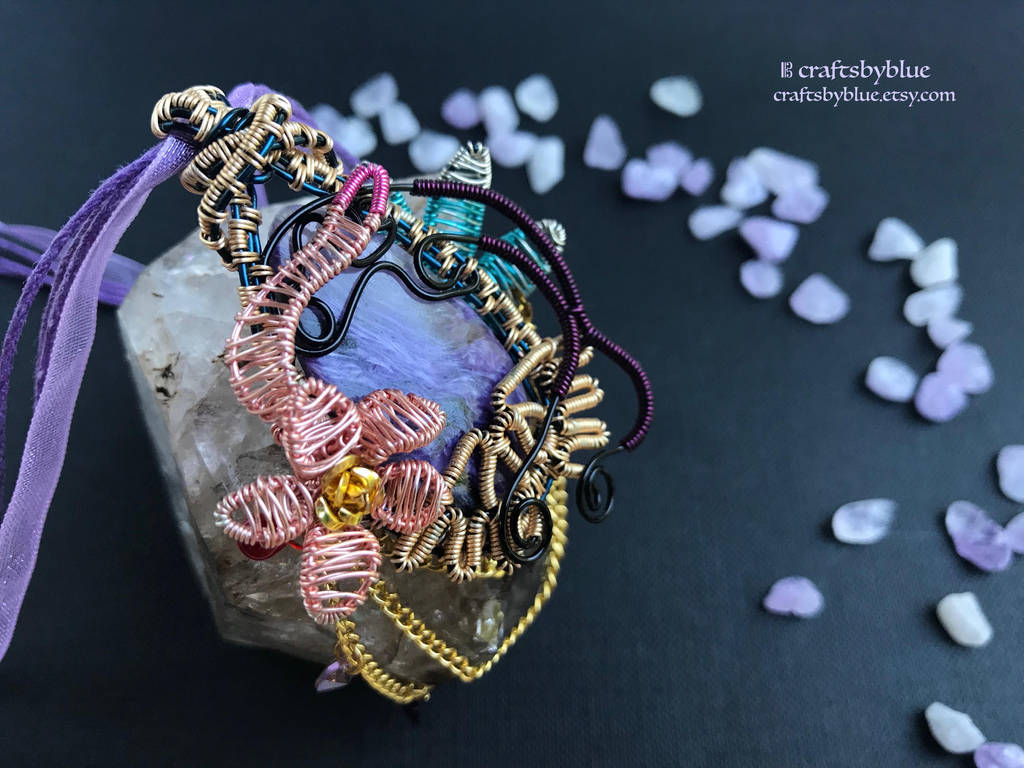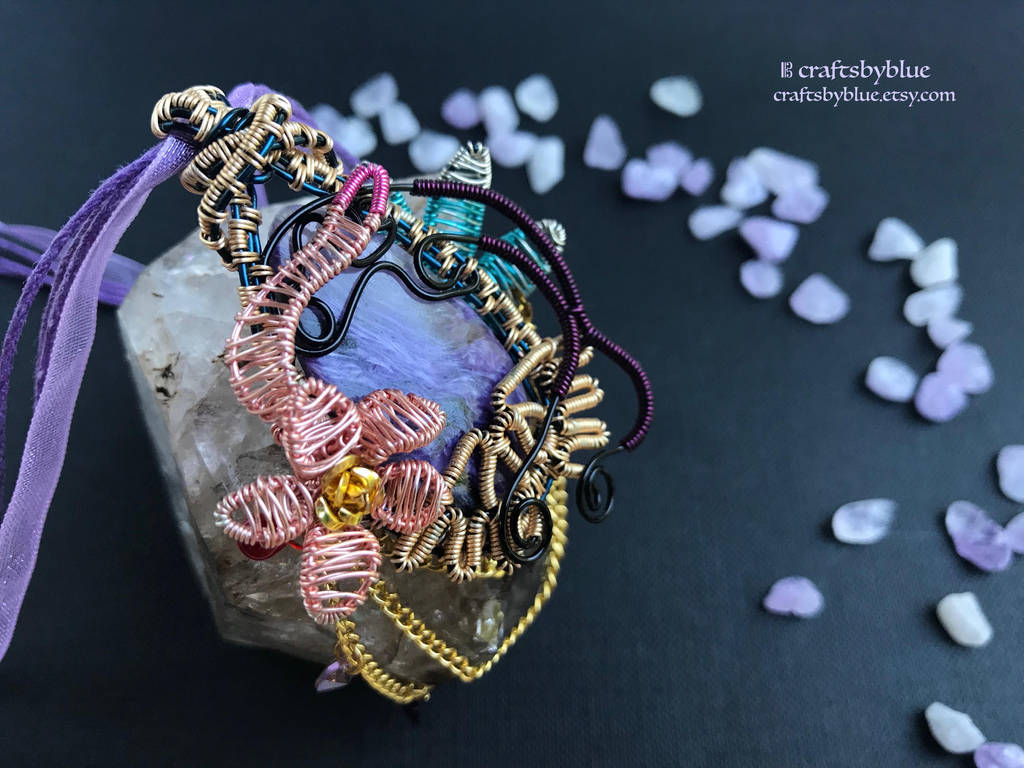 Shop | Commission Info | Instagram | Twitter | Tumblr


今朝啼鳥訴生死,眾生執迷;江湖宿命無人悟,一劍終末.

The inspiration behind this piece is Shā Wú Shēng (殺無生 or Setsu Musho in Japanese, meaning Eradicator of Life) from the Japanese-Taiwanese glove puppetry show Thunderbolt Fantasy (東離劍遊紀). He is a skilled swordsman and an infamous assassin known as the Screaming Phoenix Killer (鳴鳳決殺).
I got into this show because of SinistrosePhosphate, whose gorgeous fan works and love for the show convinced me to give it a try. Musho captured my attention from the moment he first appeared, and by the time I finished the prequel film, he became my favorite character. I've watched all of his scenes several times, bought the gaiden novel because of him, and even got my sister, who almost never shares my taste in characters, to like him as well xD.
I purchased this gemstone for another character two years ago, but couldn't come up with a design for her. After I saw Musho's tragic backstory, I felt that I had to make a piece for him. Purple is one of my favorite colors, so I was super excited to have a purple-themed character finally make it into my favorites; I immediately started brainstorming the design for his piece, and didn't lose motivation even though I waited two more months to actually start crafting him xDD. I mainly used his 2D artworks as references, so some of the elements in my piece don't match up with the ones on his puppet form.

References Used:


P.S. You can expect more TBF-themed crafts from me in the future

.

Thunderbolt Fantasy belongs to Gen Urobuchi, Nitroplus, Good Smile Company, and Pili International Multimedia. I don't own the character who inspired this piece. Musho's soliloquy is from Season 1, Episode 5.


For more about this series check out the S1 opening: www.youtube.com/watch?v=3jRxLs… and official site: www.thunderboltfantasy.com/.
This photo is unaltered, save for the addition of the watermark, and was taken under natural lighting conditions.
Time: 9 hours.
Materials: Silver Plated Artistic Wire (28 gauge), Enamel Coated Copper Wire in Black, Blue, Gold, Hot Pink, Ice Blue, Orchid, Pink, Rose Gold (20-26 gauge), Aluminum Rose Bead, 20 CTs Charoite Cabochon.
You may not copy or take credit for this piece or any of my other works.


This piece will not be sold or remade for commercial purposes. More info here: Commission Info

More fan art of my faves~


The little stones in the blurry background really add a lot to your composition ! It's such a great idea that compliment your beautiful work ♥️ I still remember when I first met you and your incredible work, when you struggle with making attractive shot. Well you can be proud and sure you achieved that goal ♥️♥️✨
Reply

Thank you so much


!
I'm really glad that you like the composition for this piece, and that you think that I've improved in my presentation! I still find it hard sometimes (some pieces more than others), but at least, I've graduated from using tissue paper for the background xD.
Thank you for your support all this time, I really appreciate it

!
Reply

Wow... this is amazing! You really captured Setsu Musho down in craft form in fine style! (And I love the flower and feather combination is just perfect to frame this piece. Brilliant!) I also love the little 3D element built into the flower part, too. I love the story you told us, too. I didn't know Musho was able to capture both your heart and that of your sister's! That's pretty darned amazing.

This is a really nicely crafted and absolutely incredible piece!

Reply

Thank you so much

! I'm really glad that you think I captured Musho well; that really means a lot to me

!
I'm happy that you like the flower and feather as well; I crafted this section before working on the lotus (but somehow the lotus got finished first), so it was my first time making a 3D flower, and quite a challenge xD.
And thank you for reading my story, I'm glad you like it! I didn't expect my sister to like Musho this much, but she became a fan the moment she saw him xD. She ended up watching all of Season 1, so now we have another TBF fan to compare bets with for Season 2

!
Thank you again

!
Reply

I think you did a great job!

Is that right? This was done before the big version? Wow, I'm impressed! For a "first-time" outing, I'd say you did an incredible job. Anything 3D has its inherent difficulty (you're fighting gravity, after all) so you most certainly did an exceptional job on this one. Kudos!
I am glad that we are able to grab another fan for the series. Love it!

My brother and I, no the other hand, stand firm behind Sho. He's the type of guy who would love to see and meet in real life. I guess. there's a little bit of a family bias going around?

But yes! A lot of new characters! I am guessing one of them is going to bite the dust in the first episode!

If we go by the example of the first episode of the first season... maybe even two people...
Reply


Indeed this was

! Yeah, 3D adds a whole new dimension of difficulty - now there's pressure from all directions

! Fixing this onto a pendant was really tough, but the experience helped for the lotus

. I'm really glad that you think I did a great job

!
Yes! The more, the merrier

! It seems like there's some family bias indeed (though if I used wanting to meet the character/befriend them in real life as my criteria, I would definitely not pick Musho) xD! I'm trying to get my cousin to watch more of the season as well, but...there's a chance of her joining Team Punchy

. So for now, let's play it safe and keep it at 2-2

.
Agreed

. I wouldn't be surprised if they did a double kill in episode one...again xDD!
Reply

Oh, I think what you've done is really, really wonderful! As someone who almost never work with 3D, what you have done is really, really amazing!

Well, let's put it this way... if your cousin falls into Team Punchy, then it's 2 against 2 against 1. Basically, we'd still be winning.

I have recently found out (from a Taiwanese forum) about something Urobutchi said about what went into his character creation. And it seems like he took inspiration from a series of wu-xia novels that I've read when I was really young. I passed that information to Wayne and the more we think about it, the more it make sense. And there's an equivalent for Punchy, for Sho, for Musho... even the new guy who is an ally. It's all making sense now!

... I don't think that's spoiling the show. Because the adventures here are still brand new. It's only the characters that seem to have a "spiritual" predecessor. And that also means if you want to learn more Chinese, I know exactly what you -should- read!

... Haven't watched the first episode yet. I don't know if anyone got killed. I'll find out soon!

Reply



Very true

. And now that my sister has watched the movie, the chances of her defecting to Team Punchy are close to nil xD. So at worst, it becomes a 2 - 2 - 1, and at best 3 (Sho) - 2 - 0

!
Yeah, that isn't spoiling the show, as the plot is different

. The other characters having spiritual predecessors makes sense, but I'm surprised that there's an equivalent for Punchy - I thought that master manipulator-type protagonists were a relatively new phenomenon. I do want to learn more Chinese, but I'm currently struggling to read the gaiden novel

. Would these novels be easier or more difficult? xD
Same here, I'm waiting for Crunchyroll to release the episode next week xD. Soon

!
Reply

Oh, that's great! That means we'd at least be winning even if your cousin goes towards Team Punchy.

I like those odds!

And hey, if she likes Sho, that's even better!

The plot is different and it's brand new. But these spiritual predecessors show traces in their descendants in an uncanny way. The moment I told my brother about this find, his response was almost the same as mine: "This makes sense." (Our second response was "Rou's chance of dying went down. Punchy and Sho will never die!") Unfortunately, as much as I love those novels, they would be harder to read than the Gaiden for you. So it will take a while before I can properly introduce these "predecessors" to you.

But suffice it to say, the author was from Taiwan, too. Once the links have been made, a lot of things make sense now. Hopefully, one day I can show you what these links are, too.

Yay!



Reply

Yes

! Those are great odds xD. I think she's more likely to pick Sho, especially since Suwabe voices one of her all-time faves, but...you never know

.
If the resemblance is that uncanny, then Urobuchi sure does his research well

. (And that's a relief, as Rou is currently my favorite S2 character...as of Episode 1 lol. And no surprises there, Punchy and Sho have to be there for there to be a next season xD). Looks like I need to read the gaiden first then; hopefully, my Chinese will have improved slightly by the time I get through Musho's half xD. Hopefully I will be able to read them one day

.



Reply
(1 Reply)

It's incredible! It's so intricate and unusual!
Reply

Thank you so much, I'm really glad you like it!

The character's design is extremely intricate, so I tried to match that xD.
Reply

Wow! This is fantastic!

Reply