Before commissioning me, remember to read
TERMS OF SERVICE
. The price might change depending on what you are asking. These prices are only giving the idea what it might be. One additional character add 15 € to the price and NSFW +10 €. Client will get the full resolution picture.
If you are interested, note me and follow this format:
Order: (Sketch, portrait.. Scene with additional character etc.)

Character name: (name here)

Character info: (You can add here something about your character. Poses etc. Also bg is welcome if it helps visioning the picture but please spare me from novels. Only necessary info.)
Reference: (Link to your character's picture, unless it is a custom design. Then you can add images to help me get the vision of what you want.)

SKETCH - 5 € / 500 points (ap. $6)

CHARACTER SHEET
- 25 € (ap. $29)
You can request a color map without any additional charges.
Customs add +10 €
More poses add +5 €
PORTRAIT - 30 € (ap. $35)

SCENE -
80 € (ap. $94)
(might change depending on complexity)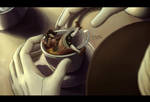 DAKIMAKURA -
80 € (ap. $94)
Size: 3000 x 9000 px
Resolution: 1000
CHIBI
- 15 € / 1700 points (ap. $17)
What I can draw
Humans and humanoids

Animals and anthros

Monsters / fantasy creatures

Gore and NSFW

Both OC and FanArt

Custom designs
Steampunk or similar

What I won't do
Things what mock religion
Copy same pose and character from a screenshot