Before commissioning me, remember to read
TERMS OF SERVICE
. The price might change depending on complexity and other additional things. These prices are giving the idea what it might be.

One additional character add + 10 €

Complexity add might be around + 5 € or more

Client will get the full resolution picture via note

A sketch is showed before further progress (unless you are commissioning me a sketch)

Payment in euros

You send the payment after agreement

Only point cm possibilities: Sketch and chibi

Please be patient with me on big works. A sketch is the fastest option.
If you are interested, note me and follow this format:
Order: (Sketch, portrait.. Scene with additional character etc.)

Character name: (name here)

Character info: (You can add here something about your character. Posing, character traits, extra info etc. However don't make it too long and keep it on point.)
Reference: (Link to your character's picture, unless it is a custom design.)
Payment: (Paypal, points)
Extra: (Additional character, transparent bg etc.)
SKETCH - 7 € or 640 points (ap. $8)
from head to toes as you wish

COLORED SKETCH PORTRAIT - 20 €
Bust up or waist up
with simple background

PAINTED PORTRAIT - 40 € (ap. $45)
Bust up or Waist up with background


A SCENE - 100 €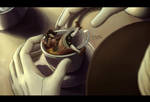 CHIBI
- 15 € or 1360 points (ap. $17)
Full body

CHARACTER SHEET
- 25 - 35 € (ap. $28 - $39)
Please note that designing a custom character from written description will add extra charges.
2 poses (front and back) 30 €

3 poses 35 €

CLOTHING DESIGN - min. 20 €

Depends on how many and complexity.

PINUP

Waist up - 40 €

Full body - 50 €

CURRENTLY AVAILABLE YCH
What I can draw
Humans and humanoids

Animals and anthros

Monsters / fantasy creatures

Gore and NSFW

Both OC and FanArt

Custom designs
Steampunk, goth or similar

What I won't do
Things what mock religion
Copy another picture or tracing