Journal Entry:
Mon May 22, 2017, 5:39 AM
Elloo! I opened art trade because I really want to get my redesigned raptor-cat-bunny-chicken fluff to get drawn! Can't show it yet how he looks like, but he is redesign of this:
He do not have that man body as a main form anymore, but is, uh... more cute now xD But if you really want you can draw him as a human version, but I haven't designed any clothes for now. When I'll get the fluff done I'll show it here.
No first come first serve! Put under below examples what style you are going to use! Yush let's have fun :3c
EDIT: Okay here is the design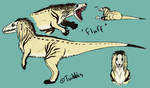 Listening to: Music
Eating: Medicine
Drinking: Tea [as always]

Watch