⊹ hi I'm caky and i draw sometimes. 𖥔
𖥔 feel free to look around <3 ⊹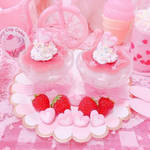 🚫Do Not:
🚫 copy, trace, reference my artworks.
🚫 use my artworks for AI & n/ft shit
🚫 repost or use my artworks without permission.
i WILL hunt you down.
✅You may:
✅ draw my characters (i prefer if you tag me so i can see it!)
✅ use SOME of my artworks as your banner/profile picture. (please ask first before you do so, some artworks are not meant for others to use.)
i am not always active on deviantart so i may take a while to reply to any questions, i hope you understand!