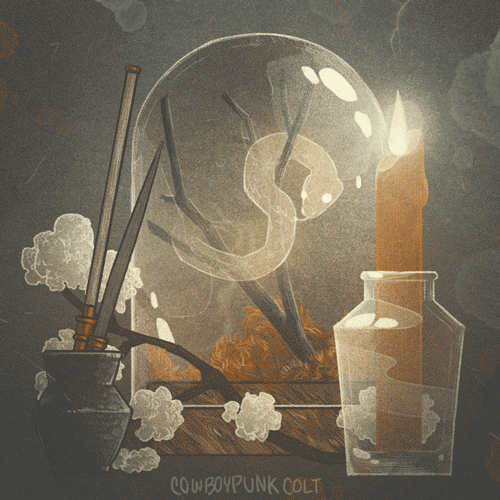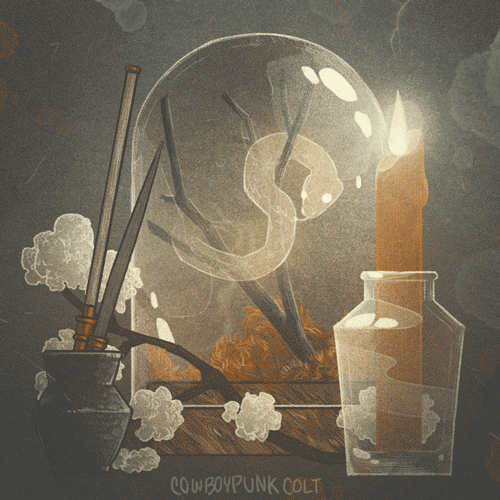 Watch
With a little moss to hide in and a stick to climb.
Soul Jar commissions are open again this year for October!
Got a familiar or character that needs to rest or maybe needs a little reigning in? Just stick their floaty soul butts in a jar until you need them again (or until they've learned their lesson). Don't forget to put in little objects to keep them comfy - trinkets, mementos, snacks, etc.!
I'll be making these little animated drawings for $55 until the 31st (after All Hallows Eve, wrangling souls into small objects becomes significantly more difficult). You'll get both an animated gif and a larger, not-animated version. Just note me for details and questions~
___________________________
Tumblr
|
Twitter
|
Weasyl
|
Patreon
Gumroad
|
Society6
|
Redbubble

the use of color and old artifacted-y effect makes me really happy
Reply

A beautifully drawn and animated picture! All those details you included on the animation, like the candle burning or the snake's tongue ocasionally flicking, help give it such a calm feeling.

There is an effort to make soul jars appear eerie and unnerving (since they are often treated as unnatural, twisted things); so seeing a depiction of soul jars that plays with the more mystical and whimsical angles of the idea is a welcome change, and a breath of fresh air.
Reply

Reply