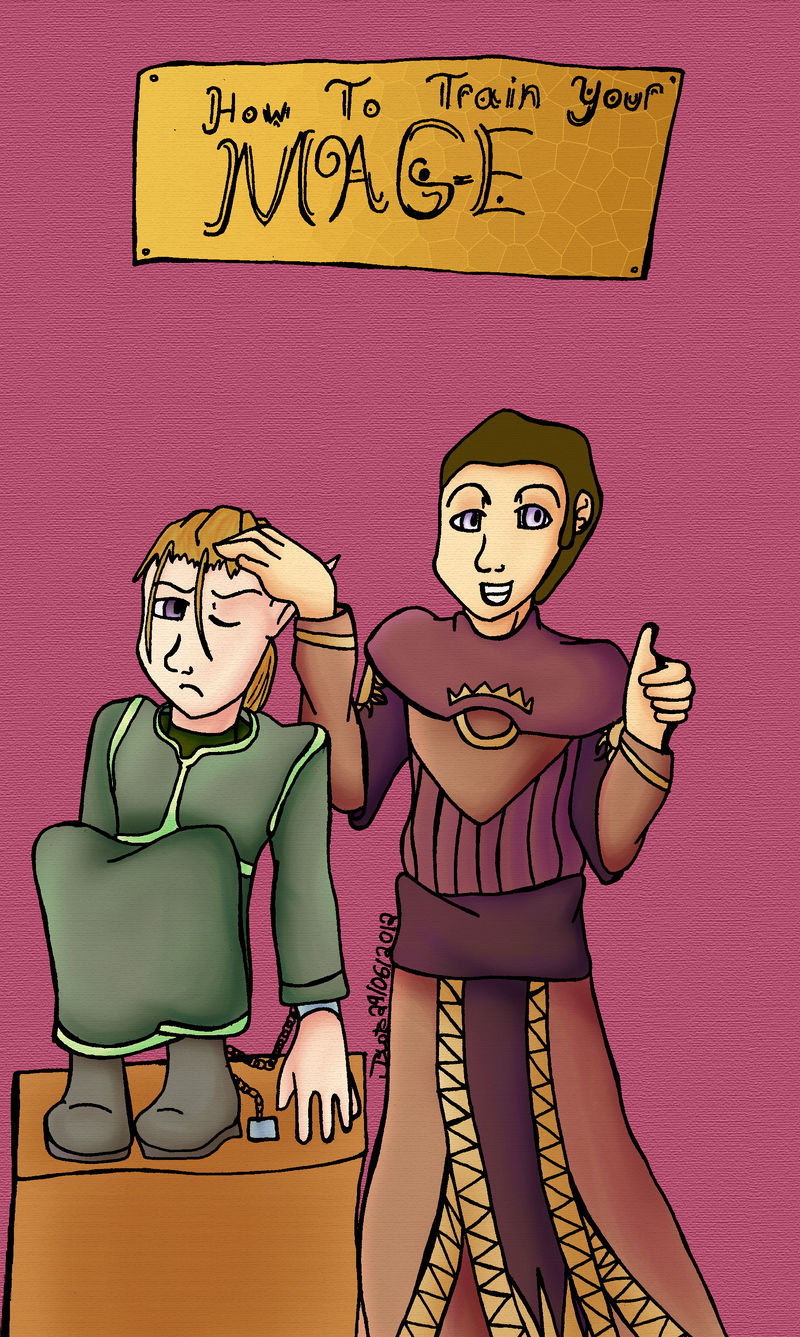 Watch
"HOW TO TRAIN YOUR MAGE! Proven to work on even the more un-trainable Mages! Everything in here works and is worth the coin! READ NOW!
Warning - don't not use unless you know you can train your Mage. Blood Magic isn't allowed nor shall it. The things in this book aren't real.
"

This is all base off of that
OC quiz I did of Boots
a few days ago - apparently this is Boots' fave book to read. I'm pretty certain that the Mage here doesn't like his 'owner' all that well, but hey! The dude is glad that
someone
reads his books!
I'm so gonna to "How to Tame Your Warrior" and "How to Track Your Rouge"...
---
Materials Used:STAEDTLER 2H Lead Pencil, OptiFlow Pens, Photoshop Elements.
The Elf and Man belong to me, *Marinta
Dragon Age and it's concepts belongs to BioWare.

.....Hell yes. Hell. Yes. This is perf. I love you right now. I need a copy. My little Melody is getting to be quite the handful, with her rude, sarcastic self. *scoffs*

One question - Where's the mage's ass? Like...she's crouched on a table, but her ass is up in the air.

IS SHE USING THE ART OF ENERGY MANIPULATION TO MAKE A LITTLE SEAT FOR HERSELF SO HER LEGS DON'T HURT? THAT'S IT, ISN'T IT.

It needs a backside. Design a backside. BETTER YET. MAKE IT INTO AN ACTUAL BOOK. OH MY GOD, WITH LEGIT CHAPTERS. AND AN INTRO. "Mages are sensitive creatures. To fully master the art of training your eclectic mage, we advise you to peruse this book - cover to cover. In order to achieve full potential with your mage, you need to be calm and patient." Poor Boots would end up skipping those.
Reply

My lovely Mage is using Magic as a chair - since he doesn't want to see on a box >C WHO WOULD WANT TO SEE ON A FUCKING BOX? ABGAEKGBA.

Boots would skip a lot of things just to get to the parts he wants to read. "Mages are asensitive blahblhablha....AH here's the part I'm looking for."
Reply

Hawke: ill need 1 copy of how to train your mage.
1 copy of how to train an abomination.
1 copy of how to train a spirit.
1copy of how to train a warrior
1 copy of how to train a Lyrium infused Elf
1 copy how how to train a broody elf
ill give you 20 silvers each.

lol
Reply

Ze Chanter: Oh Maker - you can have them all *throws*

Damn - I want to doodle some perhaps all of those.
Reply

Hawke:Great off to train.

go head and use them if i come up with more ideas ill be glad to share them with you.
Reply

Don't let Mousey see this, it may never see the light of day again... :I
Hurr, I love the Chantry guy giving a thumbs up to the world.
'This works! Really, it does! Does not come with chain and ball-- must be purchased seperately.'
Reply

I think Boots has it hidden in a box somewhere.

She'll only find it if she snoops through his house...
That Chantry dude needs a name, and he's awesome - wanting people to buy his shet.
'Buy it today, and I'll give you a staff
for 20 silvers!
'
Reply

And, of course, Mouse will be snooping through his things like a boss soon enough.

'What is this privacy you speak of?

'
Chantry dude...PABLO. No...Hmm, Cedric seems like a good name for this new sales man. CEDRIC THE CHANTRY BOY~
Or...Something else. I seemed to have run out of names. :'D
Reply


Then he'd go all "MAKERDAMNIT MOUSE." Since he probably does keep a lot of things people shouldn't pick up.
"But they're shiny." He'll mutter.
CEDRIC THE CHANTRY BOY. He'll sell you things faster then you can say "NO"
Reply

Hm, all of Mouse's 'shiny' shet is buried away in that hidden passage-- she likes her shiny shet. Ain't nobody gonna take her shiny shet.

I'm starting to like this Cedric...
Reply

Boots keeps his shiny things out and claims they're Aki's, saying that Elves like shiny stuff. While everyone knows their his.
And Cedric likes you, and he wants to sell you his books.
Reply

Ooh, Mouse is just going to love going through his things, and probably stealing a few of them, and then going: 'What, what? I would never steal from you guys! *innocent face*'
*wants to buy them all* Gimme 'em all, Cedric!
Reply