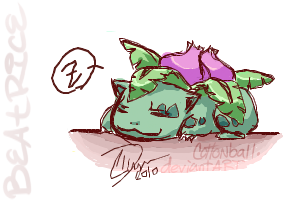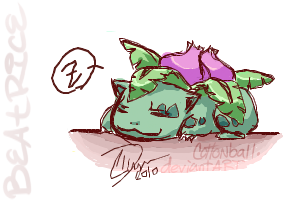 Watch
iScribble partay with #
PKMN-Battle-Frontier
chatroom regulars. >3> Quite interesting.
This is Tadako's Ivysaur, Beatrice.
check it~
[big edit: added her name on the left.]
Ivysaur (c) Gamefreak

Medium: LE1600 TabletPC, iScribble

NOTE: If it isn't obvious enough with my watermark, you have NO permission to copy, reuse or resubmit this image anywhere. ever. If you REALLY want to use it, YOU MUST ASK ME FIRST and give me PROPER credit (without editing my watermarks out). If i see this anywhere else without my consent/approval, i will be pissed.