"Our new picture of cosmology is that we live in a universe dominated by 'nothing'. The largest energy in the universe-70% of the energy in the universe resides in empty space, and we don't have the slightest idea why its there."
- Dr. Lawrence Krauss
"If you asked: what would be the characteristics of a universe that was created from nothing (without god), it would have precisely the characteristics we see today. Does that prove that god doesn't exist? No, it just makes god unnecessary."
This picture was painted from nothing, in roughly 12 hours while I listened to a lot of interesting lectures on physics, including Dr. Lawrence Krauss' famous lecture "A Universe From Nothing". This is the most fascinating information I have ever heard. I have watched it at least a dozen times in the last year.
www.youtube.com/watch?v=0ZiXC8…
A video tutorial is available from the creation of this painting.
fav.me/d85bp63
Other Cosmic Sparks!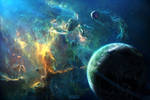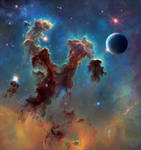 Image details
Image size
10800x7200px 54.11 MB