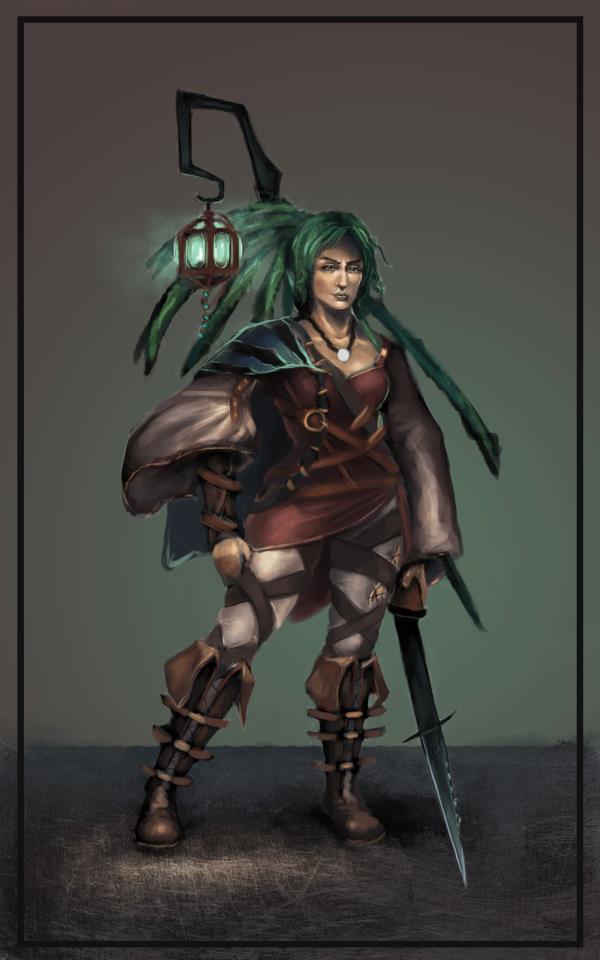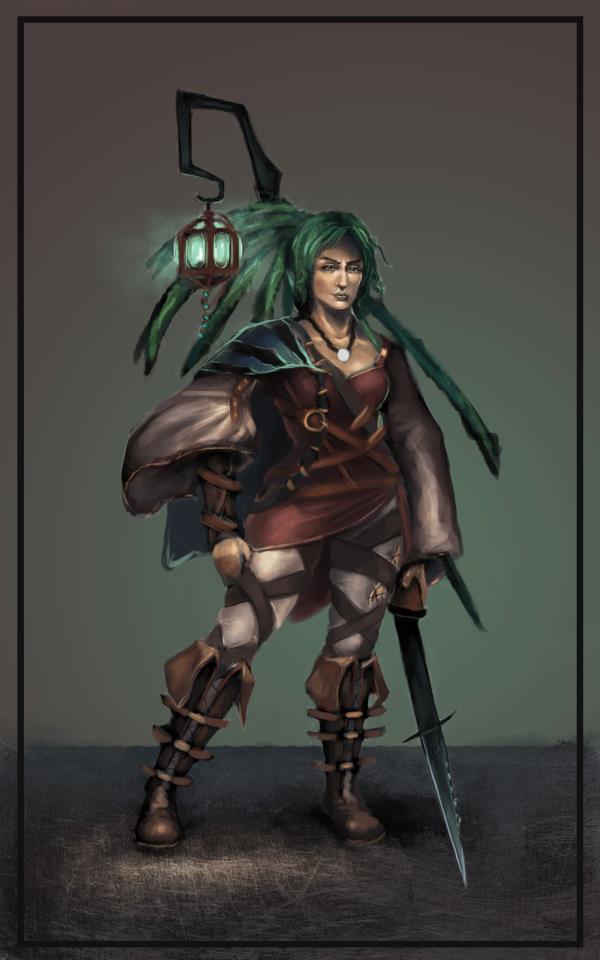 Work for my senior studio. This is the main character for the story I'm creating.
This is a really great piece! and being familiar with the project you are working on, I'd say that this is a good concept for the character you are envisioning!
Let me start off by talking about the aesthetics, which are one of the most important aspects of great concept design, especially character design. Love the outfit, I think it has some really great qualities to it as well as it being unique. However, I do notice that some of the cloth features (in this case the sleeve that is being lifted up by what seems to be wind?) could be a bit more free-flowing or maybe not have it as exaggerated. Now, I don't know how finalized this design is, but it looks like you have settled on a specific look you want for the character. That being said, I think you should go that extra mile and refine the shapes even more, such as the hands and the hair (I do have to say that I am diggin' the hairstyle and the rough look it has, play off of that!). I guess the main reason I am talking about refining the image is because when I look at the boots and that shoulder piece, I start to notice how the rest of the image lacks in refinement (even if the design looks good). Play with edge lighting and bounce lights to bring that character more into life!!

Something else that I wanted to mention was that the lamp weapon that your character has feels like it is very important for the character. However, right now it feels as though it is just there rather than it having a purpose. The easiest way to get it to pop out as something really important is to play with the contrast of colors as well as the brightness (awesome crazy shapes and shenanigans may help as well lol xD) That bladed tip though, looks nice! ;D
Another thing, I really like the tone you chose for the background you are displaying your character in. It is not distracting and it is actually helping you focus on the figure better. However, I kinda wish you would have softened the ground line a bit more as it is something that pops out quite easily. You could even do some soft shades of the colors you have now and create a sort of blurred out background to give it an extra sense of depth, nothing too fancy and quick ya know?

All in all, I would say this is a very good image and design altogether!!! Keep up the great work and I can't wait to see how the rest of your project will go!!!
The Artist thought this was FAIR
2 out of 2 deviants thought this was fair.