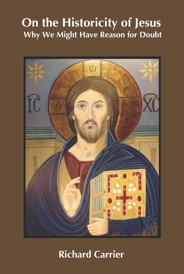 It's been three weeks since Dr. Richard Carrier last visited us here in Central Iowa, and in that time I have found myself having an abnormal (for me) degree of energy sufficient to read, as best I am able, his 2014 work 'On the Historicity of Jesus: Why We Might Have Reason for Doubt.' The book is a carefully crafted examination of the supposed evidence for an historical Jesus which weighs the probability that such 'evidence' is better representative of a purely mythical Jesus. A character who may have been invented to advance a socio-religious agenda, or a series of interrelated agendas, and was then later crafted into an historical person by parties for whom there was a need to have a legitimate human being at the core of their dogma/doctrine. The book is, by many accounts, one of the first well-researched, peer-reviewed titles - if not THE first - to argue for a purely mythical christian savior and should be of interest to anyone with an inclination to explore the question.
Dr. Carrier is, himself, well-credentialed, having obtained a Doctorate in Ancient History from Columbia University in 2008. As such, I'm inclined to give his perspective on this subject a fair amount of attention and respect, particularly over the opinions of any given Evangelical apologist who just happened to find their credentials at the bottom of the proverbial Cracker Jack box, academically speaking (see the credentials of Kent Hovind for more on this). And I say this because I feel a great sense of despair that in today's world we find, in many supposedly reasonable people, an unjustifiable willingness to dismiss honest, legitimate expertise in favor of their own opinions and feelings about any given matter. Of all the mental errors humans can make, I find this one particularly noxious; my reasoning here being that one does not call in a circus clown to fix a plumbing problem - one calls a certified plumbing specialist if they have even a grain of common sense. Thus, I am wholly inclined to dismiss the barely-informed opinions of someone who just walked out of a gaudy religious theme park and favor those of a legitimately-credentialed historian like Dr. Carrier.
But I digress. This is a book review, not a critique of incompetence in modern U.S. society.
For myself, the book does very little to change my thinking on the matter of whether Jesus was real or invented. I'd already been a 'Jesus Mythicist' for many years, and for various reasons, before I had even heard of Dr. Carrier. For one, I learned long ago that humans in power are prone, very highly, to fabricate new information, or mold into a more agreeable shape existing information, in order to support and advance their varied agendas. Two, I've been reading myths and legends the likes of Hercules, King Arthur and Robin Hood almost from the time I first learned to read. And in that respect, the claims made about the abilities of Jesus (that it was once possible to conjure high-quality Vino from what was essentially dirty well water, that it was once possible to raise the dead, that it was once possible to defy physics by walking across a whole lot of water, and that it was once possible to feed thousands of people with what amounts to a budget deli platter at a corner bistro in NYC) are no more credible than the claim that it was once possible to pull a magic sword from a stone when no one else could (King Arthur) or that it was once possible for a single man, of Bronze Age extraction, to divert a river in one day in order to clean a stable complex meant to house thousands of horses (Hercules). Basically, my thinking is that if it smells like a myth, chances are good it's a myth.
I could certainly go on forever about my reasons for erring on the side of myth where Jesus is concerned but I feel it more important to focus on how the book goes about trying to answer the question. At the core of Dr. Carrier's analysis is a method called Bayes' Theorem which posits a mathematical approach to the historical reliability for any given event or piece of information that is known when put in the proper context of all the events and stories which are contemporaneous with the same. At least that's how I understand it on the surface. I wont claim to comprehend in the slightest the particulars of the Theorem itself, given that my mathematical peak in college was Finite Mathematics (which I barely passed...) and, as it is, trying to comprehend advanced maths in general makes my head spin. I'm just not properly inclined, so speaking, to give a critique of the use of Baysean reasoning as an equation when applied to history. I suppose I would have been on better mental footing if I were to have read his prior work titled 'Proving History: Bayes's Theorem and the Quest for the Historical Jesus' but I have my doubts. The way he presents Bayes' Theorum in 'On the Historicity...' tells me that this mode of analysis relies heavily on an understanding of Statistical Method (to what degree I am uncertain) and I am far from adept at such a mathematical discipline.
My particular approach to history has always been a broad read of events and stories in an effort to discover, in a more general sense, the commonalities and general tendencies in human nature which gave rise to world events and the legends related therein. For instance, I know from my own informal survey of the King Arthur legend that his 'legendary' status becomes smaller and smaller the further back one goes in the literary record (moving backward from Mallory through Chrétien de Troyes, Nennius, Geoffrey of Monmouth and so forth) and that people we would consider vital components of the Arthurian story, such as Lancelot, were later additions to the myth. Even the common perception that the Sword in the Stone and Excalibur are one in the same weapon is a later alteration of the myth. Therefore, it is my opinion that if such layering of legend could occur in relation to an unverifiable historical figure like Arthur (who is, arguably, way more entertaining) then there is no reason to think that something similar couldn't have happened to an unverifiable historical character like Jesus, who supposedly lived in a prior age where the average rate of literacy was significantly lower and the means to transmit popular ideas/ideals were somewhat narrower, at least by my estimation. So even if my approach to history allows me this level of comprehension, I must still admit that I'm not sufficiently trained to be able to give a proper textual critique on Dr. Carrier's work, if indeed 'textual is the proper term to use here.
However, Dr. Carrier did ask me to comment on the manner in which Baysean reasoning is presented in the book and to give my impressions on my ability to comprehend it based on that alone. I am able to comprehend probability but certainly not to the degree required to apply the technique in any meaningful way. For me, probability and possibility are more dependent on how fantastic a claim is and how well such a claim matches up with what is presently known about science and the natural world. For instance, we know from historical records and analysis of the Antikythera mechanism that the science of geared machines was known in later Antiquity; but that the use of said mechanisms was somewhat limited given how these devices are mentioned in literature which survives from the period. Therefore, if someone were to make the claim that cuckoo clocks could have existed in Ancient Greece or Rome, we would have to concede the possibility, albeit a highly marginal one, yet be very, very skeptical of the probability given the available evidence, which shows early mechanical clocks didn't start appearing in the historical record until the late Middle Ages.
Outside of my mathematical deficiencies, I feel that my lack of formal training in the areas of Logic and Rhetoric also impede my ability to fully understand and implement Baysean reasoning when applied to history. For one, the temperament required to grasp adequately principles related to Philosophy and Logic has thus far eluded me in my largely 'lay' academic pursuits. For instance, I know I have heard terms like 'a priori' and 'ad hoc' in the past but it is very difficult for me to keep an understanding of advanced principles such as these clear in my mind absent their use on a regular basis. And given that I have what seems to be a natural tendency to avoid Philosophy like the plague, coming across these terms in any given text tends to be less of an aid to my understanding and more a roadblock between my brain and the full comprehension of a given chapter. So as far as it concerns my ability to comprehend Bayes' Theorum based on the read in this book, that is where I feel my deficiencies lie.
That's not to say that the manner in which he presents the Theorem is deficient. I am merely giving my estimate of my ability to comprehend it given my intellectual and academic limitations. The narrative style Dr. Carrier employs makes 'On the Historicity…' very approachable for a layperson like myself, given the academic nature/tone of the text. It does an excellent job of filling gaps in my own knowledge, explaining a great deal about the literary history of the Jesus legend and providing perspective on the social conditions of the era in which the Jesus myth was being crafted. And he does go to significant lengths to try and convey an understanding of more complex principles, specifically at the points in the narrative where he gives examples of the biblical text in its (so far known) original language in order to clarify for a modern audience what was meant by the given passage. So speaking as an informal student of history, I appreciate very much this, his ability to transmit his ideas without the need to bog them down in a mass of advanced academic jargon. Given that, I must say that my first read has been a very interesting survey, one which hasn't taxed my intellect too heavily. Anyone in my position would, doubtless, get a similar level of enjoyment herein. And I would conjecture that were said person on better intellectual footing where it concerns Mathematics (esp. Statistics), Logic and Rhetoric, they would undoubtedly be able to apply Bayes' Theorem in ways that I can not based simply from my read of this book. Perhaps I am being too hard on myself here but it seems that not even the in-depth breakdown of his statistical conclusions in the last chapter is enough to give me confidence that I could suddenly begin to use Bayes' Theorem in my own analysis of history. I fear that I'm just not advanced enough in my academic understanding to do so.
So, to conclude the review, I would, despite my perceived deficits in comprehension, very much recommend 'On the Historicity of Jesus' as an essential text for anyone with an interest in exploring the question of whether or not Jesus was a real person. If, unlike myself, your interest is in using the material to counter the arguments for historicity being given by modern apologists, you will find within the text reams of easily accessible material to aid in your efforts. And if your interest is merely in gaining a well-researched perspective on certain aspects of the era, you'll find that as well. For any student of history, this text is a must read.
Lastly, in the two instances where Dr. Carrier has visited us here in Central Iowa, at least where I've been present, I've found the man to be a excellent conversationalist willing to discuss with you a wide range of topics. So if you ever get the chance to meet with him socially, I definitely advise you to take advantage of the opportunity. And if you belong to a Secular group in your area, I would also recommend that you make the effort to organize an event wherein Dr. Carrier can speak on his ideas and theories. In my mind, there can be few activities more worthwhile than being able to engage with a person of his calibre on a social level.