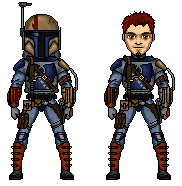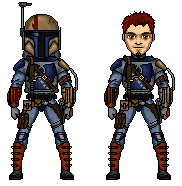 Watch
Yep, another Micro Hero. This time it's
Ayden Stone
.
Most parts are again from the awesome Micro Mandos created by
Or'din Dhaka'ra on the Mandalorian Mercs
forum, so a lot of thanks and credit goes to him. This time, there was quite a bit more I drew myself, only for face and hair I used templates.
I still need to find a good slugthrower for him to weild, though...
Also, credit goes to
*Kuk-Man
for the original design of Ayden's armor.

These are really good dude! These drawings of yours gave me ideas for stories and drawings. Another then that dude, nice work. Till next time
PAR KOTE BAL IJAAT BE MAND'ALOR !
Reply

Welcome back Corran, that one looks great!

Reply

Vor'e!

Reply

How do you do these by the way?
Reply

I for one use Photoshop to piece the different parts together and draw the odd detail myself. Most creators of Micro Heroes only use Paint or other programs more suited for pixel art.

Reply

Sweet, so you use a base or something to keep it proportionate?
Reply

Well, yeah. Have a look at the linked page from the Mando Mercs. I used Ori'din's Mandos as a base and only modded some parts. Other parts I drew myself. The more experienced I get, the more I will draw myself and the less I'll "steal" from other Micros.

He did allow the use of his creations for such purposes, however, so feel free to give it a try yourself.

Reply

Nice. The face has a lot of character.
Reply

Thanks.

Yeah, I spent quite some time searching for a proper face template that might both convey Ayden's posterboy sportsman face as well as his roguish, yet wayward (due to the war) air. Finding a fitting hair template for that was another factor to that.

Now, I gotta give Ayden and Gladus some necks... the feedback from MIB indeed is helpful.

Reply

I can understand that. Trying to find or make the right details is all par of the fun.

Believe it or not for all my vaunted micro skills I didn't notice their lack of necks. It seems less noticable on this site for some reason.
Reply

Hehe. Well, I didn't really notice because the Mandos I based them on didn't have significant necks, either. It's fixed now.

Now I'm looking to find a good face resembling Clive Owen...

Reply

Love thecolors, and great head too

Reply

Thanks. The colorscheme of Ayden's armor was always something I was quite fond of as well. It even inspired some guy to paint his custom Mando armor that way...

And I had to find him a good head, seeing as he's been one of my few OCs that I haven't put a face to, yet.

Reply

The color scheme is one of the most important thing for a mando.
well that and a good character.

good head.

Reply