Art Trades are open
Rules

I won't even start my part until you have finished and delivered yours.
I've been screwed too many times in the past, so that's why.

On that note; if after a whole year you still haven't produced your part, I will terminate the art trade. I feel a year is more than generous for you to do your part. (You will not be notified. It's in the rules, you agree to them when you decide to do an AT with me, so if the year has passed your slot will be empty again)

It has to be fair.
What I mean with that is: If you ask for 2 chars, I will as well. If you ask for 1 char so will I, and so on. If you ask for a background I will request one too. If you do a bust I will as well, if you do full body I will as well, etc.

I don't care about skill.
Meaning, I don't mind to do art trades with people who's skill level is lower than mine. All I care about is that you put some decent time and effort into it!

Medium doesn't matter. Yours can be traditional, digital, whatever. The only thing I will not accept are stories. I have in the past, but personally I dislike reading, simply because I just can't see in my mind.. so I prefer visual things.

You have to have a good reference of your character. Which means; full body, in color, and an actual ref sheet (with multiple angles) would be the best, but a clear full body image I will accept too as long as all the details are clear enough.

What I will draw:
Humans, anthro, OC, fanart, fantasy, magic (effects), tasteful sexy stuff/ mild nudity

What I won't draw:
Hentai, yuri, yaoi, fetish stuff, gore, extreme violence, MLP, obese

What I'm not good at:
Mecha/vehicles, animals/monsters/feral, buildings/cities, fighting scenes, (large) groups
Also please let me know which style you prefer.
Semi-realistic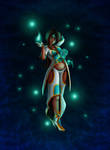 or hybrid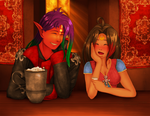 Just send me a note with the title 'Art Trade'!
Slots: 0/3
1.
2.
3.
Past Art Trades: