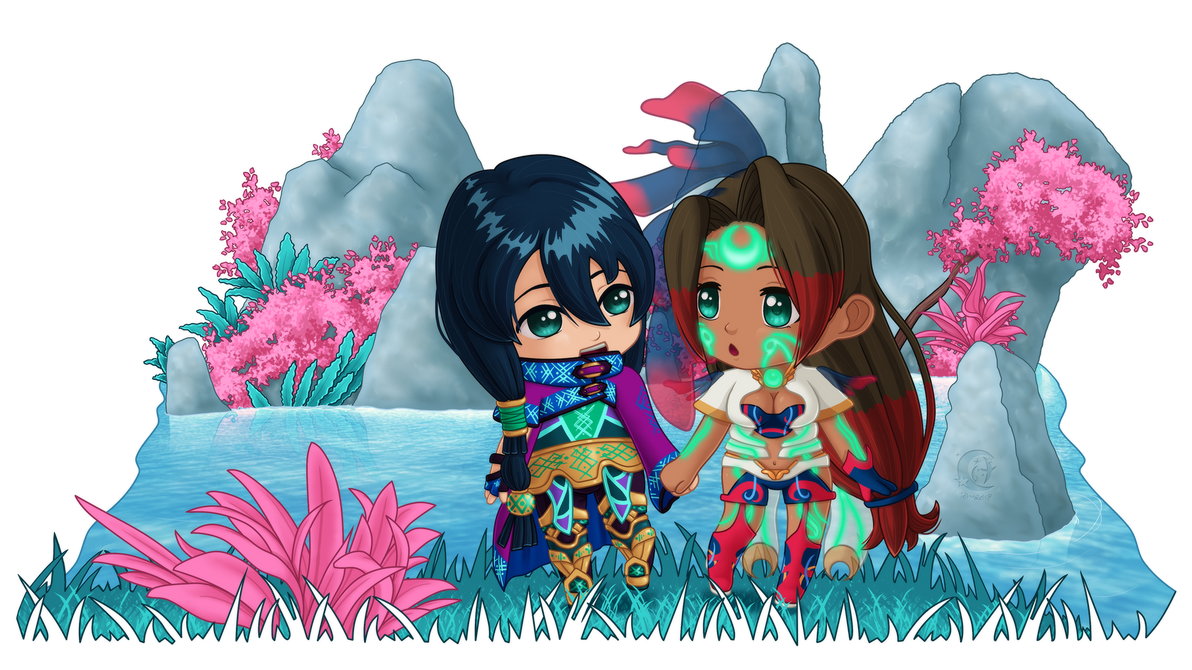 Watch
I was supposed to finish this along side the other chibi images but stuff came up and I put it on the back burner. Which I'm glad about now since this was supposed to be Coraleana and Marcassin in a cool glowy forest from Ni No Kuni 2, but I've since then played Xenoblade Chronicles 2 the Torna DLC, and the desert had this awesome oasis.

So I picked that, but I wanted to stay in the original mindset of having the chars be in their own environments, so I switched to Marcus and Coraleana in their Driver and Blade outfits.
I didn't think I'd be able to turn their outfits into chibi form since they were pretty detailed, but I managed.

I love how this came out, though I think the oasis looks more beautiful in game.
If you're interested; here are their Driver and Blade concepts
www.deviantart.com/coraleana/a…
And here are the other chibi dioramas, or whatever you want to call these. X3
Kalde (Agartha)
www.deviantart.com/coraleana/a…
Coraleana & Devi (Atlantis)
www.deviantart.com/coraleana/a…
Marcus (Ramu)
www.deviantart.com/coraleana/a…
Marcassin (his room)
www.deviantart.com/coraleana/a…

Credits:


Coraleana, Marcus, Blade and Driver outfits & Art (c) Ingrid Timmermans A.K.A.
Coraleana
.

Turqos Plateau (c) Monolith Soft.

References were used.

Love the shiny tatoos.

Reply

Always in love with you chibis, it brings more cuteness to this world

Im always a big fan of glowing things in pictures. If I had the body and the
curage I would have been a cyber goth.

The background looks amazing its so much things going on, I love the soft
coloring and shading, it looks so relaxing and wonderful, its funny when you
draw backgrounds, it always looks so inviting and a place you want to be.

They are a very nice couple. :3
Reply

Thank you very much.

I guess I'm good at picking interesting places people may want to visit if they could.

Reply

Reply

those two look very very cute like that! I love the style you drew them them! and those colors are also very very well. awesome job Ingrid!
Reply

The game in general just looks stunning.

I really love their chibi versions here.

I think this makes an absolutely beautiful banner, and I adore their Chronicles outfits! I really wish I could play that game in the future. xD Someday, maybe. Fantastic work on this!
Reply