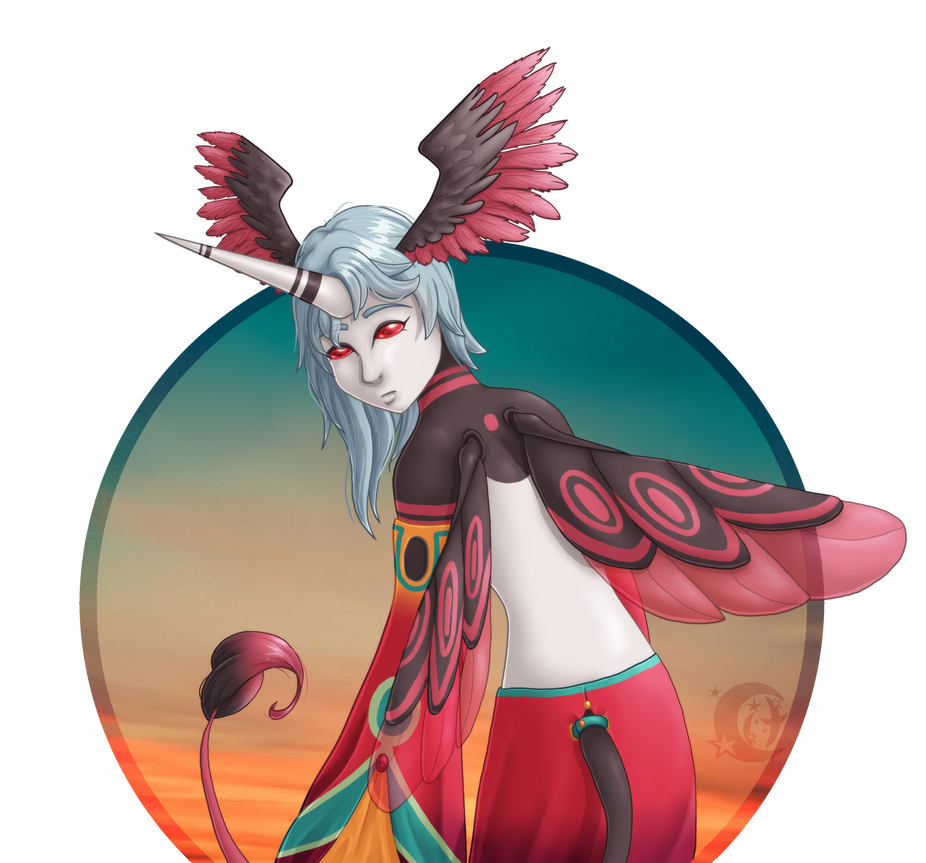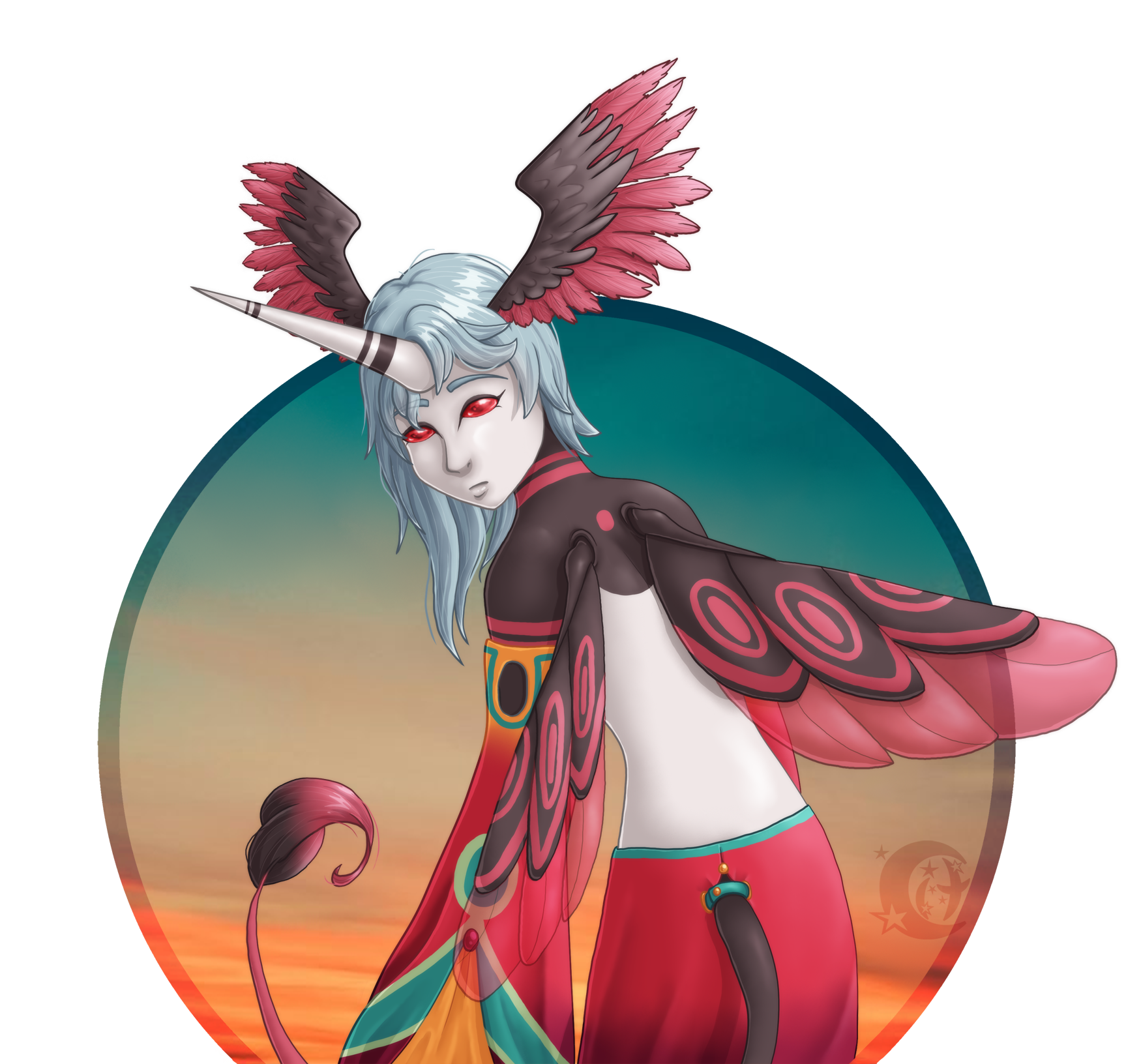 I sketched this a while ago when I was sort of on an art hiatus.. I actually liked it so I decided to finish it. The only part I don't like are his back wings.. man those are hard to draw in perspective since they're basically flat-ish, like moth/butterfly wings. D: So I'm pretty sure I fudged that up. XD;
Also, I'm working on an image with a female Ima (full body) as well. Anyone who's interested in the Ima race can look forward to that.


Credits:


Ima & Art (c) Ingrid Timmermans A.K.A. Coraleana.

wow very very pretty! those wings look really nice. I mean both sets. the wings on her back and the wings on her head. you also did his body and his face very very well. I like the red eyes. and the coloring job is very very well done. another awesome job!
Reply

It's a he. X3 But thank you very much

Reply

Reply

They are SO beautiful. I love how mysterious the male Imas look and elegant all at the same time! The wing designs are fantastic, and I love the color scheme chosen for them.

I am really eager to see the female one in time! They look like such a majestic type of race.

Reply

They are definitely my favorite race.

That's great, because I do want them to have this mystic, elegant air about them.

Thank you very much.

Reply

I really like his outfit very much, the colors are so warm and down to earthy in away. And the wings has a wonderful design as well.
It sure is a very intressting character design, I cant wait intill you come up with a character for this race of your own, if you know
what I mean. Because right now you draw in general the Ima race right they are no spesific once with names and such? :3
I think you did very good with the perspective as well

Reply

Too bad you can't see the whole thing. I really like the outfits I made for the male and female Ima.

Not sure I will. I have too many OCs already. XD;; Nope, not yet. The only thing I will do for the races so far is make male and females (and also children, royal guards and such if they have them) but no named individuals. Maybe later if I actually flesh out the story more and the characters actually visit those places. But that will be a loooooooong time still. X3;
Thank you.

Reply

Yeah Im sure they look smashing~

I have seen the few concepts you have done for
them before and that was very nice back then.
Nah its ok, sometimes its better to stick with the once you have and focuse more I guess.
I get easy carried away and create more then I can handle to be honest.

I am proud
over myself for not been creating a new character for many years now but it is tickeling in my
fingers, but I am afraid if i create more they will get lost in the other once and I feel sad for not
give enought time for that one.

Oh sorry for babbeling a lot

I like it you make kids and all the whole race and such thats very nice :3
btw your refs you are doing right now, are all refs going to based on characters that are grown ups?
:3
Oh thats a wonderful idea :3
its always nice to have something to look foraward too ;3
your very welcome~
Reply

Yeah I mean even now I have a few character I made, fully thinking they'd be important and stuff, but along the way I lost all feeling for them..

There is one thing you can do if you don't mant to make new ocs. You can take some really old ones and redesign them. I don't just mean clothes, heck you can even change their race. If you never draw them there must be a reason other than "I have too many". Find that reason and change them accordingly. You'll have a 'new' character, one that you like, but without adding an actual new character to all the others.

Yes I want to be thorough. I might even want to go further than that. Like do old people, and maybe a few different male and female adults or teenagers, just to show some difference.

Well all my chars except for 2 are grown ups, so yeah for my ocs most my ref will be grown ups. It's only Telena and Akia that are still children.
Reply

thats something I had in mind to redesign them totally
and I might will try do so in the future someday~
I think thats why I am making these refs once in a while
to give the idea of redesign them but also do a ref at the
same time.

before I was thinking of donate some characters but I am
in love with them to much X3
Oh that sounds so nice :3 ! I really like that idea very much.
Ok, thats good to know

( also I might take some time to reply to notes this week, I have been working pretty much

)
Reply

I think it's a nice idea, and a good way to sort of recycle your characters without throwing them away. X3
I could never do that either, I'm too attached to them. XD
(it's okay, take all the time you need.

I know what it's like to be busy or have other reason to not be able to be online or reply to messages.

)
Reply

Lovely artwork, with a nice color palette and depicting an appealing being.

You may not be fond of his wings, but I personally like them a lot

: their design is cool, the slight transparency adds to the realism, and I really like how they're attached to the body since this part reminds me of real-life insects. And I don't see any issue with their perspective.
Nice work!
Reply

Thank you very much.

Yeah I realized I hadn't thought about how the wings were actually attached before.. so for this picture I had to find a way. I found an insect that has it's wings kind of attached this way, I thought it was a good thing to use.

Reply

Reply

Cool one.

Reply