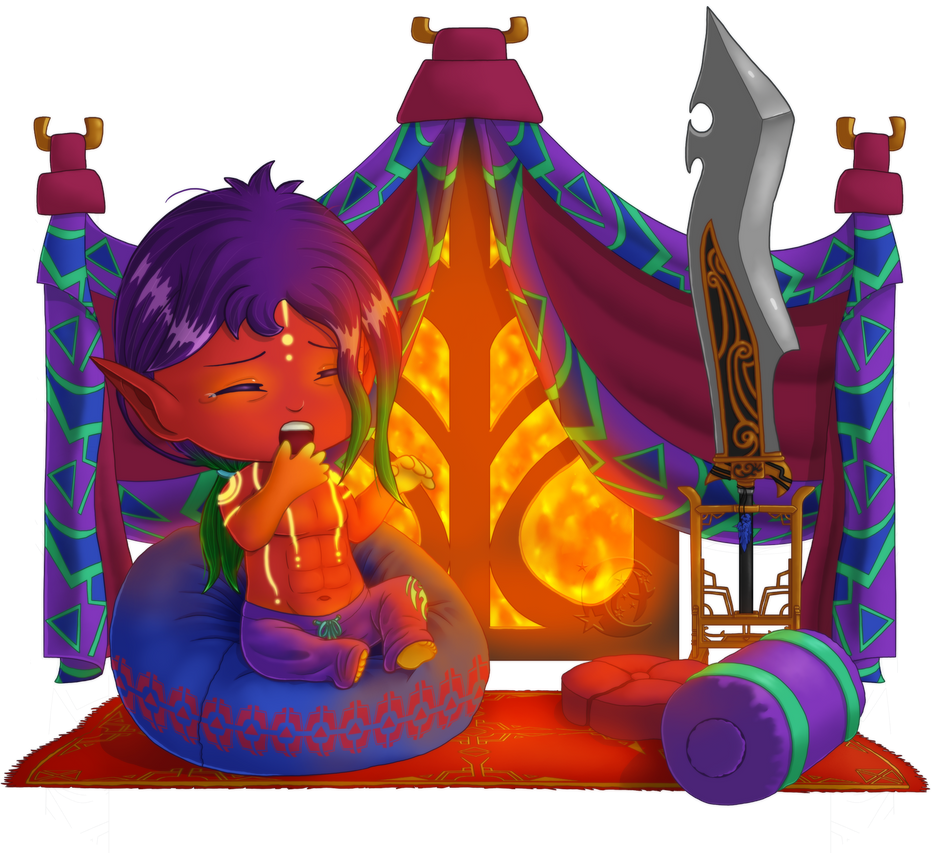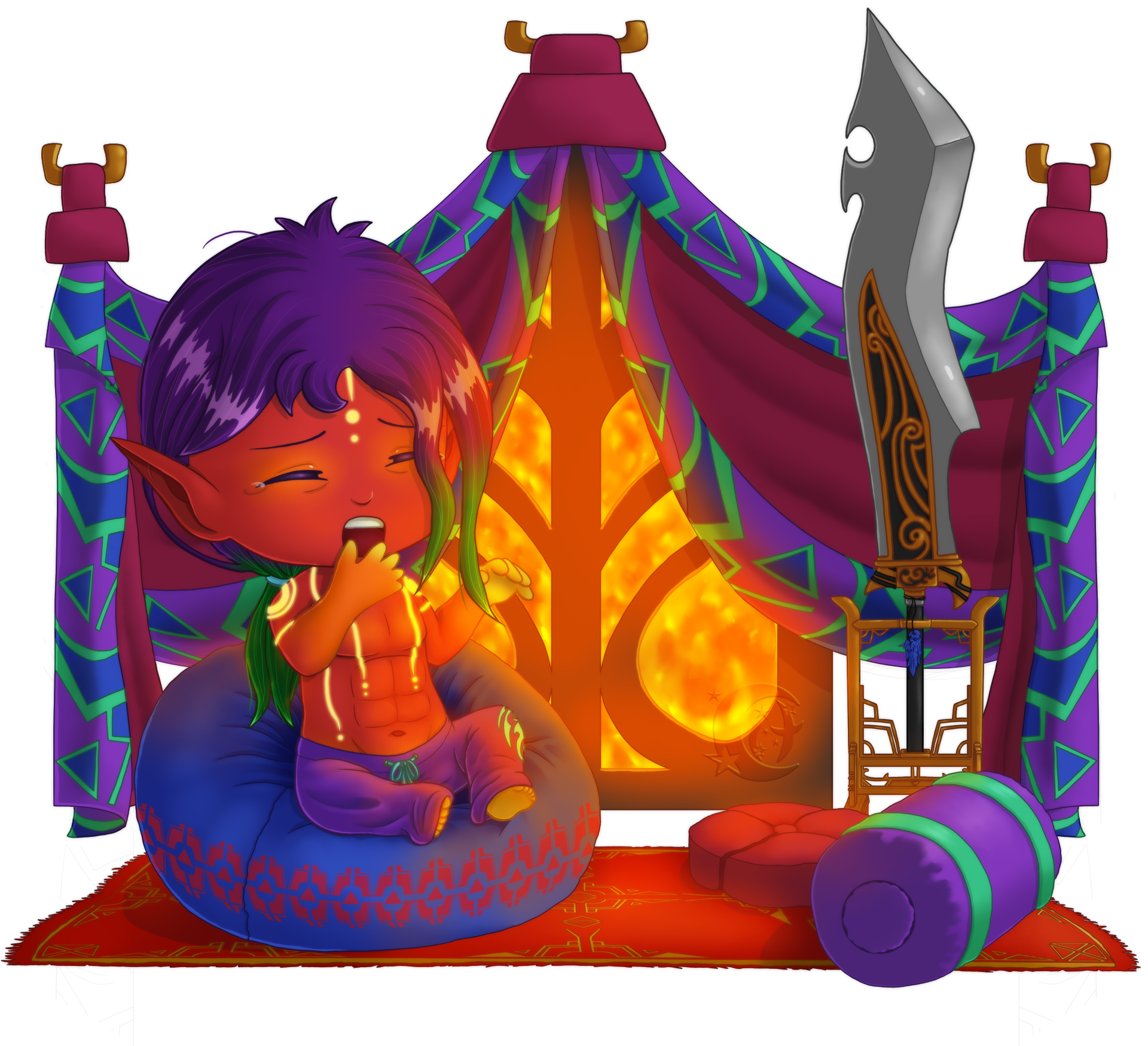 Watch
Isn't he cute? X3
Please don't pay too much attention to the color scheme of his room... I don't have anything in mind yet, so I had to come up with something on the fly and just picked some colors from his outfits.

I should really get my act together and make some concept works.. Especially for Ramu, Agartha and Murias. I'm just not a concept artist.. TT_TT
(I love the golden glow!

)
Available on Redbubble:
www.redbubble.com/people/coral…

Credits:


Kalde, Kalde's room and sword & Art (c) Ingrid Timmermans ~
Coraleana
.

References were used.

It's adorable!

Cute, very well composed, and the colors work well together

(I love the glowing window too, it adds a lovely warmth to the piece)
Reply

Naw whata cute morning face he got XD loving it! Or regular nap maybe. XD
His room looks very cosy. And the lava behind the window is amazing O.o
Im sure he never gets cold there

love the effects. And also...I see a sword here 8D
now I can start on the collab idea I wanna do yay XD ! It sure looks very nice there :3
Love the curtains and that cosy pillows and everything

And as always your chibis
are the cutest. X3
Reply

His room is way more messy normally, but I kept it 'clean' for this image. X3
Yeah, I loved that effect ever since I used it in the image of Kalde and Coral drinking. But.. I'm not sure if it's realistic. There is a lot of lava in Agartha but I'm not sure it would illuminate the city that much.

It's very warm there. Too warm for some other species. X3
Oh do you need a reference of his sword? I can always give you my concept of it.

Thank you very much. Do you think these colors would work for his room? I'm not sure it's manly enough.. XD;;
Reply

hehe he should thank you later for that help

I think its realistic.

its hard to show everything in one
picture sometimes you have to do more from diffrent angles
and such to make people understand. But you can understand
that he is some place very warm.

Oh then I wonder who can not be there of the other species? Maybe
I spoile your story if you tell me XD
it would be nice for the collab : 3 so yes please.
I think it works fine, it reflects his personality.

Reply

Haha. XD
That is true. You only get a clear picture if you've looked at something from at least a few different angles.

Nah. Even normal humans (and most species) would have a hard time in that heat, Atlanteans don't mind as much since they seem to like the warmth. And I think the Nyna (Leilani) would not like it at all, since they do need moisture and it's just super hot and dry in Agartha. The same goes for the Nemu since they're a swamp species.
okay, I'll send it to you in a note in just a minute.

Cool, thanks for letting me know. I'll keep that in mind when I make a permanent concept of his room.

Reply

Ah thats good Leilani and others are not around there
that often then XD hehe
I got an idea now and worked on the poses for a little bit,
I will soon work on the sketch

Yay thats super 8D !
Reply

Well Kalde isn't either anyways, since he left Agartha and doesn't want to come back.

Okay. Can't wait to see it.

Reply

aww

sad
I have the sketch half done . If I can it might be done
today, I just hope it wont look to messy for you

Reply

dawwwww yes he's the cutest! you did his small body and big head very well! huis expression is adorable and you did the background and the colores very very well ! awesome job!
Reply

Wonderful job at this.

Reply

I ADORE this so much! Kalde looks so adorable here, and I just love the look of his room, and I do hope to see more of it in the future! Still, even if you're not a concept artist as you say, the things I've seen you make in the past always came out great and felt like brand new and fresh worlds that I always wanted to see more of. Your artwork was always like a picture book to a special world. I adored the older Atlantean pieces you did about Coral-Chi and them. I'd love to see more of this one too.

Reply

Well I plan to at least make a concept of it. Not sure I'll share that stuff on DA though..
Thanks, I just wish I could flesh them out the way concept artists do. x.x I really need to find a way or I'll keep being stuck without ever having any references for Enlea.
I'm not sure yet what I want to do with my old Atlantis concept, I might reuse it.
Reply