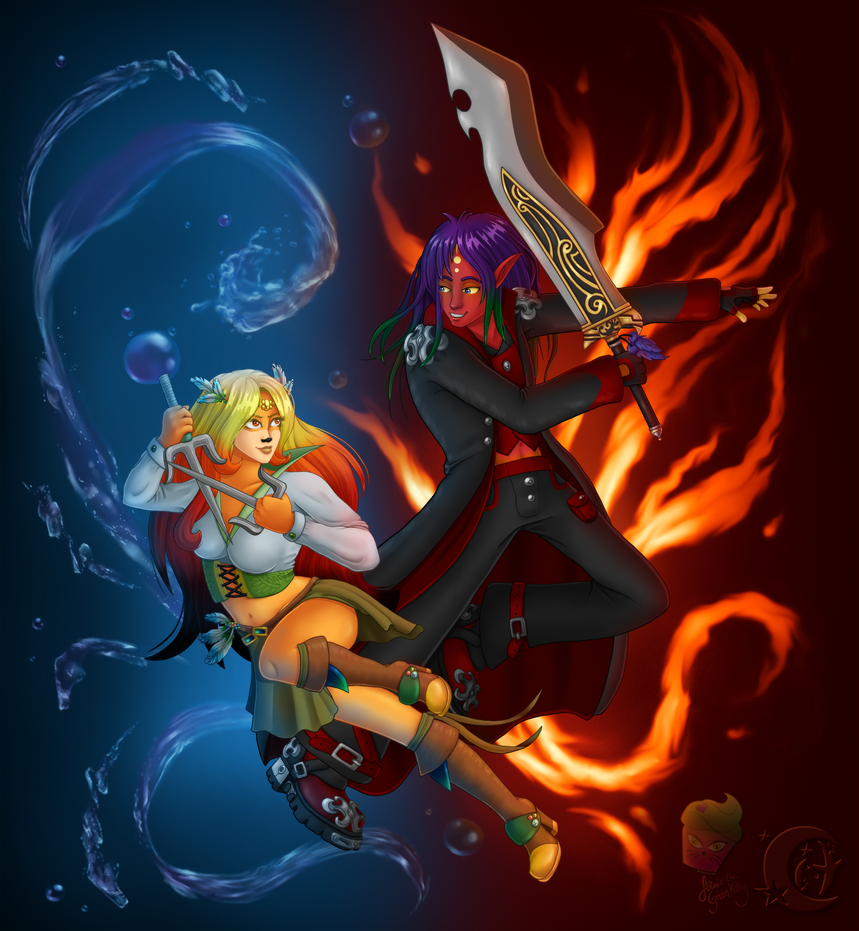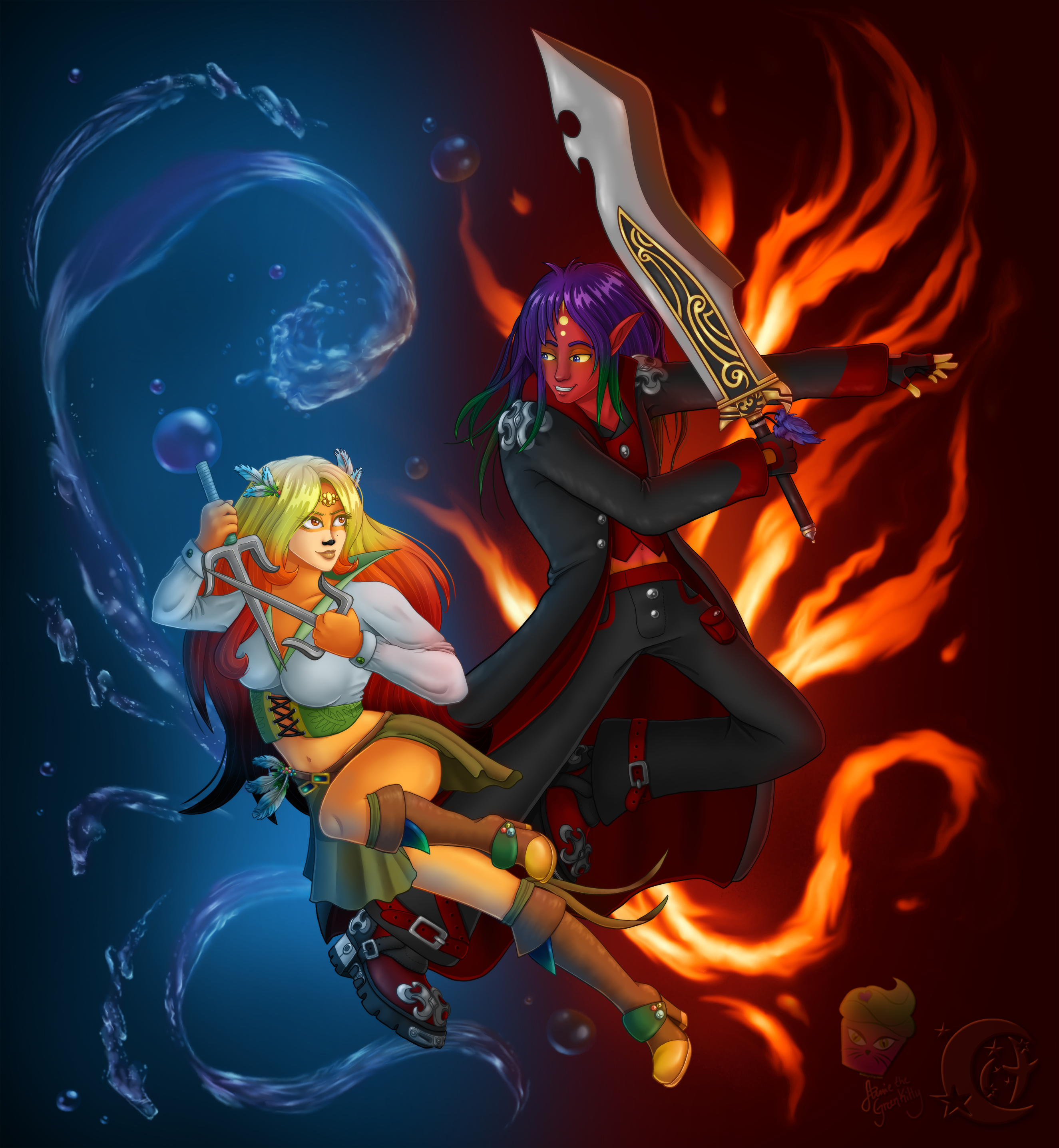 Collab!
Sketch -->

Coloring -->

Another collab with my collab addicted friend. X3
I loved her sketch, they seemed so graceful even though they are fighting.

I did have the hardest time thinking up a background for this.. D: But Annie came up with this awesome fire/water idea.

I wasn't sure I could pull it off since I've never done water like that, but after some trial and error I really loved how it came out.
I hope you like the end result, and thanks for another awesome collab Annie.


Credits:


Kale & coloring (c) Ingrid Timmermans ~
Coraleana
.

Constance & sketch (c)
AilwynRaydom
.

"Elegance" is a very fitting title, for their poses are graceful, and the whole composition is fluid with a nice sense of motion.
And excellent designs, as always. You two did a great job.

Reply

Reply

I love this.

Reply

*takes a deep breath and hold on to something* this is....I seriously dont know what to say 8D

I mean wow the result is looking smashing darn good!

I wanna stare at this picture for the rest of my days it feels like. Its so much to take in. You really tured my little sketch into something amazing. I always feel you are doing all the hard work while I just draw something. O.o XD The coloring work is breaht taking

And the water and fire background you pulled it of perferct, I knew you could do it. You have a talent for those things

I cant help to feel enjoyment when they are in pics together . XD I love the shine in their hair and the shade of shadows over their bodies and everything... its so wonderful TwT

And yes I am collab addictied haha XD
Reply

XD haha. Well I guess coloring and inking takes longer than sketching, but I feel way more comfortable coloring, so I think it's fine.

I know you put a lot of effort into the sketches as well. AND you helped me figure out the background, which is a very important part as well. I couldn't have done that on my own, for some reason I had background block.. XD;
Thanks very much.

I'm very happy you like the end result so much.

I have to agree, I love working on images of the two of them together.

Reply

Well I always try my very best special when it comes with friends

And I try to be as creative as I can I always see an collab as a challange
because its away ti impress the other once you doing it with. I guess thas also
why I enjoy collabs so much too.

Sometimes you get brainfarts and it always happends in the worst times

Im
glad I could help you figure out something~
Your welcome and thank you for making a collab with me again

it really was fun~
Indeed

Reply

That's a fun way to look at them. I never really saw them as challenges, though I have always done my best at them. Wouldn't want to disappoint my collab partner!

That's true.. I'm doing an art trade with Oreana, and I was having a brain fart there too. x.x Luckily she gave me some background ideas, and one of them sparked my creativeness again. XD
No problem.

I'm always up for one with you. ..Just not too many in a row. XD;
Reply

Thats true, dont want to dissapoint either.

Oh thats nice she could help you out

I hope it goes well
with the art trade

'
Hehe I got you ;D lets have a small break right now~
Reply

I'm designing the outfits for it right now, they'll be world of warcraft inspired. (that's what she wanted) Hopefully she'll like em. Then I got to come up with the scene and sketch it out.

Good plan.

Reply

Oh gosh warcraft and anything from blizzard is freaking detailes XDD
I wish you good luck and I know it will look incredibel at the end : 3
Reply

Reply
(1 Reply)

elegance and awesomeness! they look great over there! those poses and costumes are very very cool! she's really pretty! those legs and that belly are very nice. and I love her face too. his expression and hair are also very cool and that swords is awesome! the coloring job and the effects are very well done as usual. great work Ingrid!
Reply

Reply

You did a fantastic job with it!

I ADORE the way the water came out. It looks so realistic!

The fire looks equally amazing too! All of the little details added on the sketch look fantastic, and you really did an excellent job bringing it all together with color! Lovely work, you two~!
Reply